Like most tactical robots, the low-slung, 25-pound machine named Dogo, crafted by the Israeli firm General Robotics, is designed to scout out hostile situations. It can roll into dangerous environments, act as negotiator with its two-way voice communication, and feed video of potential targets back to police remotely operating it.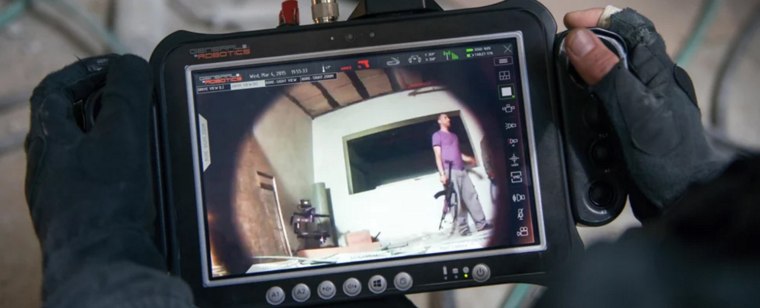 But unlike most tactical bots, Dogo is packing. Its integrated Glock 26 can fire at targets selected by its operator using a "Point & Shoot" interface, potentially ending an armed standoff without putting human officers in harm's way.
When it was unveiled this past June at the Eurosatory 2016 defense show in Paris, Dogo was largely ignored by the press. Robotics is rife with vaporware and non-starters, including the long and storied failure of previous companies' attempts at armed ground robots. If the U.S. military couldn't find a combat mission for its trio of machine gun-laden patrol bots sent to Iraq in 2007, what demand is there for similar hardware among local law enforcement?
But less than a month after Dogo's debut, the Dallas Police Department used a robot to kill a prime suspect — a first on American soil. Their target had killed five officers on the night of July 11 in what was the deadliest shooting attack on police in U.S. history. When the barricaded suspect wouldn't surrender, officers strapped a pound of C4 explosives to a Remotec Andros Mark V-A1 bomb disposal bot, drove the charge towards him, and detonated.
Related: Deep Learning: Teaching Computers to Predict the Future
In that instant the use of remote lethal force became another tool available to American law enforcement, and Dogo, which may have seemed irrelevant weeks earlier, was no longer a macabre punchline.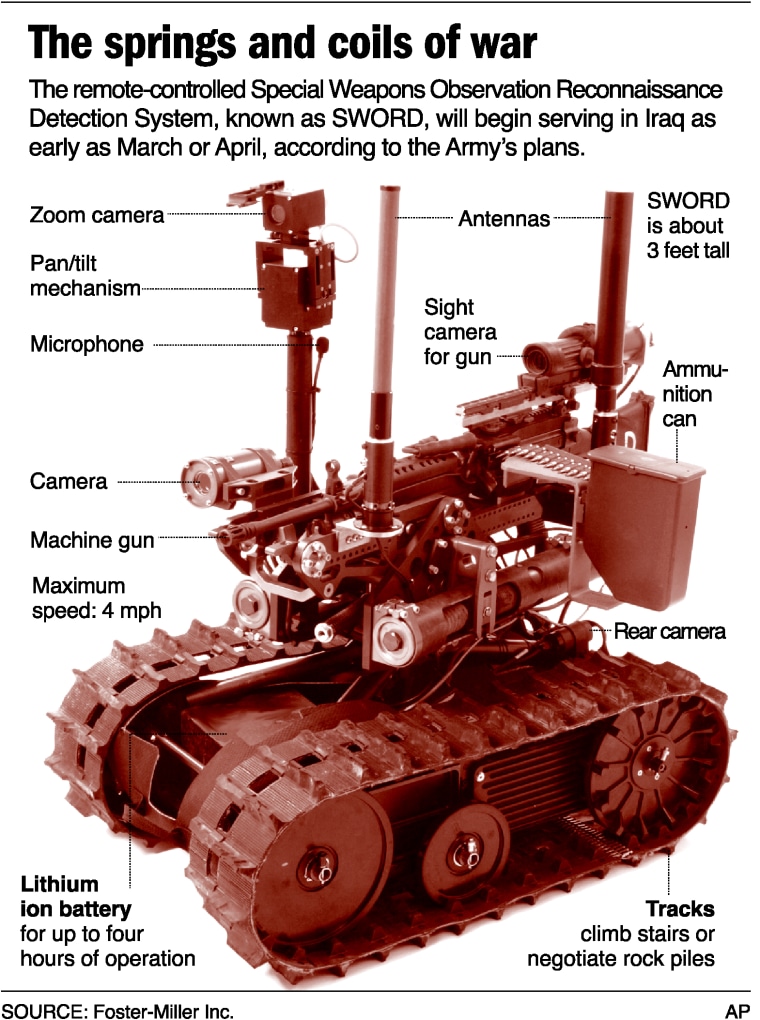 The success of Dallas's IED, and the lack of any legal blowback following its deployment, was a signal to police chiefs and SWAT commanders across the country: It "demonstrated that, tactically, the use of a robot with lethal force is viable," according to Ben Miller, who spent 15 years with the Mesa County Sheriff's Office in Colorado before joining drone-maker Draganfly as an engineer.
The freedom to weaponize police robots isn't unique to Texas. North Dakota made headlines in August when it passed legislation allowing police to mount "less-lethal" weapons, such as beanbag launchers or Tasers, on drones. But that bill was mostly superfluous, since the FAA defers to state and local authorities on the subject of arming drones, and there are no specific federal restrictions on arming ground robots.
Connecticut and Vermont, are considering bans on weaponized drones, while bills in Minnesota and Ohio legislatures would more generally address crimes committed with the use of drones. These are the exceptions, however. In most states, anyone allowed to own and operate weapons — as law enforcement officers often are — can do so with the help of a robot.
Miller sees lethal police robots as a little-used last resort, but a tactical option that's suddenly plausible given recent standoffs. And though privacy advocates have warned for years about aerial drones that would enable persistent, pervasive police surveillance, the real-world logistics disqualify them from most Big Brother scenarios, leaving the wider use of remote lethal force as the only major development on the horizon for police robots.
Related: Could One Person Take Down the Internet?
"With drones, because the FAA has been going so slowly on the regulatory environment, there has been this opportunity to have a discussion about the technology and its future implications before it is actually deployed," says Jay Stanley, a senior policy analyst at the ACLU. "The FAA's rules right now remain very strict."
Far from sleepless, silent, all-seeing eyes, these are noisy, low-altitude aerial cameras that can't legally peek through a back window unless the pilot already has a clear view of it. FAA rules hold police to the same standards as other drone operators, prohibiting any flights above 400 feet, or after nightfall, and requiring that pilots maintain line-of-sight with their machines. The FAA, along with NASA, is investigating the potential for autonomous flight in the long-term, but its safety guidelines aren't expected to change for years, and that continues to hamstring the efforts of roboticists in the public and private sectors.
Related: How Virtual Reality is Redefining Live Music
The new capability U.S. police departments are being presented with instead bears no resemblance to Robocop's rampaging ED-209 (faulted only by stairs and child hackers) or the genocidal Hunter Killer gunships from the Terminator films, which lean heavily on a fear of autonomy. Current machines can't make independent decisions about which humans to engage, and manufacturers have yet to build or propose such a system. That includes Samsung, whose defense division has marketed an armed robotic camera for use on the border between North Korea and South Korea. But even that system, which can automatically detect and track targets, can't open fire without authorization.
Robots carrying less-lethal weapons pose their own problems, ranging from the risks of tethering a flying, multi-bladed machine to a suspect (since Tasers only work while the darts are attached to a target), to the simple fact that Taser tried to sell weaponized ground bots as recently as 2007, and police departments didn't buy them.
"The robot wasn't the challenge," says Taser international spokesman Steve Tuttle. "The Taser wasn't the challenge. Getting it to hit accurately wasn't the problem. The proof of concept was nailed. The proof of sales? Negligible."
Related: How Scientists Confirmed One of Einstein's Controversial Theories
Though Taser's efforts to mount its products on robots failed because of insufficient demand, the rollout of deadly robots doesn't require huge numbers of customers, or a new cottage industry of killer bot-makers. Police departments can follow Dallas PD's lead and arm their previously purchased systems with improvised weapons, or order a product like Dogo. Just as police departments purchase military equipment, such as assault rifles and armored personnel carriers, there's nothing preventing them from spending the tax-payer dollars an armed robot.
Whether General Robotics has actually sold any Dogos since July is unknown, but it's now using Dallas as a case study in its pitches to customers, along with other recent mass shootings, such as the massacres at Orlando's Pulse nightclub and at the Bataclan music venue in Paris in 2015. General Robotics claims that Dogo would shorten response time — most standoffs last for hours — and allow for a "clean kill," with less chance of collateral damage.
Related: How the Tech Industry is Tackling the Cancer Moonshot
As unrealistic as it is to imagine weaponized robots responding to routine calls, they are now poised to play a larger role in U.S. law enforcement, raising new ethical questions about when and how lethal force should be deployed.
"My guess is that the general public is not going to have a hard time with it," Miller says. "If the alternative is that we have this great technology and this great robot, but no, we can't do that, because that's too Orwellian, and now the husband or the wife with kids has to go down the hallway and see if they can get the bad guy. I think people will generally understand the difference."
For more of the breakthroughs changing our lives, follow NBC MACH.