WILMINGTON, Del. — Fox News and Dominion Voting Systems reached a $787.5 million settlement agreement Tuesday afternoon, the parties announced, narrowly heading off a trial shortly after the jury was sworn in.
"Fox has admitted to telling lies," John Poulos, Dominion's CEO, said at a news conference after the trial ended.
Justin Nelson, lead attorney for Dominion, told NBC News he hopes the settlement will restore faith in elections.
"This alone can't do it, right? But this shows that there is accountability, that we showed that if you are caught lying, you will be held responsible," he said.
Absent from the settlement details shared with the public was an apology or any admission that the network had indeed defamed Dominion when it allowed baseless conspiracies to proliferate on air about the company's voting machines "rigging" 2020 presidential election against Donald Trump. A statement from Fox about the agreement recognized the court's previous ruling that the claims Dominion had challenged in its defamation lawsuit were indeed without merit.
"We acknowledge the Court's rulings finding certain claims about Dominion to be false," the Fox statement said. "This settlement reflects Fox's continued commitment to the highest journalistic standards. We are hopeful that our decision to resolve this dispute with Dominion amicably, instead of the acrimony of a divisive trial, allows the country to move forward from these issues."
When pressed, a spokesperson for Dominion said "an apology is about accountability, and today Dominion held Fox accountable."
Stephen Shackelford Jr., the attorney who had been expected to give opening statements for Dominion on Tuesday, said "money is accountability."
Rumors of settlement talks had been buzzing for days, particularly after the court said late Sunday it would delay the conclusion of jury selection and opening arguments to Tuesday morning.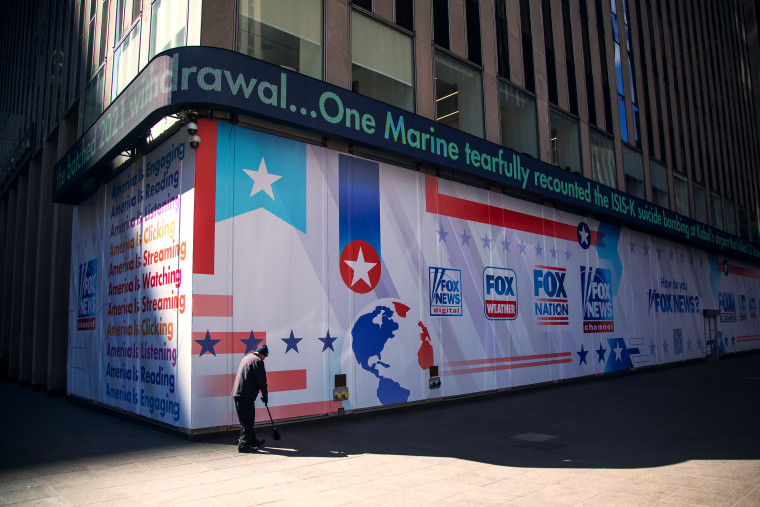 The deal ends a monthslong legal battle over whether the media company had defamed the voting machine maker when Fox broadcast election conspiracy theories in 2020. The resolution came in the eleventh hour, after the jury was in place and reporters and lawyers had waited for hours for opening statements to begin.
"The parties have resolved their case," Delaware Superior Court Judge Eric Davis said Tuesday afternoon, informing the jurors of the settlement. "That means your service is done and I'm going to excuse you. Sorry about making you wait."
Dominion sued Fox News in 2021, demanding $1.6 billion in damages. It said the network defamed it when it broadcast baseless claims that it was tied to the late Venezuelan President Hugo Chávez, that it paid kickbacks to politicians and that its machines "rigged" the 2020 presidential election by flipping millions of votes for Trump to Joe Biden.
The settlement came after a bruising week for Fox News. During pretrial conference hearings, Davis sanctioned the network for withholding evidence, and admonished it for not being straightforward with him. He said he would allow Dominion to conduct an additional deposition with Fox Corp. Chairman Rupert Murdoch at Fox's expense. Davis also ruled that Fox lawyers could not use newsworthiness as a legal defense, limiting their possible trial strategies.
On Tuesday, Davis also appointed a special master to investigate whether Fox had adequately complied with court-ordered discovery. That probe was ended by the settlement, too.
Few defamation suits make it this far, but outside legal experts say the case — and the extraordinary claims and evidence fueling it — was unique. 
The settlement is a strong outcome for Dominion, those experts said, which won't have to wait years for a potential jury-awarded payout stuck in the appeals process.
Not all settlement terms are disclosed, but experts say they believe Fox's payout to be among the biggest.
"This number is not small," said RonNell Andersen Jones, a professor at the University of Utah College of Law who specializes in the First Amendment. "It might be the biggest of its kind in history."
Juries are always a risk, especially in a politically divisive case, she added.
"While going to a jury based on 'presumed damages' and malice often results in tremendous damages, it's still a crapshoot," Anthony Michael Glassman, a longtime media lawyer who has represented both news outlets and the subjects of stories, said in an email.
A hefty settlement without a trial "is the right way to go," he added.