Employees at Fox News knew that claims blaming Donald Trump's 2020 loss on election fraud were outlandish and false, even as the network promoted them as credible, a newly unsealed court filing appears to show.
The document, which pulls from a host of internal communications from Fox News employees involved in election coverage, includes comments and quotes revealing that producers, executives and stars of the network knew that the election wasn't stolen and that many fraud claims were bogus. The communications suggest that Fox News zeroed in on fraud claims as a way to boost ratings and appease their conservative viewers, who executives feared were abandoning the channel for other conservative media outlets — particularly after Fox News was the first network to project that Joe Biden had won the key battleground of Arizona.
A number of prominent network stars who sometimes embrace conspiracy theories on their shows said in private that they knew that Trump lawyer Sidney Powell, who filed election lawsuits to stop multiple states that Joe Biden had won from certifying their elections, was not telling the truth, according to the filings. 
"That whole narrative that Sidney was pushing, I did not believe it for one second," prominent Fox News host Sean Hannity said, according to the legal filing.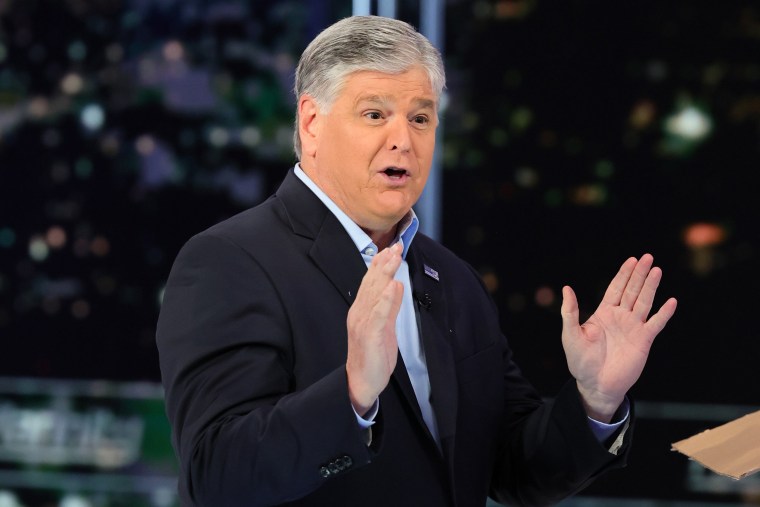 According to the filing, Bill Sammon, Fox News senior vice president and managing editor of the Washington bureau, told a colleague in December that "it's remarkable how weak ratings make good journalists do bad things."
The filing is the latest to be made public in the $1.6 billion defamation lawsuit brought by Dominion Voting Systems, one of the largest manufacturers of U.S. voting equipment, against Fox News.
Dominion has been a frequent target of conspiracy theorists who falsely claim Trump won the 2020 presidential election. Its suit includes hundreds of pages documenting times that the network lobbed bogus allegations against the company, among them that its software was rigged against Trump and that the company was secretly owned in Venezuela.
"There will be a lot of noise and confusion generated by Dominion and their opportunistic private equity owners, but the core of this case remains about freedom of the press and freedom of speech, which are fundamental rights afforded by the Constitution and protected by New York Times v. Sullivan," Fox News said in a statement Thursday evening.  
The newly unsealed messages and comments are the starkest evidence yet that many at Fox News— from top executives including News Corp. Executive Chairman Rupert Murdoch on down to Fox News reporters — were aware that the election fraud claims didn't have basis in fact and offer a unique window into the chaotic post-election period at the network.
What the documents revealed
"Watching Giuliani! Really crazy stuff. And damaging," Rupert Murdoch said in an email in mid-November, as the network he founded broadcast a lengthy, rambling press conference in which Trump lawyers Rudy Giuliani and Powell made allegations of hackable voting machines and a wide-ranging conspiracy involving foreign communists.
Tucker Carlson told a producer soon after the election that Powell "is lying" about voter fraud, the documents show. Carlson would text Fox News host Laura Ingraham the same thing later in the month, adding that "it's insane" and "it's unbelievably offensive to me. Our viewers are good people and they believe it."
"She is a f------ nutcase," wrote Carlson's producer, Alex Pfeiffer, referring to Powell.
"This dominion s--- is going to give me a f------ aneurysm," Ingraham's producer, Tommy Firth, wrote at one point, according to the filing. Firth had concluded the Dominion claims were false, according to the filing.
Dominion is also suing Powell for defamation. She did not immediately respond to a request for comment Thursday night.
In the filing, Dominion alleges that Fox News actively participated in shaping the narrative of a stolen election, even as Powell was sending hosts outlandish claims.
In an email Powell shared with Fox News host Maria Bartiromo ahead of an appearance on the network, a "source" advances allegations about Dominion alongside claims that U.S. Supreme Court Justice Antonin Scalia, who died earlier that year of a heart attack, had been murdered in a "human hunting expedition" and that she communicated with "the Wind."
Bartiromo responded to Powell that she had shared this "very imp[ortant] info with Eric Trump."
Some of the details of Fox News' handling of false fraud claims in the weeks immediately after the election are redacted in the filing but may soon come to light: Dominion filed on Friday asking the court to mandate the release of that information publicly.
"Dominion's position is that that nothing in these three briefs warrants confidential treatment," the company's attorneys wrote in a Friday filing.
Dominion has said that to increase viewership, the network knowingly aired false claims that "recklessly disregarded the truth" and defamed the company.
Fox News has said that it stands by its 2020 election coverage and that its broadcasts are protected by the First Amendment.
Lawyers for Fox News have included debunked election fraud claims in their defense. Dominion has claimed Fox News failed to fully produce evidence before trial.
In a counterclaim filed Thursday, Fox said Dominion has no evidence to support its "staggering" damages claim and argued that Trump's claims were "undeniably newsworthy." Fox News viewers recognized that the claims were being reported as allegations, the network said. 
It also said Dominion's suit takes quotes from its coverage out of context and ignores its reporting of Dominion's rebuttals to the false claims.
"Dominion's lawsuit is an assault on the First Amendment and the free press," Fox News wrote in its filing. "The record shows that Dominion's central allegations are factually unfounded, legally unsound, or both."