The constitutional fate of same-sex marriage may hang in the balance in the Supreme Court on Tuesday, but the public's view of marriage for gays and lesbians has already shown a decisive and unmistakable trend in just the last 12 years.
Nearly six-in-10 Americans believe that same-sex couples should be allowed to marry, according to an NBC News/Wall Street Journal poll last month, while 33 percent believe that they should not.
That's nearly a mirror image from July 2003, when the same poll found just a third of Americans favoring same-sex marriage, while 51 percent said they opposed it.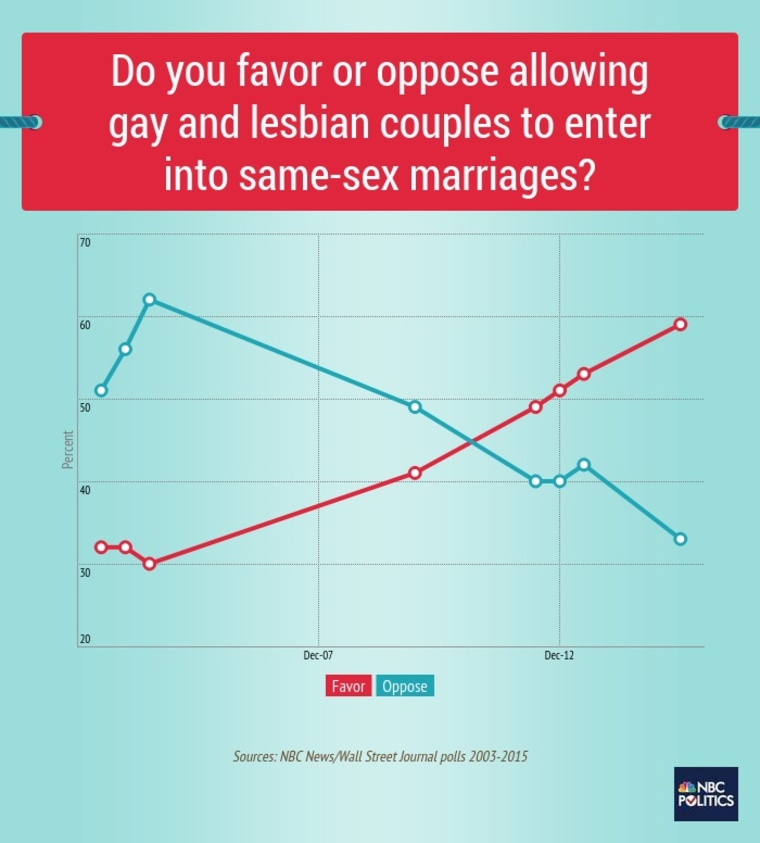 The dramatic shift in support of same-sex marriage has become a common refrain in coverage of the pending court decision, with both Republicans and Democrats noting how the public's attitude has changed over time.
But the jump has been striking both for constituencies who are traditionally more socially liberal — like young people and Democrats — and among more conservative groups, including seniors.
In 2003, just 40 percent of Democrats supported same-sex marriage, while a plurality — 45 percent — opposed it.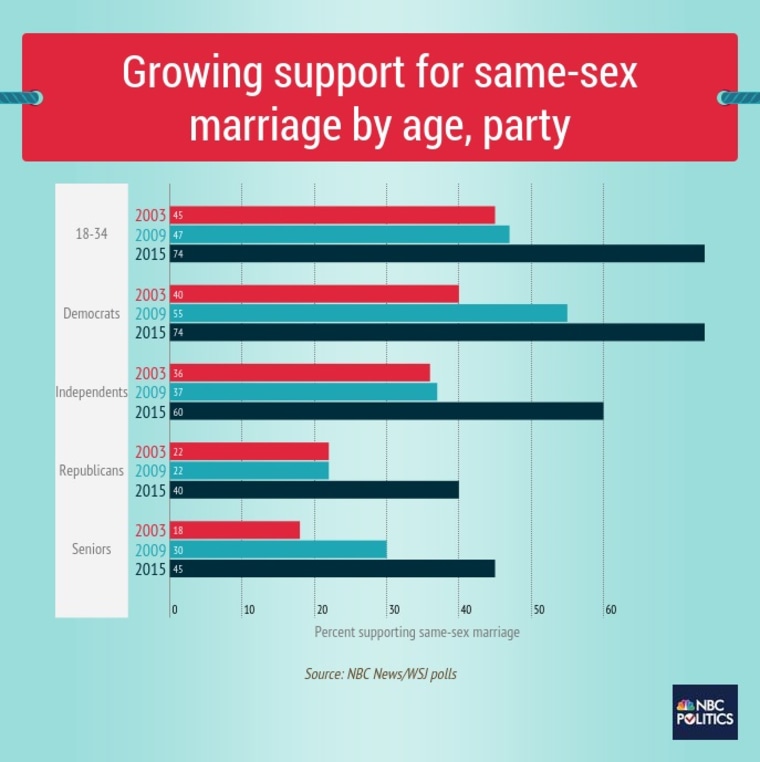 As recently as 2009, less than half — 47 percent — of Americans aged 18-34 said that gays and lesbians should be permitted to marry. Just six years later, 74 percent of these young voters back same-sex marriage.
While a near-majority of Republicans still oppose same-sex marriage today, opposition has declined sharply in the past six years as well.
Today, 49 percent of GOP adults disapprove of allowing gays and lesbians to marry. In 2009, that figure was 70 percent.
Support for same-sex marriage among seniors has also more than doubled in the last 12 years, up from just 18 percent support in 2003 to 45 percent support today.