1) Mike Rogers almost didn't win election to the House. From The Detroit News:
In the nation's tightest congressional race in 2000, then state-Sen. Rogers conceded defeat to his close supporters on election night only to prevail later in a recount against Democrat Dianne Byrum.
"That (election) was pivotal," says Democrat and Lansing Mayor Virg Bernero, an Adrian College classmate who often debated his political differences with Rogers.
2) The association representing active and retired FBI agents urged president Obama to pick Rogers as the next director of the bureau. From the president of the FBI Agents Association:
"Chairman Rogers exemplifies the principles that should be possessed by the next FBI Director … His unique and diverse experience as a veteran, FBI Agent and member of Congress will allow him to effectively lead the men and women of the Bureau as they continue their work to protect our country from criminal and terrorist threats."
3) In college, Rogers made a name for himself on the airwaves. From The Detroit News:
Rogers proceeded to Adrian College where he hosted a radio show with his best friend, Chuck Towersey. Between sets of music, he would offer his best impressions, including one of a female traffic reporter — beating his chest to sound like helicopter. Rogers continued his ventriloquist act with a dummy, Lester, on campus.
"Mike has always been the slap-on-the-back (guy)," Bernero said. "He was great with the jokes."
4) He is not the only Mike Rogers in the House. Congressman Mike Rogers is a Republican representing a part of eastern Alabama.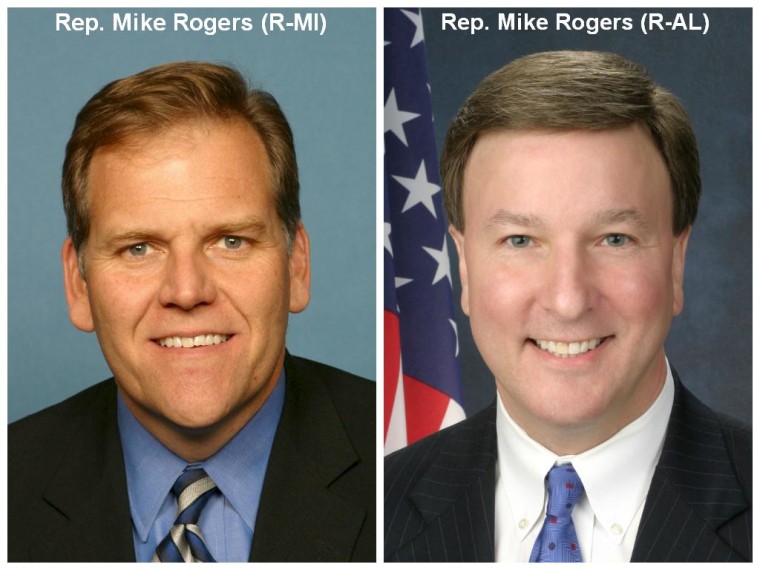 5) Before winning election to the House, Rogers served in the Army and FBI. From National Journal:
After serving in the Army, he graduated from the FBI Academy and focused on public corruption cases as an FBI special agent in Chicago for six years.
6) Rogers is chair of the House Intelligence Committee, which gives him access to important – and confidential – information. From The Detroit News:
Rogers has access to the most sensitive intelligence information, including the surveillance operations that led to the killing of Osama bin Laden.
Rogers is one of the few who have seen the photos of the al-Qaida leader's dead body — and despite multiple requests from family and friends, he cannot reveal those photos.
7) Last time Rogers appeared on "Meet the Press" with Senate Intelligence Chair Dianne Feinstein, he told David Gregory that he believes NSA leaker Edward Snowden had help in Russia.