Hillary Clinton has increased her lead over Bernie Sanders in the wake of the first Democratic debate, now besting the Vermont senator by at least 20 points among Democratic primary voters, according to a new NBC News/Wall Street Journal poll.
With Vice President Joe Biden included in NBC/WSJ poll of Democratic voters, Clinton now gets the backing of 49 percent of respondents, up from 42 percent last month. Sanders has sunk from 35 percent to 29 percent support.
Biden now garners 15 percent backing, down from 17 percent last month. No other Democratic candidate received more than two percent in the poll.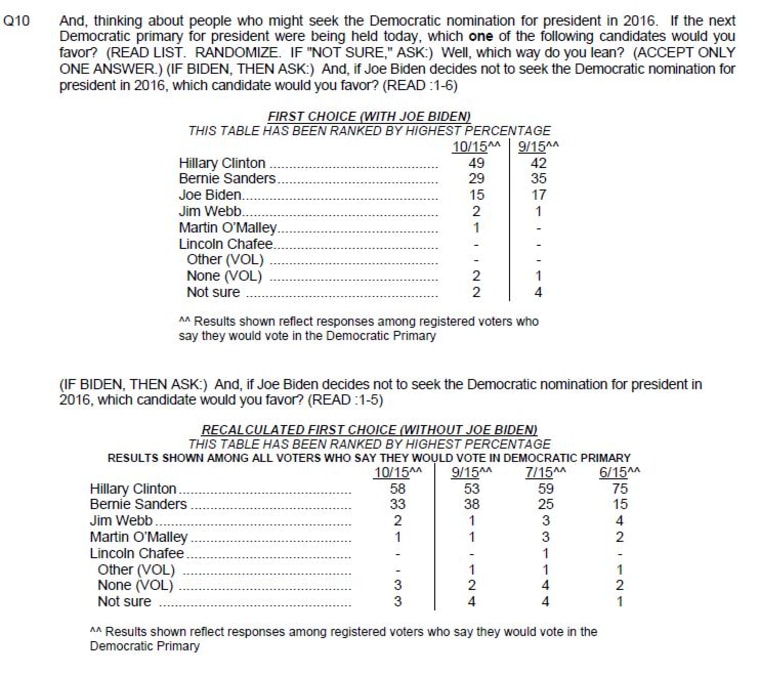 When Biden, who has not yet announced a presidential run, is eliminated from the hypothetical Democratic matchup, Clinton's lead is 58 percent to Sanders' 33 percent. In September, without Joe Biden in the race, her lead over Sanders was 53 percent to 38 percent.
Clinton won accolades for her strong performance in the first Democratic debate last week. She faces another major test on Thursday, when she will appear for testimony before the House committee investigating the Benghazi attacks.