WASHINGTON — A Wisconsin election set the stage last week for Democrats to act on a variety of issues in the state, from gerrymandering to election access — but the biggest driving force behind the result was abortion.
Abortion has been illegal in Wisconsin since the U.S. Supreme Court overturned Roe v. Wade in June with its Dobbs decision. And Janet Protasiewicz, whose victory in the state Supreme Court race gave liberals a 4-3 majority, made it the fulcrum of her campaign. It was a dominant factor in her ads, and a case challenging the state's 1849 abortion law is expected to start making its way through the Wisconsin courts next month.
The Wisconsin result is just the latest bit of evidence that abortion is having a transformative impact on American politics. For decades, abortion has been a bedrock organizing issue for GOP candidates who want to turn out their vote, but post-Dobbs, it seems the script has flipped. With Roe having been overturned, abortion is changing turnout and the political balance of power in states where it is on the ballot, and that's creating real problems for Republicans.
The difference the issue makes is clear when you compare the results of last week's race in Wisconsin with the 2020 presidential results in the state.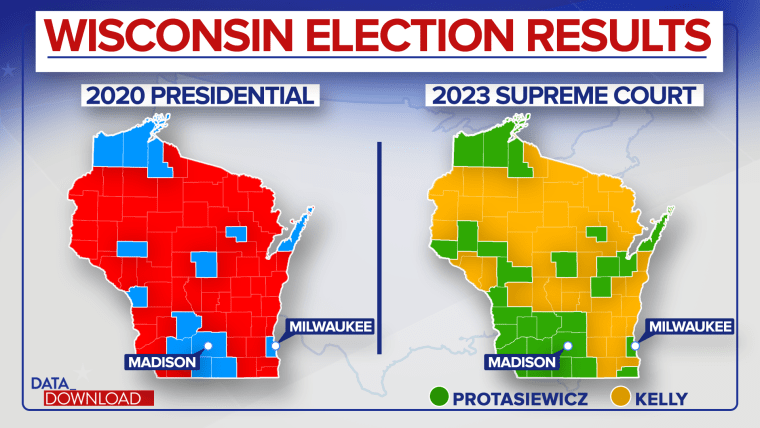 President Joe Biden narrowly won Wisconsin in 2020, but on his path to victory he captured only 14 of the state's 72 counties, and he leaned heavily on Milwaukee and Madison.
On Tuesday, Protasiewicz carried 27 counties and grew Biden's advantage in suburban areas around metro areas. She added Kenosha near Milwaukee. She added Columbia and Lafayette around Madison. And she picked up Brown, Outagamie and Winnebago counties — which include the smaller blue-collar metro areas around Oshkosh and Green Bay.
The geographic rules of American politics in 2023 are pretty simple. Democrats win urban areas by large margins. Republicans win rural areas by large margins. And the two parties fight over suburban and exurban areas. But abortion seems to have changed that calculus, at least in some states, turning suburban areas more Democratic.
That's how Protasiewicz won Wisconsin, a consistent battleground, by 11 points.
And the GOP's suburban abortion problems extend beyond Wisconsin. The problem was on display in the August abortion referendum in Kansas.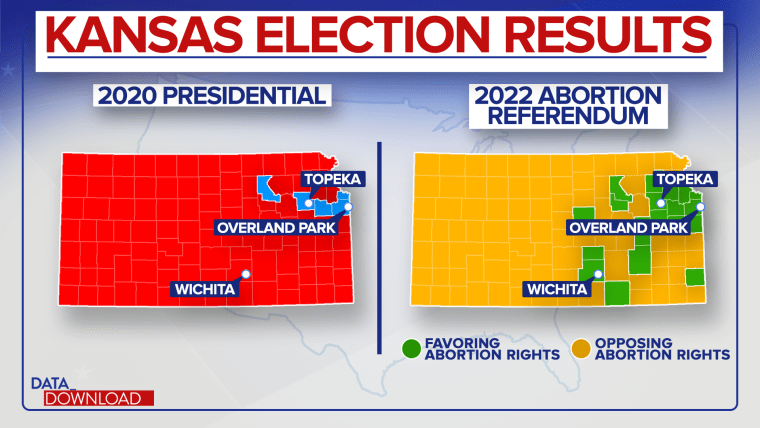 In 2020, Biden won only five counties in Kansas, and they were all around Kansas City, Topeka and the state's two big university towns, Lawrence and Manhattan.
Last year, when the state rejected a proposal that would have cleared the way for an abortion ban, the counties voting "no" were the Biden counties and 14 others. Again, the suburban swings around abortion were visible. The additions? A big cluster of 13 counties in the northeastern part of the state around Kansas City, Topeka and the college towns — but also two counties around Wichita.
And in the swing state of Michigan, where Republicans had hoped they might be able to win the race for governor last year, a referendum to make abortion a constitutional right in the state on the November ballot was pivotal. It passed easily and brought out voters who helped Democratic Gov. Gretchen Whitmer coast to a second term.
Again, the maps comparing the 2020 presidential vote and the abortion vote tells the story.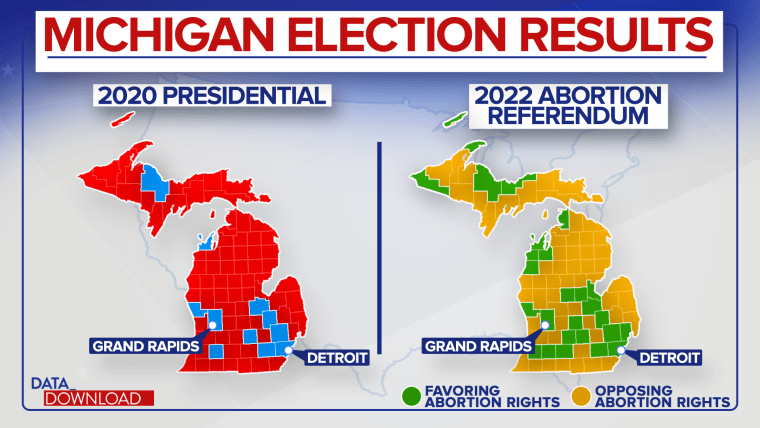 Biden won 11 counties in Michigan in 2020, and almost all of them were around the state's biggest cities and college towns: Detroit, Grand Rapids, Ann Arbor, Lansing, Bay City, Saginaw and Kalamazoo.
But the abortion initiative carried the day in 26 counties — all of the Biden counties, as well as other suburban areas around Detroit and Lansing and, in addition, the smaller metro areas around Battle Creek, Midland and Traverse City. 
That had big ripple effects. Biden won Michigan by fewer than 3 percentage points in 2020, but Whitmer won it by more than 10, and the abortion proposal passed by more than 13. A purplish state in 2020 turned deep blue two years later.
How did that happen? One of the big impacts of having abortion on the ballot is how it supercharges turnout, especially for Democrats. Last week's Wisconsin vote shows how much.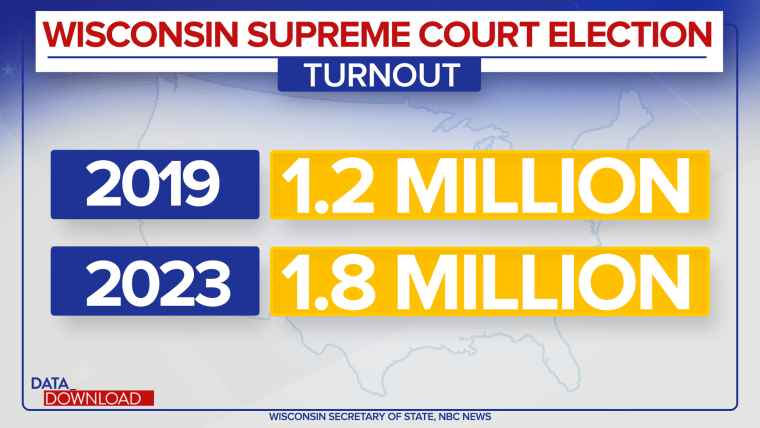 In 2019, about 1.2 million voters turned out for the off-year state Supreme Court election. Last week, with abortion essentially on the ballot, more than 1.8 million turned out. That's an increase of about 600,000 votes, or about 50%.
How much of a difference did that make in the results? Consider this: In 2019, the conservative candidate for the court, Brian Hagedorn, narrowly won with 606,000 votes. On Tuesday, the conservative candidate for the court, Daniel Kelly, captured 818,000 votes … and lost by 11 points.
All those numbers and maps send a clear message: Abortion is changing the election maps in key states and creating problematic voter shifts for Republicans, particularly in the suburbs.