WASHINGTON — The train derailment in East Palestine, Ohio, brought attention to the dangers of transporting toxic chemicals by rail. The black clouds of smoke that rose over the community of 5,000 people and the chemicals that spilled out of the train left many wondering how often such events occur and what would happen if they occurred in more populous areas.
Just how safe is shipping toxic cargo by rail? The answer is somewhat complicated.
To start with, train derailments aren't uncommon. Over the past three years, there's been an average of about three a day in the U.S.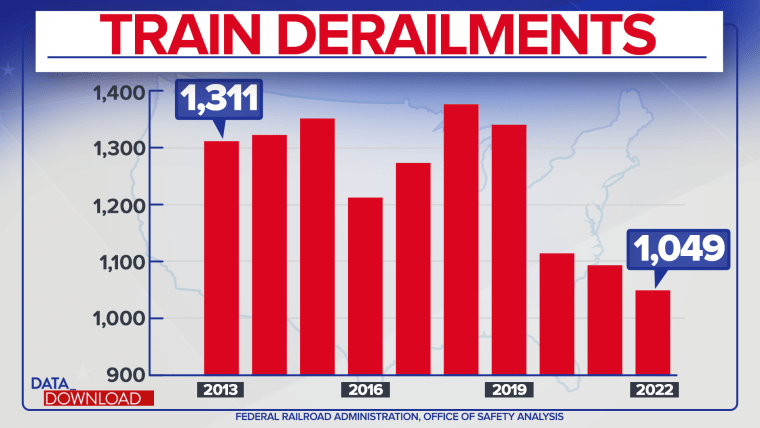 The number of derailments has essentially remained flat for the past few years. There were 1,049. There were 1,093 in 2021 and about 1,100 in 2020, according to the Federal Railroad Administration.
But over the longer term, the last decade, the number has declined.
In 2015, there were 1,350 derailments in the United States. If you compare that to the 2022 figure, that's a decline of 302 derailments or 22%. So, the data suggest train travel may be getting safer.
Of course, not all train derailments are the same. Not all trains carry carloads of dangerous cargo and chemicals. Looking more closely at railway incidents involving hazardous materials, there seems to be good news. The figures are much lower, and they show a decline over the last decade.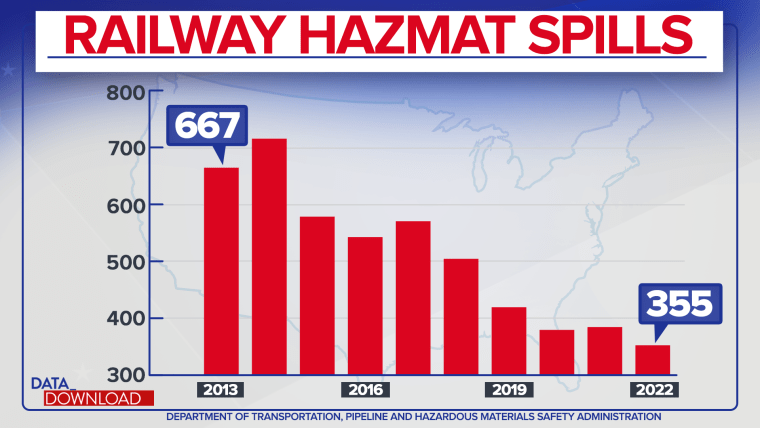 Since 2013, railway hazmat incidents have declined sharply, from more than 700 in 2014 to 355 in 2022 in a 51% drop, according to the Transportation Department. To be clear, any hazmat release is bad news, but the decline is substantial. It suggests, again, that moving such chemicals by rail is getting safer. 
Like it or not, hazardous materials need to be shipped around the country one way or another. A look at the other most common way they are moved — by truck — seems to suggest trains offer a safety advantage.
Consider a comparison of truck and rail hazmat incidents since 2013.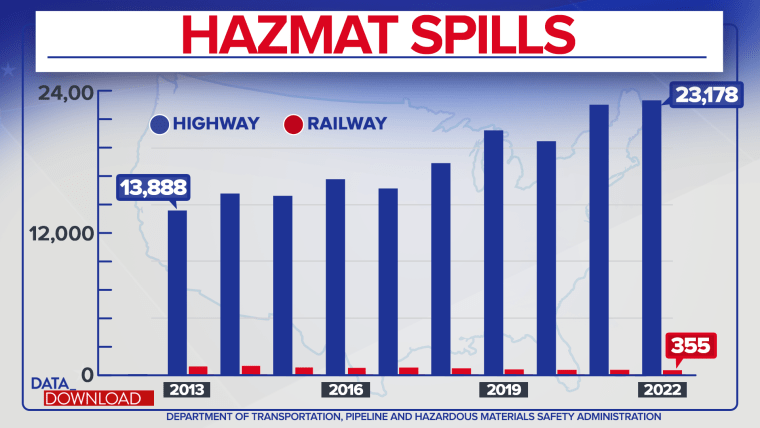 Even the peak of train hazmat incidents in the last decade — 718 spills in 2014 — is tiny compared to the number of releases associated with trucks in any year in the last decade.
And, perhaps more concerning, the number of hazmat incidents involving trucks is on the rise — from a low of 13,888 to more than 23,000 last year — an increase of 67%.
Some dangerous chemicals will always be transported by truck, even if it's just for the "last mile" of delivery. Trains don't run everywhere, after all. But the data seems to suggest that keeping hazardous materials off the road and on train tracks may be the safest bet.
There's another point to consider, however: the scale of such releases. While a lot of trucks might be carrying dangerous materials, they carry less. A single train derailment, like the one in East Palestine on Feb. 3, can cause a lot of damage. That complicates the picture quite a bit, and you can see the impact in the data.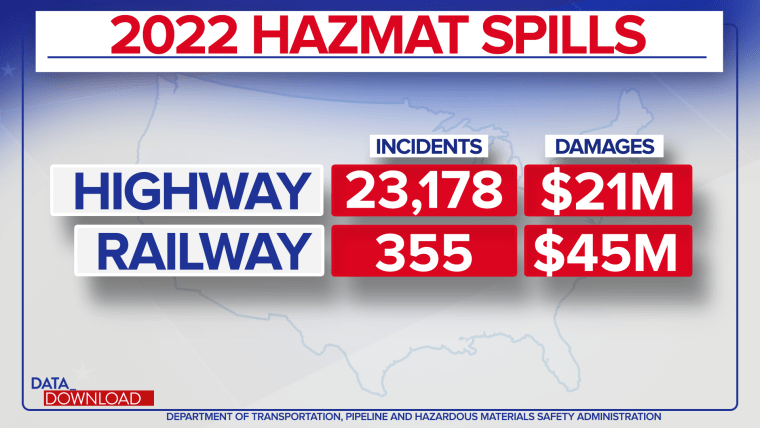 There were 23,178 highway hazmat incidents in 2022, causing $21.3 million in damage. The 355 railway spills were much more significant, producing more than $45 million in damage.
Just one rail spill last year accounted for more than $30 million of that damage. In May, a train carrying petroleum products derailed in Harmar Township, Pennsylvania, spilling 3,000 gallons into a creek.
The owner of the train was Norfolk Southern, the rail company behind the spill in East Palestine.
News organizations have already noted that Norfolk Southern had been lobbying against Transportation Department rail safety regulations. After the derailment, any loosening of regulations may be a hard sell; indeed, there will likely be calls for tightening.
As the numbers make clear, shipping toxic chemicals by rail isn't inherently dangerous or more dangerous than other options. But when things go wrong, the potential for catastrophe is much greater. The data suggests rail transport may be safer, but the stakes are much higher.