The words of Bill and Hillary Clinton during their respective presidential campaigns — 24 years apart — illustrate the decline in both the support for and use of the death penalty in America — a shift expected to result in the Democrats becoming the first major U.S. political party to formally call for the abolition of capital punishment later this month.
On Jan. 19, 1992, in a debate in New Hampshire with his rivals for the Democratic presidential nomination, Bill Clinton strongly defended the death penalty, arguing his party "should no longer feel guilty about protecting the innocent," as the New Yorker magazine reported at the time.
Four days later, Clinton, then the governor of Arkansas, demonstrated that this was not just a rhetorical stance. Ricky Ray Rector, a 42-year-old African-American man who had shot and killed a police officer in 1981, was due to be executed in Arkansas.
Clinton had already denied the requests made by Rector's attorney for an executive clemency. But Clinton opted to fly from New Hampshire to be in Little Rock and oversee the execution process. His decision to be in the state that day was widely perceived as intended to show that he was "tough on crime."
Related: 'Year of Extremes': America Is One of World's Top 5 Executioners
More than two decades later, Hillary Clinton has expressed ambivalence on the campaign trail when asked about capital punishment. "States have proven themselves incapable of carrying out fair trials" in death penalty cases, she said in March during a campaign appearance in Ohio, while leaving open the possibility of capital punishment under federal law, in a case investigated and prosecuted by the U.S. Department of Justice.
But her campaign has agreed to a provision in the Democratic Party platform, which is expected to be adopted at the party's national convention in Philadelphia beginning July 25, that says, "We will abolish the death penalty, which has proven to be a cruel and unusual form of punishment. It has no place in the United States of America."
The landmark language is the latest illustration of a slow but major shift in American politics.
There is a growing movement, particularly on the left, to end the death penalty. Several states have abolished it over the last decade, including traditionally conservative Nebraska last year. That leaves 31 states with capital punishment statutes still on the books, down from a high of about 40 states in the 1980s.
Use of the death penalty also has been declining. In 1999, states executed 98 people, compared to just 28 in 2015, according to the Death Penalty Information Center. So far this year, 14 people have been executed.
"The death penalty is kind of dying a slow death, because we aren't executing people at the rate we used to," said Bill Keller, the former top editor at the New York Times who now runs the nonprofit Marshall Project, which focuses on criminal justice issues. "Prosecutors don't push for the death penalty as much (because) the appeals process drags on for so long."
In calling for the abolition of the death penalty in the platform, Democrats are out in front of both public opinion and the leaders of their party.
Both Gallup and Pew polls last year showed a majority of Americans (56 percent in the Pew survey, 61 percent in Gallup's) still support death sentences, although that is a marked decline from 1994, when 80 percent of Americans told Gallup they supported capital punishment.
And neither President Barack Obama nor Hillary Clinton have formally called for an end of the death penalty, though both have been critical about how it has been administered. Those positions are in some ways similar to the caution they exhibited before embracing same-sex marriage.
Related: Florida Passes New Death Penalty Law After SCOTUS Ruling
The inclusion of the death penalty plank in the platform was a victory for allies of Bernie Sanders, who opposes death sentences. (In a statement, Maya Harris, a top Clinton aide who is heavily involved in the platform process, called the overall platform "the most ambitious and progressive" every adopted by Democrats. Her list of achievements, which included measures like calling for a $15 minimum wage, did not refer to the death penalty provision.)
Obama, in an one-on-one interview on criminal justices issues with Keller last year, said he did not oppose the death penalty "in theory," but said he had "very significant reservations" about its use in the United States, arguing it was "inefficient" and suffered from "racial bias."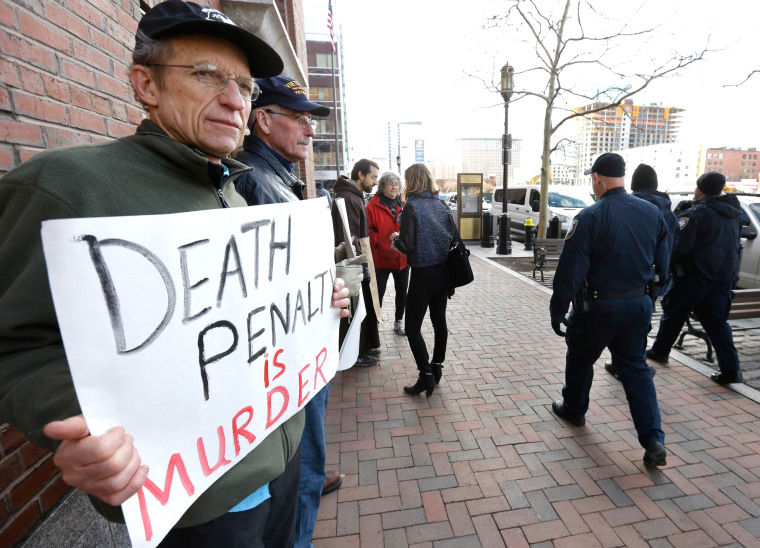 Still, his administration has not entirely shunned its use. In May, Attorney General Loretta Lynch announced that the U.S. Department of Justice would seek a death sentence for Dylann Roof, the man accused of killing nine people in a black church in Charleston, South Carolina, last year.
Clinton, earlier this year, said she still supported death sentences for acts of terrorism, like the Oklahoma City bombing in 1995, but also suggested she would not be upset if the U.S. Supreme Court outlawed capital punishment.
Despite the push by Democrats to abolish the death penalty, key Republicans still largely favor capital punishment. The GOP's 2012 platform stated that "courts should have the option of imposing the death penalty in capital murder cases." It is not expected that language will be dramatically changed at the party's convention in Cleveland later this month.
In December, Donald Trump said that if he were elected president, he would issue an executive order urging the death penalty any time a police officer is killed.
Capital punishment remains a hot issue in some states.
Activists in Nebraska, for example, got enough signatures for a November referendum asking voters to restore the death penalty.
"The death penalty is just punishment for the most heinous of crimes, offers protection to public safety officials, including correctional officers, serves as a deterrent to unspeakable acts, and protects the public from the most dangerous in our society who have demonstrated a disregard for life," said Bob Evnen, co-founder of Nebraskans for the Death Penalty.
"It doesn't make sense to talk about the American death penalty anymore. The death penalty is almost exclusively a Southern phenomenon, driven mostly by Texas and a few right-leaning prosecutors."
But capital punishment is rarely used in many of the states that allow for it, with a handful of conservative Southern states now imposing and carrying out most death sentences. The 28 executions last year, all by lethal injection, were conducted in just six states: Florida (2), Georgia (5), Missouri (6), Oklahoma (1), Texas (13) and Virginia (1). Two of those states are led by Democrats, Virginia Gov. Terry McAuliffe and Missouri Gov. Jay Nixon, who did not stop these executions even amid the party's broader anti-death penalty push.
"It doesn't make sense to talk about the American death penalty anymore. The death penalty is almost exclusively a Southern phenomenon, driven mostly by Texas and a few right-leaning prosecutors," said Evan Mandery, a professor at John Jay College of Criminal Justice in New York who wrote a 2013 book called "A Wild Justice: The Death and Resurrection of Capital Punishment in America."
That means death sentences will continue in the U.S. for years, Mandery added.
"The only route to abolition in our lifetimes is if the Supreme Court eliminates it," he said.
That's not out of the question. A 1972 Supreme Court ruling struck down many state capital punishment statutes until a 1976 decision created a framework to revive death sentences.
But even without judicial intervention, most experts say support for death sentences is likely to continue to weaken. That's partly because there is greater awareness of the racial disparities in imposing death sentences, namely that African-Americans who kill whites are disproportionately likely to be put on death row.
Data showing that has been important in legislative debates in states like Maryland, which banned the death penalty in 2013. Surveys from Pew show that while support for the death penalty remains steady among Republicans, that backing has dropped substantially among Democrats, liberals and African-Americans.
The long, costly appeals process for a death sentence has convinced some on both the left and the right that the death penalty is not worth the money, as opposed to a life sentence. Cost comparisons were a big part of the argument mounted by anti-death penalty legislators in Nebraska.
"It's a combination of a better-informed public about the death penalty and a recognition that there things we can and should be doing instead," said Diann Rust-Tierney, executive director of the National Coalition to End the Death Penalty
Also, the stories of people who were on death row but later exonerated have become more widely known.
Hillary Clinton's comments saying that states had "proven themselves incapable" of fairly imposing the death penalty came in response to a question from Ricky Jackson, who was convicted of murder in Ohio in 1975 and sentenced to death. He served 39 years in jail before officials determined he did not commit the crime and freed him.
It is hard to imagine her wanting to publicly associate herself with the execution of an inmate, as her husband did when Rector was put to death by lethal injection in 1992, said Keller of the Marshall Project.
"The environment that Bill Clinton faced is so different than the environment Hillary Clinton faces," he said, referring to polling in 1994 that showed many Americans thought that crime was the biggest problem facing that the country.
"A plank in the platform opposing the death penalty isn't nearly as risky for Hillary as it might have been for Bill," he added.