First Read is a morning briefing from Meet the Press and the NBC Political Unit on the day's most important political stories and why they matter.
We could get a Biden answer eight days from now
As Vice President Joe Biden mulls jumping into the 2016 presidential race, he has a schedule that certainly LOOKS LIKE someone who is ramping up his activity. Today, he heads to Miami, FL -- with plenty of reporters in tow -- to deliver remarks at 2:00 pm ET on the importance of college and community college. Tomorrow, he meets with Jewish leaders in Miami to sell the Iran deal. Then, on Monday, Biden travels to Pittsburgh to participate in Labor Day festivities. And finally, on Thursday Sept. 10, the vice president will appear on Stephen Colbert's new show. The battleground state of Florida! The battleground of Pennsylvania (where he was born)! A late-night appearance with Stephen Colbert! At the very least, we could get an answer -- or maybe better clues -- from Biden about his 2016 intentions on Colbert's show. After all, it would be very hard for Biden to duck a question about a White House bid on that show.
Follow the money
Still, we stand by what we've said in the past: The truest signals of Biden's 2016 plans are 1) setting up some sort of fundraising committee, and 2) hiring staff who could work on a campaign. And after a month of intense speculation about Biden's White House intentions, he still has done neither. Remember, having a sitting vice president traveling to Iowa or New Hampshire for campaign events would cost tens of thousands -- if not hundreds of thousands -- of dollars per day. So Biden can't run on the cheap. By the way, what do Democrats make of calls from Republicans like Dick Cheney for Biden to enter the '16 race? "I think it's good for the Democratic Party," Cheney said on MSNBC's "Morning Joe" when asked if he believed Biden should get in. "They need more choices."
This next GOP debate will (likely) go to 11
That's the big takeaway after CNN changed its debate rules -- with the RNC's blessing. And it means that 11th candidate will likely be Carly Fiorina. As one of us wrote yesterday, the next debate will feature the Top 10 candidates from polls conducted from mid-July until September (the previous rules), plus anyone who ranks in the Top 10 between Aug. 7 and Sept. 10 (the new rules, which would probably get Fiorina into the mix). As it result, it's most likely that we will see 11 GOP candidates on that Sept. 16 debate stage. Here are NBC's Top 10 lists since July 16 and since Aug. 7: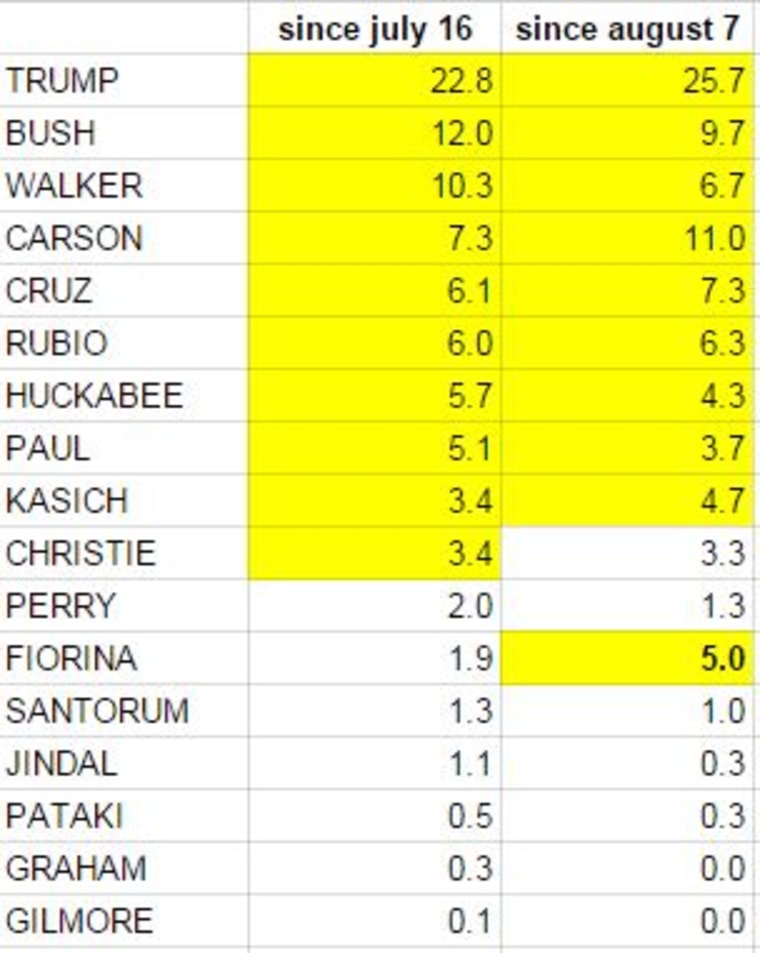 Trump vs. Bush
Yesterday's biggest political story? Try the back-and-forth between Donald Trump and Jeb Bush over a 24-hour period. On Monday, Trump's campaign unveiled a video attacking Bush's past comment calling illegal immigration "an act of love" – by highlighting three undocumented immigrants who have committed murder. Tuesday morning, the Bush campaign responded in kind – with its own video underscoring Trump's past liberal-leaning positions on abortion and health care. And while campaigning in his hometown of Miami, Bush doubled down on his campaign's video. "This is not a guy who's a conservative and using his own words is not a mischaracterization, they came from his own mouth," Bush said on Trump. Trump later fired back at Bush on Twitter, and then produced yet another video hitting Bush. Whew.
Hillary's negative feedback loop, Part 2 -- and some perspective
As we wrote yesterday, Hillary Clinton and her campaign find themselves in a negative feedback loop. First: State Department releases new round of emails. Second: The Washington Post discovers that Clinton actually wrote a handful of these emails that were classified *after the fact*, despite her insistence that she didn't send any classified material. And third: New poll numbers, via the Washington Post/ABC, showing that her fav/unfav rating continues to decline. But keep these two things in mind. One, the Washington Post story above suggests that the emails Clinton wrote that were classified after the fact were "benign." From the story: "Government officials who have seen some of the correspondence say the conversations are generally benign. Some discuss classified programs or topics that have become well-known through public reporting, said the officials, who spoke on the condition of anonymity to describe classified information." And two, the new WaPo/ABC poll shows that Clinton's fav/unfav numbers (45%-53%) are better than Jeb Bush's (38%-55%) and Donald Trump's (37%-59%).
The Iran deal looks more and more like a done deal
At 11:00 am ET in Philadelphia, Secretary of State John Kerry delivers a speech on the Iran deal. And it comes as the Obama White House is one Senate supporter away from being able to uphold a veto in that chamber (and the situation in the House looks even more secure). Yesterday, Sens. Chris Coons (D-DE), who delivered his remarks at the University of Delaware, and Bob Casey (D-PA), who produced this 17-page statement (D-PA), became the 32nd and 33rd Democratic senators to back the Iran deal, per NBC's Frank Thorp. It takes 34 senators to uphold a veto, and it takes 41 senators to filibuster the resolution of disapproval of the Iran deal -- which would prevent Obama from even having to cast a veto. Bottom line: It is increasingly unlikely that Congress has the votes to block the Iran deal.
On the trail
Rick Santorum is in Iowa, where he holds a town hall with Sen. Tim Scott… Marco Rubio heads to Oklahoma to give a speech on energy policy… John Kasich and Rand Paul are in New Hampshire… Mike Huckabee stumps in South Carolina… Scott Walker campaigns in Texas… And Bobby Jindal holds two events in Iowa.
Click here to sign up for First Read emails. Check us out on Facebook and also on Twitter. Follow us @chucktodd, @mmurraypolitics, @carrienbcnews