First Read is a morning briefing from Meet the Press and the NBC Political Unit on the day's most important political stories and why they matter.
How Trump's rivals undermined the 'Stop Trump' movement at last night's debate
Yesterday began with the last Republican presidential nominee, Mitt Romney, charging that Donald Trump would hurt America's future, ridiculing Trump's knowledge of foreign policy, and criticizing his temperament. Those tough critiques continued into last night's debate, with Marco Rubio saying that Trump is unserious and with Ted Cruz pointing out Trump's past support of Democratic candidates. And then what happened at the debate's end? Trump's three remaining rivals said they would support him if he becomes the GOP nominee.
"I'll support Donald if he's the Republican nominee," Rubio said.
"Yes, because I gave my word that I would," Cruz added.
"Sometimes [Trump] makes it a little bit hard, but, you know, I will support whoever is the Republican nominee for president," answered John Kasich.
They were stunning responses, because they undercut the furious #NeverTrump movement we've seen over the past week. If you're going to accuse Trump of being a con artist, a buffoon, or a threat to the country, how can you so easily say you'd support him as your party's presidential nominee? On "Today" this morning, Romney himself said he wouldn't vote for Donald Trump or Hillary Clinton. But Trump's three rivals last night didn't say that.
Romney's exclusive interview on "Today"
As for the rest of Romney's "Today" interview, NBC's Matt Lauer asked him why it took him so long to speak out against Trump. "Donald Trump's outrage had reached such a level that I had to speak out," Romney replied. On accepting Trump's endorsement in 2012: "Had I heard the things I heard now, I wouldn't have welcomed his endorsement." Did he beg for Trump's endorsement? "I was welcoming his endorsement." Why hasn't he endorsed one of Trump's three rivals? Romney answered that he might after the March 15 contests. And would Romney rule out being the GOP's savior during a contested convention? "The people who can save this party are Marco Rubio, Ted Cruz, or John Kasich." Would he rule it out under any circumstances? "There are no circumstances I can foresee where that would possibly happen." Romney finally added, "I'm not running for president and I won't run for president."
The Rick Scott Factor in Florida
If you're trying to envision Donald Trump's chances of winning Florida, do remember that a Trump-like figure already has taken over the state party and the state -- two-term Gov. Rick Scott. In both 2010 and 2014, Republicans and Democrats declared Scott was a disaster. And guess what: The state hasn't fallen into the ocean (well, at least not yet). Indeed, Florida's unemployment rate is around the national average at 5.1%.
The delegate math: How a contested convention could happen
Want to see how the Republican Party is likely to wind up with either 1) Donald Trump as the clear favorite to win the GOP presidential nomination, or 2) a contested convention? Well, here's the delegate math:
Trump holds an 88-delegate lead over his closest competitor, Ted Cruz, according to NBC News' delegate count.

If you assume that the upcoming proportional contests from March 5-12 (including Kansas, Kentucky, Louisiana, Michigan and Mississippi) break down how the previous 15 races did, you end up with these delegate totals:

Then on March 15, if Trump captures the winner-take-all races of both Florida (99 delegates) and Ohio (66 delegates) and wins 45 percent of the rest of the delegates on that day, the totals become:

In that case, Trump needs to win 50 percent of remaining delegates to get to the magic number of 1,237, which is more than doable with Rubio and Kasich likely dropping out after losing their home states.
But if, say, Trump wins Florida but loses Ohio to John Kasich, the numbers become:

In that case, Trump needs to win 57 percent of remaining delegates to get to 1,237 -- still doable.
But if Rubio wins Florida and Kasich wins Ohio, the delegate totals are:

In that case, Trump still holds the delegate lead. But he needs to win 66 percent of remaining delegates to get to 1,237 -- and that could be a hard climb.
Clinton gets better news on the email front
Yesterday, we noted the report that the Clinton staffer who set up Hillary's private server was granted immunity -- which wasn't a great headline for the Clinton campaign. But today's headline, courtesy of the New York Times, is better: "Security Logs of Hillary Clinton's Email Server Are Said to Show No Evidence of Hacking." From the article: "A former aide to Hillary Clinton has turned over to the F.B.I. computer security logs from Mrs. Clinton's private server, records that showed no evidence of foreign hacking, according to people close to a federal investigation into Mrs. Clinton's emails. The security logs bolster Mrs. Clinton's assertion that her use of a personal email account to conduct State Department business while she was the secretary of state did not put American secrets into the hands of hackers or foreign governments."
Chuck Grassley gets a Democratic challenger -- and has a potential Supreme Court problem on his hands
Per NBC's Frank Thorp: "A Democratic source familiar confirms to NBC News that former Iowa Lieutenant Governor and State Agriculture Secretary Patty Judge intends to announce she's running against Sen Chuck Grassley (R-IA), a notable development considering Senate Democrats have been intensely directing their scorn towards the Judiciary Committee Chairman for his decision not to hold a hearing on President Obama's eventual nominee to fill the Supreme Court vacancy." And this comes after the report that the Obama White House is vetting a federal appellate judge in Iowa -- Jane Kelly -- for the vacant Supreme Court seat.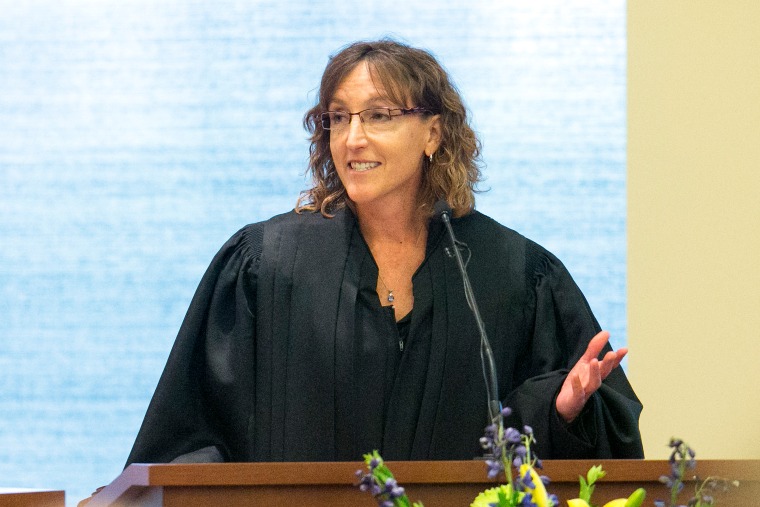 Everybody's working for the weekend
A reminder that we have nominating contests this weekend.
Saturday: Kansas primary, Kentucky caucus (GOP), Louisiana primary, Maine caucus (GOP), Nebraska caucus (Dem).
Sunday: Maine caucus (Dem), Puerto Rico primary (GOP)
On the trail
Hillary Clinton delivers a speech on jobs in Detroit, MI at 2:30 pm ET, while Bill Clinton campaigns in Louisiana and Nebraska… Bernie Sanders stumps in Illinois and Michigan… Donald Trump holds rallies in Michigan (at 9:00 am ET and 1:00 pm ET), as well as in New Orleans (at 7:00 pm ET)…Ted Cruz campaigns in Maine and Louisiana… Marco Rubio hits Kansas… And John Kasich stumps in Michigan… Also today: Kasich and Cruz address CPAC in the DC suburbs.
Countdown to KS, KY (GOP), LA, ME, NE (Dem) contests: 1 day
Countdown to ME (Dem) contest: 2 days
Countdown to HI (GOP), ID (GOP), MI, MS contests: 4 days
Countdown to FL, IL, MO, NC, OH contests: 11 days