First Read is a morning briefing from Meet the Press and the NBC Political Unit on the day's most important political stories and why they matter.
A Republican Party on the brink of coming apart
In the last 72 hours, the Republican presidential contest no longer resembles that final scene in Reservoir Dogs we wrote about a month ago. Instead, it has become Mad Max: Fury Road — chaotic, brutal, disturbing, and still mesmerizing. (Discuss amongst yourselves who in the GOP field is Immortan Joe, Imperator Furioisa, or the dude playing the fire-spewing guitar.) Just consider the rhetoric on the campaign trail and on the Sunday morning shows
Donald Trump on Marco Rubio: "I go back and I see him with makeup. And it's like he's putting it on with a trowel."
Rubio on Trump: "The guy with the worst spray tan in America is attacking me for putting on makeup. Donald Trump likes to sue people. He should sue whoever did that to his face."
Trump on Rubio: "He has really large ears, the biggest ears I've ever seen."
Rubio on Trump: "And you know what they say about guys with small hands."
Ted Cruz on Trump: "Multiple news reports have reported about his dealings with, for example, S&A Construction, which was owned by "Fat Tony" Salerno, who is a mobster who is in jail. It is owned by two of the major New York crime families."
Throw in the Mussolini retweets, David Duke, and the Republican operatives and politicians (including Nebraska Sen. Ben Sasse from last night) who say they will NEVER support Trump if he's the nominee. This is more than a mess for the Republican Party; it is the GOP potentially coming apart before our very eyes -- no matter who ultimately becomes the party's nominee or how long it takes. As our friend Amy Walter observes, "That rumbling sound you hear is the GOP breaking apart. It's been divided for years, but Trump is catalyst for its 'creative destruction '"
In damage control, Trump blames faulty earpiece for KKK answer
In an interview on "Today" this morning, Trump was asked why he didn't disavow David Duke and the KKK in an interview yesterday. "The question was about David Duke and various groups," Trump said, explaining that he had previously disavowed Duke. When he was pressed that the question was about Duke and the KKK, Trump said he misheard the question. "[I had] "a very bad earpiece, and you could hardly hear what [CNN's Jake Tapper] was saying." More Trump: "I have no problem with disavowing groups, but I'd like to know who they are."
Clinton about to pull away in the Democratic race
On Saturday, Hillary Clinton crushed Bernie Sanders in the South Carolina primary, 74%-26%, winning African Americans by a 6-to-1 margin and picking up 39 up-for-grabs delegates to 14 for Sanders. Clinton now has just a 26-delegate lead over Sanders, 91-65, when it comes to pledged delegates. But that's going to get bigger: 1) after Super Tuesday and 2) when you add the superdelegates -- as NBC News will do later today. When all the delegates are added up come Wednesday, it's possible that Sanders will need to win about 60% of the remaining delegates to surpass Hillary, as the Cook Political Report's David Wasserman has pointed out. And under the proportional allocation system, getting 60% of the remaining delegates is a tall order.
Looks like the Sanders campaign will raise $40 million this month
Super Tuesday is shaping up to be a rough day for Bernie Sanders (look at the polls below). But there is one piece of good news for the Sanders campaign: It looks like it will raise about $40 million in the month of February. Per the campaign: "Bernie Sanders' backers were racing the clock on Monday to raise more than $40 million by tonight's end-of-the-month midnight deadline. To keep up the momentum propelling Sanders' grassroots White House bid, the campaign set the ambitious goal of topping the $40 million mark for February. With one day to go in the month, Sanders' campaign has raised more than $36 million from 1.2 million individual contributions. That sum already makes the shortest month of the year the best yet in the 10-month-old campaign."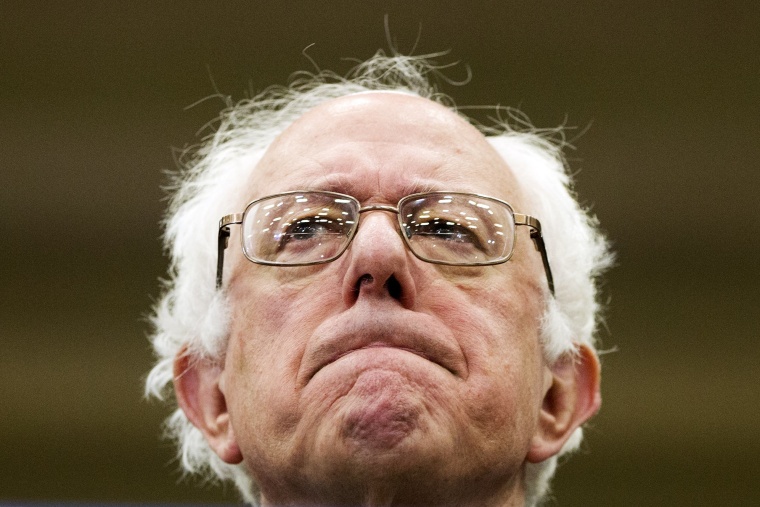 The Super Tuesday polls
Here are the Super Tuesday polls that came out over the weekend, including from us:
GOP race
Georgia (NBC/WSJ/Marist): Trump 30%, Cruz 23%, Rubio 23%, Carson 9%, Kasich 9%
Tennessee (NBC/WSJ/Marist): Trump 40%, Rubio Cruz 22%, Rubio 19%, Carson 9%, Kasich 6%
Texas (NBC/WSJ/Marist): Cruz 39%, Trump 26%, Rubio 16%, Carson 8%, Kasich 6%
Massachusetts (Suffolk): Trump 43%, Rubio 20%, Kasich 17%, Cruz 9%, Carson 4%
Democratic race
Georgia (NBC/WSJ/Marist): Clinton 64%, Sanders 30%
Tennessee (NBC/WSJ/Marist): Clinton 60%, Sanders 34%
Texas (NBC/WSJ/Marist): Clinton 59%, Sanders 38%
Massachusetts (Suffolk): Clinton 50%, Sanders 42%
Paul Ryan on American Heart Month
Finally, here is NBC's Luke Russert on House Speaker Paul Ryan and American Heart Month. "February is 'American Heart Month' in the United States, a campaign from the Centers for Disease Control which encourages men to pick up one heart healthy habit for the rest of the year. Research has shown if you have a young relative die of heart disease, your risk of developing it is doubled by the time you turn fifty. That fact is not lost on Paul Ryan, who's had the three direct male relatives before him all die early. 'I do think about amount of time, I mean everyone has a finite amount of time I just don't know how long mine is and in my family...it's in the back of your mind.' Heart disease facts are sobering. One in four Americans die from heart disease each year and it's the leading cause of death in the nation. Half of all men who lose their lives to heart disease have no previous symptoms."
Countdown to Super Tuesday: 1 day
Countdown to KS, KY (GOP), LA, ME, NE (Dem) contests: 5 days
Countdown to ME (Dem) contest: 6 days
Countdown to HI (GOP), ID (GOP), MI, MS contests: 8 days
Countdown to FL, IL, MO, NC, OH contests: 15 days