First Read is a morning briefing from Meet the Press and the NBC Political Unit on the day's most important political stories and why they matter.
Six days until Iowa, Trump is in clear command of GOP race
These are words that most political observers, including us, didn't think we'd ever write six months ago: Less than a week before Iowa and two weeks before New Hampshire, Donald Trump is in clear control of the GOP presidential contest. If you don't want to take our word for it, just look at the polling out of Iowa, where Trump has topped Ted Cruz in five out of the last six polls, including today's new Quinnipiac survey. Look at the situation in New Hampshire, where he's leading the pack by double digits. And Trump is lapping the GOP field in national polls. Even numbers-cruncher Nate Silver, who had been skeptical about Trump's chances, now gives the real-estate mogul better than a 50% chance of winning Iowa. "Everything's coming up Trump," Silver tweeted. Now it's important to remember: Not a single vote has been cast yet, and a political cycle that has thrown us surprise after surprise could have another in store for us. But what Cruz told a group of Iowa pastors, according to a video obtained by CBN's David Brody, is probably the smart bet: "If Donald wins Iowa … there is a very good chance he could be unstoppable and be our nominee."
And the GOP establishment candidates seem stuck in the mud
Six months ago, we also didn't think we'd be writing these words as well: Just days before Iowa, the GOP establishment is stuck in mud. Yes, Marco Rubio remains in the low double digits in all of the polling, but he hasn't budged in months (likely the result of all of the negative TV ads against him). Jeb Bush -- considered the GOP frontrunner a year ago -- is in the low single digits. Chris Christie is struggling to break through (and struggling with questions about his attention to the flooding in New Jersey). Maybe the one establishment candidate who hasn't truly taken it on the chin -- in terms of perception or negative attacks -- is John Kasich. But as with Christie, it's hard to see how Kasich might capitalize on a strong showing in New Hampshire (with the next big contests in South Carolina and the "SEC Primary" states). So just as Trump is in clear command of the GOP race, the establishment candidates are struggling to break through.
RELATED: George Pataki Backs Rubio's Bid
Last night's CNN town hall confirmed who's (slightly) ahead in Iowa and who's (slightly) behind
On the Democratic side, last night's CNN town hall in Iowa appeared to confirm a Fox News poll of the Hawkeye State showing Hillary Clinton leading Bernie Sanders by six points among likely caucus-goers, 48%-42%. Sanders looked and sounded like a candidate who was slightly behind -- he was defensive and very aggressive. When shown a recent Clinton TV ad, Sanders used it to criticize her record. On the other hand, Clinton looked and sounded like the candidate who was narrowly ahead -- she stated her case, deflected questions, and didn't aggressively attack Sanders. When asked the same question about Sanders' Simon & Garfunkel ad, Clinton responded, "I think that's great. I think that's fabulous. I loved it." More: "You know, look, you campaign in poetry, you govern in prose. And we need a lot more poetry in this campaign and in our country. So, I applaud that. I love the feeling. I love the energy."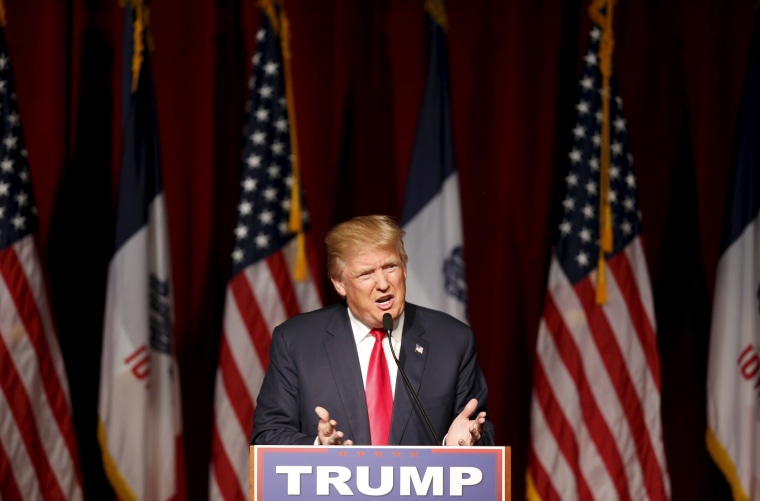 Yes, that emotional moment at that Sanders rally was remarkable. But it also demonstrated Sanders' limitation as a national candidate
Staying with Sanders, the Washington Post's Chris Cillizza highlighted a woman who emotionally talked about her economic struggles at a Sanders rally yesterday. Sanders thanked her, "It is not easy for people to stand up and say that but the truth is that until millions of people who are experiencing what you're experiencing do say that we don't make change." And as Cillizza put it, "A remarkably moving thing happened at a Bernie Sanders rally today in Iowa." But the episode also demonstrated how Sanders -- despite all of his attributes in this campaign -- is a one-dimensional candidate. Bill Clinton in his prime would have rushed out into the crowd and hugged the woman or shed a tear with her. But Sanders didn't do either of those things. Don't get us wrong: Sanders and his campaign have tapped into something that is clearly evident in rallies and in national polls. But he also doesn't seem to have the political talent to take that to the next level.
GOP Super PAC tries to pull a Claire McCaskill, but it seems ham-handed
And don't miss this from the New York Times: "A 'super PAC' founded by the former TD Ameritrade executive Joe Ricketts [a Republican] is spending more than $600,000 on a television ad in Iowa lashing Senator Bernie Sanders of Vermont as 'too liberal' in the final days of his close race against Hillary Clinton in the state's caucuses." More: "The spot, being aired by the ESA Fund, describes Mr. Sanders's policy positions on a range of issues, such as tuition-free college and single-payer health care, saying that it amounts to a flood of new government spending. There will be tax increases on Wall Street, big businesses and the 'super-rich,' the ad goes on to say." But if this Ricketts group is trying to pull a Claire McCaskill -- baiting the other party to support someone else in the primary -- it seems a little ham-handed. For one thing, there's near 100% ad saturation in Iowa and perfect information on the candidates. The other thing: The ad looks like it was done by GOP consultants who don't understand the psyche of Democratic primary voters. The word "liberal" doesn't have the same rallying cry among Democrats that "conservative" has for Republican voters.
Polls galore: To keep track of the latest polling out there
On the trail
Donald Trump holds two rallies in Iowa… Hillary Clinton makes three stops in the Hawkeye State, hitting Decorah, Cedar Falls, and Marshalltown… Ted Cruz makes a whopping seven stops in Iowa… Jeb Bush is in Nevada… Marco Rubio has four events in the Hawkeye State… Ben Carson also is in Iowa… And ditto Bernie Sanders, who hits Des Moines, and he also travels to Minnesota.
Countdown to Iowa: 6 days
Countdown to New Hampshire: 14 days