First Read is a morning briefing from Meet the Press and the NBC Political Unit on the day's most important political stories and why they matter.
Where have all the popular candidates gone?
Almost a year since the first Democrats and Republicans announced their presidential bid and another eight months until the general election, it's striking how unpopular the remaining candidates are, especially compared with past presidential field. Just look at the positive-negative ratings (among all registered voters) for some of the top political figures in the latest NBC/WSJ poll: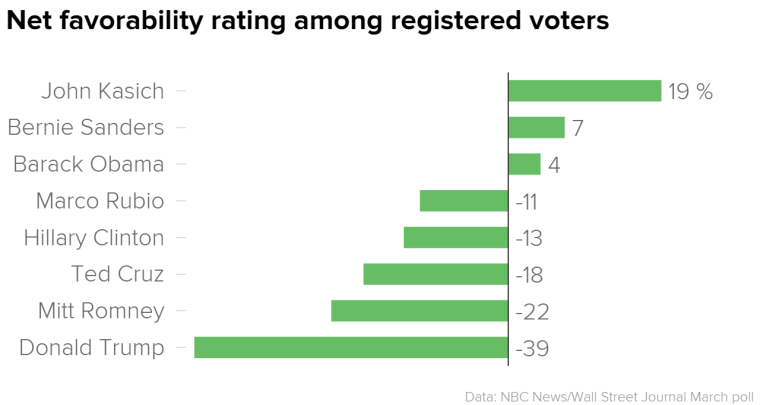 Trump's -39 score -- the lowest in the history of the NBC/WSJ poll for a major presidential candidate -- is a drop of eight points from a month ago; Rubio declined from -3 in February to -11 now (maybe that's why he admitted that his family was "embarrassed" by his personal attacks on Trump); and Clinton's numbers have been stuck in the mud since last summer, when the email controversy became a big story. And it's probably not a coincidence that the two most popular candidates -- Kasich and Sanders -- have faced the fewest attacks during the entire campaign.
"To me, this is the low point"
Now compare those scores above with the positive-negative scores for past presidential candidates at this same point in time:
March 2008: John McCain 47%-27%, Barack Obama 49%-32%, Hillary Clinton 45%-43%
March 2004: John Kerry 42%-30%
March 2000: George W. Bush 45%-32%, Al Gore 44%-34%
March 1996: Bob Dole 35%-39%
April 1992: Bill Clinton 32%-43%
The only ones who come close to today's negative scores are Bill Clinton (-11) and Bob Dole (-4). "I've been doing this 1964, which is the Goldwater years," said NBC/WSJ co-pollster Peter Hart (D). "To me, this is the low point. I've seen the disgust and the polarization. Never, never seen anything like this. They're not going up; they're going down." And it's not only the positive-negative scores: 52% of all voters said they couldn't see themselves supporting Sanders; 56% said they couldn't see themselves supporting Clinton; 56% said they couldn't see themselves supporting Rubio; 58% said they couldn't see themselves supporting Cruz; and 67% said they couldn't see themselves supporting Trump.
Doing the delegate math on the Republican side
Here are our updated figures after a few more delegates were allocated from Tuesday night:


... he will need to win 52% of remaining delegates to reach 1,237 magic number

... he needs to win 59% of remaining delegates to reach 1,237 magic number

... he needs to win 69% of remaining delegates to reach 1,237 magic number
Doing the delegate math on the Democratic side
Hillary Clinton holds a 215-delegate lead over Sanders among pledged delegates, 762-547. And among all delegates (including superdelegates), it's 1194-569. To reach the magic number, Sanders will need to win 60% of all remaining delegates.
Recapping last night's Dem debate
NBC's Alex Seitz-Wald and Amanda Sakuma wrap last night's Democratic debate: "Facing questions in English and Spanish at the debate, hosted by Univision and The Washington Post, Clinton and Sanders drew a sharp line in the sand on deportation policies, which could haunt them down the road: Both pledged they would not deport children nor undocumented adults without criminal records." More: "Sanders hit Clinton with her infamous bungled answer on drivers licenses for undocumented immigrants in a 2008 Democratic primary, which has continued to haunt her long after she walked it back. Clinton countered with Sanders' vote against a 2007 immigration law backed by the late Sen. Ted Kennedy. Sanders said he voted against the law because it included a guest worker program that many Latino and civil rights group opposed." And: "Asked if she would drop out of the race if she were to be indicted for having classified information on her server, she replied curtly: 'Oh for goodness — that is not going to happen, I'm not going to answer that question.' But she also found a way to turn this weakness in a strength by being forthcoming and vulnerable, exposing a bit of herself voters long for in an cycle dominated by a demand for authenticity. 'This is not easy for me,' she said. 'I am not a natural politician, in case you haven't noticed, like my husband or President Obama.'"
A toned-down -- and final -- GOP debate?
And at 9:00 pm ET, the remaining Republicans will participate in a debate from Coral Gables, FL. It's maybe the last GOP debate, especially if Trump wins next week in Florida and Ohio. (If so, we wouldn't be surprised if he says no to future debates.) And it's maybe going to be a toned-down affair after the last two raucous debates, though we won't put any money behind that prediction. "That's not something I'm entirely proud of," Rubio said at last night's MSNBC town hall about his personal attacks on Trump. "My kids were embarrassed by it, and you know? If I had to do it again, I wouldn't, but not on the other charges. Not on the other things." Of course, Trump didn't necessarily tone down things yesterday. "I think Islam hates us," the billionaire told CNN's Anderson Cooper when asked whether the religion was "at war with the West." So many people are certain that Trump will eventually move to middle -- in rhetoric and tone. But what evidence of that do we really have?
On the trail
Hillary Clinton campaigns in Tampa, FL, Durham, NC, and Vernon Hills, IL… Bernie Sanders holds three events in Florida -- in Gainesville, Kissimmee, and Tampa.
Countdown to FL, IL, MO, NC, OH contests: 5 days