If it's THURSDAY… Donald Trump's lawyers told by DOJ that he's a target of investigation… President Biden holds a joint press conference with British Prime Minister Sunak at 1:30 pm ET… Angry conservatives bring House activity to a standstill… Mike Pence blasts Trump upon entering '24 race, but opposes him getting indicted… And PRRI releases new poll on attitudes about gender identity and pronoun use. 
But FIRST... Anyone else already having flashbacks to the 2016 Republican race for president — when the external forces and campaign activity ended up benefitting Donald Trump? 
You have one new candidate unloading on Trump (Mike Pence, his former vice president), but still saying he'd support the eventual GOP presidential nominee. Here's Pence on CNN last night: 
CNN: How can you say that you would support [Trump] if he's the nominee? 
PENCE: Well, because I don't think Donald Trump's going to be the nominee. 
CNN: Well, what if he is?
PENCE: I don't think he's going to be the nominee. 
(Pence also said he opposes Trump getting indicted.)
There's the growing field, which is now up to 10 candidates and counting (Trump, Ron DeSantis, Nikki Haley, Tim Scott, Chris Christie, Doug Burgum, Pence, Vivek Ramaswamy, Asa Hutchinson and Larry Elder).
You have a Florida governor with a substantial war chest and policy record (this time it's DeSantis; in 2016, it was Jeb Bush). 
There's Christie once again taunting Marco Rubio. 
And Scott Walker is giving advice to GOP candidates. 
All of that said, there are at least two important differences between 2016 and now.
The first is that Trump — even after his presidency, his impeachments and Jan. 6 — is much more popular today with Republicans than he was at this point in 2016. 
In our April 2023 NBC News poll, 69% of Republicans said they had a positive view of the former president, versus 15% with a negative view (+54).
In July 2015 — just after he announced his presidential bid — it was 43% positive, 34% negative (+9) among Republicans. 
The second important difference: all of the legal and criminal investigations Trump is now facing.
Then again, Trump's indictment back in April only strengthened his position as the GOP's 2024 frontrunner. But what happens if/when there are other indictments?TEXT
Photo of the day: Apocalypse Now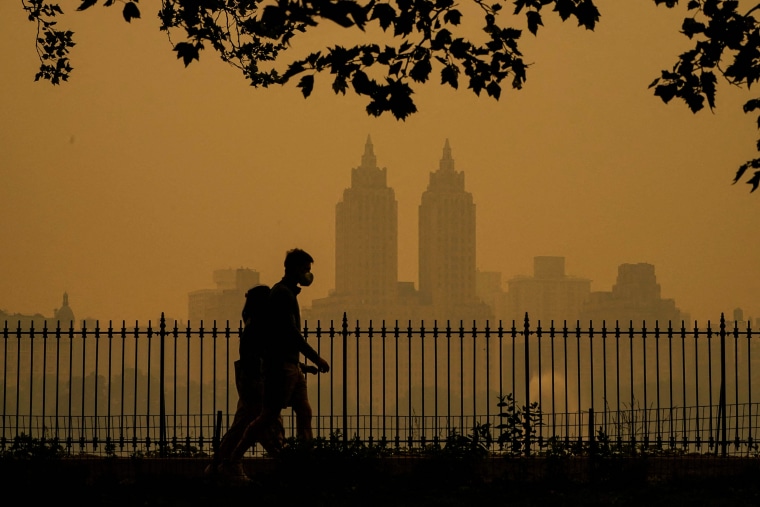 Data Download: The number of the day is … 65%
That's the number of Americans who believe there are only two gender identities, according to a new national poll from PRRI, compared to 34% who disagree. 
The new polling shows a dramatic split on the topic, as well as on pronoun use and teaching about same-sex relationship in schools along partisan, age and religious lines. 
Majorities of Republicans believe there are only two genders, say they'd be uncomfortable if a friend uses gender-neutral pronouns and say it's never appropriate to discuss or teach about same-sex relationships in public K-12 schools. 
A majority of Democrats feel the opposite on all three issues. 
Read more about the survey on the Meet the Press Blog.
Other numbers to know:
5: The number of bills President Biden has vetoed, now that he's vetoed a measure aimed at nixing his student debt relief program. 
$886 billion: The 2024 defense spending levels in the recent debt-ceiling deal negotiated by House Speaker Kevin McCarthy and President Joe Biden, a 3% increase but not enough for Senate Republican Leader Mitch McConnell, who said Wednesday the military is "radically underfunded." 
At least 11: The number of states where a federal investigation uncovered allegations that meatpacking and produce firms are hiring underage migrant workers, according to new reporting from NBC News' Julia Ainsley and Laura Strickler. 
14: The number of days of early general-election voting in Connecticut now that Democratic Gov. Ned Lamont signed new legislation into law Wednesday creating early in-person voting in the state for the first time. 
Nearly 200: How many bills introduced across 38 states that could "subvert" elections, per a new report from three groups tracking election changes, NBC News' Adam Edelman reports.
Eyes on 2024: Rivals react to Trump's possible indictment
Former President Donald Trump's attorneys were informed on Monday that Trump is the target of a special counsel investigation into his handling of classified documents, NBC News' Laura Jarrett and Adam Reiss reported Wednesday. 
Jarrett and Reiss have a helpful explainer on what that means, noting that a target is "someone prosecutors believe committed a crime," and while the target of an investigation is not subpoenaed, he or she is invited to testify. They also write, "Recipients of target letters are often, but not always, indicted."
It remains to be seen how Trump's rivals for the GOP presidential primary could react if he is actually indicted, but former Vice President Mike Pence offered a preview during a town hall on CNN Wednesday night. 
Pence said an indictment "would be terribly divisive to the country," per NBC News' Abby Brooks and Alec Hernandez.
"Indicting a former president of the United States sends a terrible message to the world. I hope the DOJ thinks better of it and resolves those issues without an indictment," Pence said. 
But former Arkansas Gov. Asa Hutchinson, a sharp Trump critic, also weighed in, tweeting, "The @GOPshould clarify that there is no pledge to support a nominee if they are found guilty of espionage or a serious felony," referring to the Republican National Committee's debate requirement. 
"Donald Trump is the target of an ongoing criminal investigation and he should step aside & put the good of the country above his candidacy," Hutchinson added.
In other campaign news…
Another one and another one: Pence and North Dakota Republican Gov. Doug Burgum announced their presidential bids Wednesday, with Pence rebuking Trump directly and Burgum pitched himself as a man of the people, "someone who's held jobs where you shower at the end of the day, not at the beginning." 
Pence gets a little help from his friends: Committed to America PAC, a super PAC backing former Vice President Mike Pence, is spending $190,00 on TV ads in Iowa, per AdImpact data. 
Heading down to the border: NBC News' Gabe Gutierrez, Bianca Seward and Nnamdi Egwuonwu report on Florida Republican Gov. Ron DeSantis' surprise trip to the southern border, where he defended his state's controversial flights of migrants to places like California because "they have bragged that they are sanctuary cities." 
They're not asking: The federal grand jury working on the investigation surrounding former President Trump and his allies' actions surrounding the 2020 election and the Jan. 6, 2021 riot at the Capitol has subpoenaed former Trump official and confidante Steve Bannon, per NBC News' Jonathan Dienst, Laura Jarrett and Ryan J. Reilly.
Almost heaven: Trump has won the backing of 50 West Virginia state lawmakers, per Politico. 
Name-calling: Trump and former New Jersey Gov. Chris Christie are continuing their war of words, with Trump making fun of Christie on social media and Christie telling Fox News Trump is "juvenile" and "a baby." 
Early bird gets the vote: The Republican National Committee launched a new initiative on Wednesday to encourage Republican voters to cast their ballots early, even though Trump has suggested early voting is rife with fraud, per NBC News' Allan Smith. 
A competitive Democratic primary brewing: St. Louis County Prosecuting Attorney Wesley Bell is running for Senate in Missouri as a Democrat, setting up a primary with military veteran Lucas Kunce as they hope for the chance to run against Republican Sen. Josh Hawley. 
Special election looms in Utah: Republican Rep. Chris Stewart has informed Utah Republican Gov. Spencer Cox that he'll resign in mid-September, an announcement that means Cox has to call for a special election within the next week, per KSL-TV. 
ICYMI: What ELSE is happening in the world: 
Supreme Court Justice Clarence Thomas has requested an extension for filing his financial disclosures amid recent reports he's received gifts from a billionaire Republican donor.
Missouri now blocks transgender minors and adults under Medicaid from gender-affirming treatments.