WASHINGTON —  If it's Monday ... President Biden, in Mexico City, holds a bilateral meeting with Mexican President Andres Manuel Lopez Obrador and then attends a dinner with him and Canadian PM Justin Trudeau. ... Newly elected Speaker Kevin McCarthy faces challenging vote on rules package. ... Rep. Mike Rogers, R-Ala., apologizes to Rep. Matt Gaetz, R-Fla., over heated confrontation during chaotic speaker votes. ... And the gold-standard polls got it right in 2022, while the others did not.
But first: Largely lost in last week's GOP chaos on Capitol Hill was one of the biggest moves yet in the still-early 2024 presidential race. 
President Biden repositioned himself in the political center on multiple issues.
On Wednesday, Biden promoted the bipartisan infrastructure law — flanked by bipartisan lawmakers and officials, including Senate Minority Leader Mitch McConnell.
On Thursday, he announced new immigration policies limiting asylum claims at the border and maintaining the use of Title 42, while also expanding some pathways for migrants to apply for asylum. 
(It was notable, for example, that Sen. Joe Manchin, D-W.V., praised Biden's Title 42 move, while progressives and immigration advocates criticized it.) 
On Friday, his administration touted the unemployment rate falling to 3.5%.
And yesterday, Biden made — finally — his first visit to the U.S.-Mexico border as president ahead of his trip this week to Mexico to discuss migrants, drugs and guns. 
Now immigration remains a problem for Biden; polling shows he gets some of his lowest marks on this issue than others.
Still, what stands out is Biden is attempting to address his weakness on the issue. 
As he moves away from the left and toward the middle.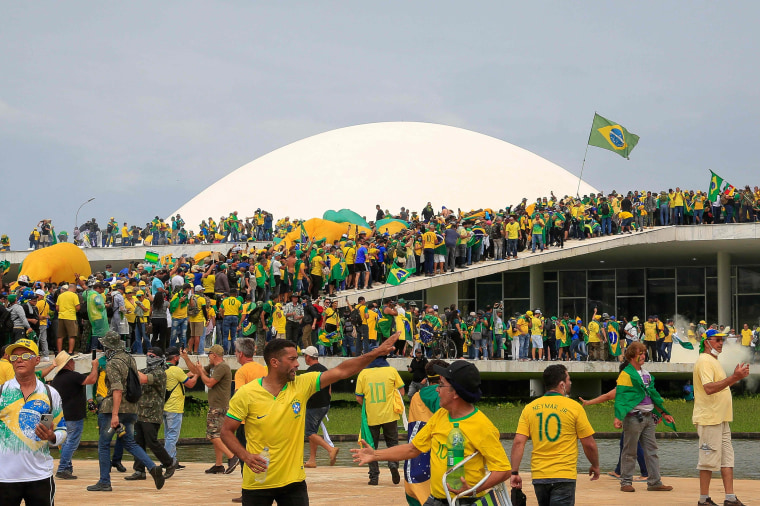 Data Download: The number of the day is … 12
That's how many Republicans filed to run against Democratic Gov. Andy Beshear in Kentucky, according to the Kentucky Secretary of State's office. The filing deadline passed on Friday without former GOP Gov. Matt Bevin filing for another run, despite hinting that he could jump into the race, per the Louisville Courier Journal. Bevin lost a close race to Beshear in 2019.
The crowded field of Republicans includes Attorney General Daniel Cameron, whom former President Donald Trump endorsed last year. Trump's former United Nations ambassador, Kelly Craft, is also in the race, and she has the backing of GOP Rep. James Comer. Craft has the ability to self-fund her campaign (although she has not yet tapped her fortune in the race). The GOP field also includes two other statewide officials — Agriculture Commissioner Ryan Quarles and state Auditor Mike Harmon.
Other numbers to know:
24 hours, 12 minutes: That's how much time was spent on the House Speaker elections last week, per NBC News' Julia Jester. 
2: The number of GOP lawmakers who are publicly wavering or opposing the House rules package — Texas Rep. Tony Gonzales and South Carolina Rep. Nancy Mace. 
100: The age of former NBC and CBS reporter Bernard Kalb who died on Sunday. 
1.45 million: That's how many immigrants Canada is aiming to accept by 2025 to address an expected labor shortage, per NBC News' Julia Ainsley, Joel Seidman and Didi Martinez.
3: The number of shootings on district property over the last 17 months in the Newport News Public Schools system, including Friday's episode where a 6-year-old allegedly shot a teacher. 
About 7,100: The number of nurses ready to strike at two New York City hospitals after union negotiations stalled.
15.8%: The percent increase of new hospitalizations due to Covid in the last two weeks.
11: The number of states with bills aimed at restricting transgender health care access, pre the Associated Press. 
Eyes on 2024: The Senate scramble
The new year is less than 10 days old, and the scramble for the Senate has already begun. 
In Michigan, Democratic Sen. Debbie Stabenow's retirement opens up a pivotal seat on the map in a state where Democrats have a deep bench.
A handful of Democrats are considering running, including Rep. Debbie Dingell, who said on MSNBC's Yasmin Vossoughian Reports Sunday that she hasn't ruled out a bid. But Michigan Secretary of State Jocelyn Benson seemed to throw cold water on the idea of running for Senate during Friday's Meet the Press Now, saying: "My eyes are focused actually on 2024, not as a candidate, but as someone who will be working to protect the voice and the vote of every citizen in our state." 
In California, where the specter of Democratic Sen. Dianne Feinstein's possible retirement looms large, Politico reports that five Democrats familiar with the plans of Democratic Rep. Katie Porter say she's considering a bid, as are fellow Reps. Barbara Lee and Adam Schiff. 
And in Missouri, Democrat Lucas Kunce is running again, announcing a bid Friday against Republican Sen. Josh Hawleythat focused primarily on criticizing Hawley for his conduct at the Capitol on Jan. 6, 2021.  
In other 2024 news:
Noem continues to consider bid: During a Fox News interview, South Dakota Gov. Kristi Noem said that it's "fair to say" she's not ruling out a presidential bid but that "politics changes quickly." 
Kemp emerges from election a key face in non-Trump GOP: The Associated Press writes how Georgia Republican Gov. Brian Kemp's 2022 race could provide a blueprint for Republicans trying to chart a path forward without relying on former President Donald Trump. Kemp "hasn't ruled out running for the U.S. Senate in 2026 or even seeking the White House," the AP reports.
99 problems, but being a member-elect ain't one: Now that the GOP leadership debate is over, New York Republican Rep. George Santos has officially been sworn in with the rest of the House. But Santos continues to face mounting investigations related to revelations he exaggerated his background. 
Wanting Boebert to take it down a notch: The Associated Press spoke with constituents of Republican Rep. Lauren Boebert about her brash style, and with the congresswoman, who said she wants to be "more focused on delivering the policies I ran on than owning the left."  
It's official: Nebraska Republican Sen. Ben Sasse has officially stepped down from the Senate, leaving the decision to replace him with newly inaugurated Gov. Jim Pillen before next year's special election. 
ICYMI: What else is happening in the world
A new wave of Covid infections in China threatens the U.S.' medical supply chain, despite efforts by the industry since 2020 to lessen its reliance on Chinese-made products. 
A former campaign aide to Republican Herschel Walker accused conservative leader Matt Schlapp of sexually groping him on the campaign trail in October, NBC News' Jonathan Allen reports.