WASHINGTON — If it's Thursday ... Transportation Secretary Pete Buttigieg visits East Palestine, Ohio. ... Democratic confidence in President Biden rises, per new poll. ... Mike Pence breaks with Donald Trump on Medicare and Social Security, NBC's Jon Allen writes. ... A Democratic Super PAC announces it will spend $45 million to flip New York's House seats. ... And here's why Democrats are cheering Sen. Jon Tester's, D-Mont., decision to run for re-election.
But first: This week has produced the first real split-screen moment of the very-early 2024 presidential race. 
President Biden in Ukraine and Poland marking the one-year anniversary of Russia's brutal invasion, versus Donald Trump's trip Wednesday to East Palestine, Ohio after the train derailment there.
For Biden, the war in Ukraine has given him a real commander-in-chief moment (even if the public hasn't exactly rewarded him for it), it's underscored a clear divide inside the Republican Party (this isn't Ronald Reagan's GOP anymore), and it's served as a reminder of when Trump got impeached for tying Ukraine's aid to investigating the Bidens.  
For Trump, the East Palestine trip allowed him to beat Biden and Buttigieg in getting there (though Biden EPA's administrator was there on Tuesday), it elevated him above the rest of the '24 GOP field (reminding all that he's a former president while the others are not), and it allowed him to connect with the kinds of voters who launched him into the White House.
"You are not forgotten," Trump said yesterday, per NBC's Garrett Haake and Olympia Sonnier. "You are not forgotten. We stand with you. We pray for you. And we will stay with you and your fight to help answer and the accountability that you deserve."
But if you're a president/candidate who can own one of these two screens, you'd probably pick the latter one.
After all, it's not lost on us what happened in 1992, when George H.W. Bush was ending the Cold War, but Bill Clinton won by focusing on what was happening at home.
Photo of the day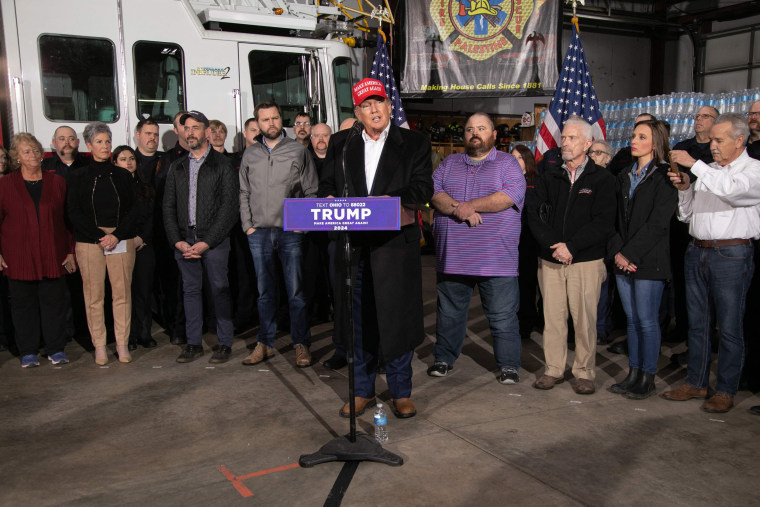 Data Download: The number of the day is … $45 million 
That's how much money House Majority PAC, a Democratic super PAC, announced it would spend in New York in 2024 to flip competitive House seats, with a press release stating that the group would be "the largest investor in New York Democratic campaigns in 2024." The effort is expected to include polling, TV ads, digital ads, direct mail, grassroots organizing, and voter registration. 
New York was central to Republicans taking over the House last year — the GOP flipped four Democratic-held seats in the state and kept two competitive open seats in Republican hands. All six freshman Republicans are in districts Biden would have won had the new congressional lines been in place in 2020. Democrats need a net gain of just five seats to take back the House next year. 
The national investment comes as a new spotlight is shining on the state Democratic Party, which has been plagued by infighting and criticism after last year's failures, per the New York Times. 
Other numbers to know: 
1,500: The number of flights that have been canceled across the U.S. as a major winter storm threatens to dump historic snowfall across parts of the country.
20: The number of Democratic governors joining an alliance aimed at defending abortion access in their states.
38: The number of months a Jan. 6 rioter who threatened Rep. Alexandria Ocasio-Cortez, D-N.Y., has been sentenced to prison.
20%: The portion of teenage girls who said they had been victims of sexual violence, a 2021 CDC survey found.
9: The age of a young girl who was killed Wednesday when a gunman allegedly returned to the scene of a crime and shot four others, including the girl and a television journalist from Spectrum News 13, who also died. 
600 miles: The length of the front in the war between Ukraine and Russia, almost one full year after Russia invaded Ukraine.
$480,000: The amount Steve Bannon owes his lawyers, they say, after he was sued for breach of contract by the law firm that has represented him in a variety of cases over the last two years.
Eyes on 2024: Recapping Tim Scott's trip to Iowa
Sen. Tim Scott, R-S.C., became the latest possible presidential candidate to bring his message to Iowa, NBC News' Yamiche Alcindor and Julia Jester report, mixing deep criticism of Democrats with a hope for a more optimistic future. 
Diagnosing America with a "crisis of optimism," he lamented the "the drug of victimhood and the narcotic of despair," as well as those who "get rich and famous by feeding the empty calories of anger to people who are starving for hope." And he minced no words when talking about Democrats, comparing the opposing party's platform to a "blueprint to ruin America" that could have been devised by "our nation's greatest enemy." 
"These people who call themselves progressive are attacking every rung of the ladder that helped me climb. I was the teenager whose spirit would have been crushed by a culture obsessed with identity politics and racial strife," Scott said. 
His prescription: conservative values. Noting how his grandfather "lived long enough to see his family go from cotton to Congress in his lifetime" he also said that "conservatism is my personal proof there is no ceiling in life." 
In other campaign news: 
Building the brand: A new report from Democratic strategists finds the party's brand "pretty damaged" among blue collar voters who will be key to the Democratic coalition in 2024, per the New York Times. 
Being Pence-ive: Former Vice President Mike Pence told CNBC on Wednesday that cutting Medicare and Social Security should be "on the table for the long term." 
Florida flattery: Florida Republican Gov. Ron DeSantis praises former President Donald Trump's "star power" and agrees with his sentiment that the media is the enemy, according to excerpts of his new book from a new report in The Guardian. 
Balloon hits the airwaves: Kentucky GOP gubernatorial hopeful Kelly Craft is out with a new TV ad focused on China, which appears to be one of the first ads featuring an image of the Chinese surveillance balloon. Craft reserved $115,000 on the airwaves from Thursday through Sunday, per AdImpact. 
Watching the left: The Daily Beast reports that some "New York insiders" believe Democratic Sen. Kirsten Gillibrand could face a primary challenger next year, with one source telling the outlet that former Rep. Mondaire Jones hasn't ruled out a run. 
Thinking about it: The Dispatch reports that former Rep. Jaime Herrera Beutler, R-Wash., is weighing a run for governor, and that former GOP state Sen. Tom Barrett is considering another run for the House in Michigan. 
Staying put: Indiana Attorney General Todd Rokita told Fox59 that he will not run for governor or Senate next year, and instead seek re-election for his current post. 
Just days to go: Democratic Rep. Jesús "Chuy" García is a frontrunner in next week's Chicago mayoral race, and he'd make history as the city's first Latino mayor. But the race is likely to head to an April runoff, NBC News' Suzanne Gamboa and Matthew Mata report. 
ICYMI: What else is happening in the world
In a case argued in front of the Supreme Court Wednesday, the court seemed unlikely to side with a family attempting to sue Twitter, Google and Facebook for assisting the spread of violent Islamist ideology, which led to the death of their relative in a terrorist attack in 2017. 
Former President Donald Trump's daughter and son-in-law, Ivanka Trump and Jared Kushner, have been subpoenaed to appear in front of a grand jury investigating Trump's attempts to overturn the 2020 presidential election, according to the New York Times.
Arizona's House passed a bill that would restrict the secretary of state from overseeing and certifying elections where the secretary of state is a candidate.