If it's WEDNESDAY… Former VP Mike Pence launches presidential bid, makes announcement in Des Moines at 1:00 pm ET… North Dakota Gov. Doug Burgum holds his presidential announcement in Fargo beginning at 11:30 am ET… House conservatives — angry at debt-ceiling deal — block GOP bills to protect gas stoves… California Gov. Gavin Newsom tells NBC's Jacob Soboroff that Florida officials committed crimes sending migrants to Sacramento… And 86-year-old Pope Francis undergoes surgery.
But FIRST... Former New Jersey Gov. Christie came out swinging against Donald Trump when he announced his 2024 presidential bid on Wednesday.
"Let me be very clear: I am going out there to take out Donald Trump," he said in New Hampshire, per NBC's Shaquille Brewster and Kailani Koenig.
And today, former Vice President Mike Pence's own announcement for president serves as a rebuke to the president he once served — even if his video announcement never one mentions Donald Trump's name.
"We can turn this country around, but different times call for different leadership. Today, our party and our country need a leader that will appeal as Lincoln said, to the better angels of our nature," Pence said in his video.
Yet here's why their efforts might fall short with GOP primary voters, as well as with the electorate at large: Both men enabled and proudly worked for Trump — until just about the very end.
Christie, if you recall, was the first major 2016 candidate to endorse Trump after ending his own campaign. He also took out Marco Rubio in that pre-New Hampshire primary debate (when Rubio had the potential to be the party's alternative to Trump). He served as Trump's transition chair. And he performed the roles of Hillary Clinton and Joe Biden in Trump's debate preparations.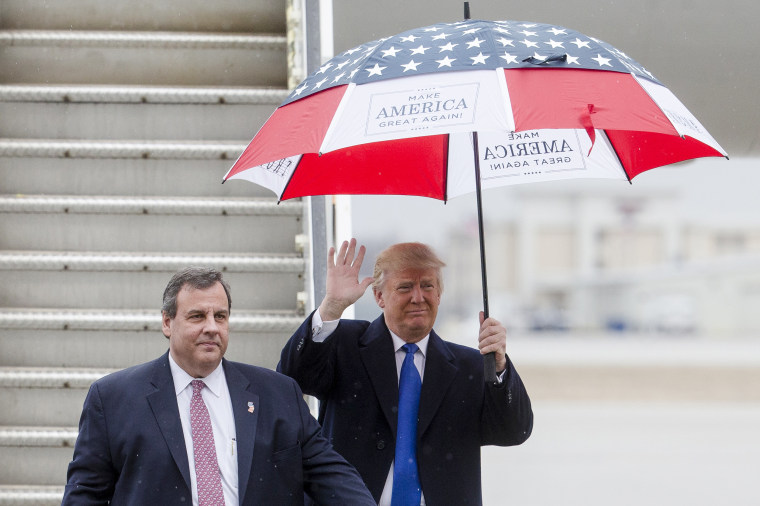 Christie broke with Trump over his false claims about the 2020 election. "I got off the train when he stood up in the West Wing of the White House behind the seal of the president and told us the election was stolen when he didn't have one fact to back it up," he said in March.
Pence, meanwhile, stood by Trump for four years — until Jan. 6. He even agreed to serve as Trump's vice president at the time there was a real effort to challenge him at the GOP convention in Cleveland.
Each man has a legitimate beef with the former president, especially Pence.
"I will tell you that I think the president's words that day [on Jan. 6, 2021] were reckless. And they endangered me and my family and everyone serving at the Capitol," he told NBC's Dasha Burns last month.
But it's hard to cast yourself as THE alternative to Trump — when you stood by him for years before those final breaking points.
Especially when Trump's behavior after the 2020 election was foreseeable.
Quote of the day: Change of heart on human rights
"So weird. PGA officials were in my office just months ago talking about how the Saudis' human rights record should disqualify them from having a stake in a major American sport. I guess maybe their concerns weren't really about human rights?"

Sen. Chris Murphy, D-Conn., about the LIV-PGA merger.
 Data Download: The number of the day is … 9%
That's the highest level of support from Republicans that former Vice President Mike Pence has received in any poll of the GOP nomination released since the middle of May, per 538's aggregation of recent polling. 
Pence hit that mark in an Echelon Insights poll that was in the field between May 22-25, good enough for third in the GOP primary field, but leaps and bounds away from Trump's 49%.
But the former vice president isn't just entering the GOP field today amid a spate of lackluster polling, he also comes in with a lackluster image rating among the voters he's hoping will eventually make him the nominee. 
Pence sported a 46% favorable rating in Monmouth University's most recent poll, but his 35% unfavorable rating was higher than nine of the 10 Republicans polled (only former New Jersey Republican Gov. Chris Christie's unfavorable rating was higher). 
Other numbers to know
More than 20: The number of Secret Service agents who have appeared or been subpoenaed by the grand jury hearing evidence about the handling of classified documents at Trump's Mar-a-Lago, according to NBC News' Julia Ainsley. 
$500,000: The amount put up for New York Republican Rep. George Santos after his indictment — a judge ruled Tuesday to unseal the names of those who contributed to that bond. 
At least eight: How many times a Fort Wayne man allegedly left threatening messages for Indiana Republican Rep. Jim Banks. The man has been charged with intimidation and harassment. 
11: The number of survivors and relatives who are going to sue the El Paso County Sheriff's Office for not getting a red flag order against the man accused of killing five and injuring 22 at a Colorado Springs nightclub last year. 
33: The number of states that have passed new voting restrictions in the decade after the Supreme Court gutted the Voting Rights Act. 
$115 million: How much money the Biden administration is sending to help repair water infrastructure in Jackson, Miss., per the Washington Post. 
Eyes on 2024: Who is Doug Burgum?
The GOP presidential primary field will grow even larger on Wednesday with North Dakota Gov. Doug Burgum jumping into the race, announcing his campaign in his home state and then making a swing through Iowa. 
"We need a change in the White House. We need a new leader for a changing economy. That's why I'm announcing my run for president today," Burgum wrote in a Wall Street Journal op-ed.
A two-term governor, Burgum may not be well-known nationally, but he has vast personal resources to spend on the race. He recently signaled that he would spend his own money on the campaign, telling NBC News' Henry J. Gomez, "I've always had my own skin in the game. I've always felt like I would never ask others to invest if I weren't always investing."
The 66 year-old Arthur, N.D. native built his fortune as CEO of Great Plains Software, which he sold to Microsoft. He also founded real estate development firm Kilbourne Group and co-founded venture capital firm Arthur Ventures, according to his biography with the governor's office: 
Burgum is the sixth current or former governor to jump into the GOP primary (including Pence, Christie, Florida Gov. Ron DeSantis, former South Carolina Gov. Nikki Haley, former Arkansas Gov. Asa Hutchinson). He won his first term as governor in 2016 with 77% of the vote, defeating Democrat Marvin Nelson by 58 percentage points. In 2020, Burgum won re-election by 42 points, winning 69% of the vote. 
In other campaign news…
The Florida swamp: NBC News' Matt Dixon and Jonathan Allen detail how DeSantis "reconfigured the swamp to suit his political needs and shielded it from Florida's famous sunshine."
Trump tries to block separate E. Jean Carroll suit: NBC News' Adam Reiss and Dareh Gregorian report that Trump's lawyers are trying to get a defamation suit filed by writer E. Jean Carroll thrown out.  
Cash dash: The Republican National Committee's 40,000 donor threshold for primary debates has GOP candidates scrambling for small-dollar donors, Politico reports. 
Fessing up: Florida's Division of Emergency Management confirmed Tuesday that the state helped arrange flights of migrants from Texas to California — flights California Attorney General Rob Bonta is investigating and said could lead to "civil or criminal actions against the state of Florida" or others. California Democratic Gov. Gavin Newsom said he believes a crime was committed, and told NBC's "TODAY" that "the buck should stop with Ron DeSantis."
No labels, no rules: NBC News' Alex Seitz-Wald reports that Maine Secretary of State Shenna Bellows has sent a cease-and-desist letter to No Labels after complaints the group was misleading voters by telling them they were signing a petition when they were actually changing their voter registration to the No Labels Party.
Rolling the dice: The Nevada Globe reports that former Ambassador Jeffrey Ross Gunter, who served as ambassador to Iceland during the Trump administration, is considering a Senate bid in Nevada. 
Eyes on Kentucky: The Associated Press reports on how crime is becoming an issue in the Kentucky gubernatorial race. 
ICYMI: What ELSE is happening in the world:
Supreme Court justices' annual financial disclosure reports will be released Wednesday, with the court facing scrutiny after revelations of Justice Clarence Thomas' ties to billionaire GOP donor Harlan Crow. The billionaire's attorney has agreed to speak to the Senate Judiciary Committee, which is investigating Thomas and Crow's relationship.
The Human Rights Campaign, a prominent LGBTQ advocacy group, declared a state of emergency for LGBTQ people in the U.S.
Former New York City Mayor Rudy Giuliani denied in a recent court filing that he coerced a woman for sex and owes her unpaid wages.