WASHINGTON — If it's Thursday ... President Biden concludes U.S.-Africa summit in D.C. ... Donald Trump makes "major announcement" in his presidential bid. ... Senate Majority Leader Chuck Schumer  predicts Dems will hold on to majority in 2024 despite daunting map. ... Georgia's secretary of state calls to end runoff elections in the state. ... And former Speaker John Boehner tears up at Nancy Pelosi portrait unveiling.
But first: Donald Trump Thursday holds his first event since launching his 2024 presidential bid exactly one month ago, delivering a "major announcement" as he teased on his social media platform.
And it comes amid some of his worst poll numbers since first stepping onto the national stage seven years ago. 
A Quinnipiac poll released on Wednesday has Trump's fav/unfav rating at 31% positive, 59% negative among all registered voters — his lowest numbers in the poll since 2015. 
(Among Republican voters, it's 70% positive, 20% negative — again another low for him since March 2016.)
A CNN poll released Wednesday has similar fav/unfav numbers for the former president: 31% favorable, 60% unfavorable among all adults, representing his lowest favorable score in the poll since 2016. 
Quinnipiac finds just 25% of all registered voters (and 56% of GOP voters) wanting him as the Republicans' 2024 presidential nominee.
And CNN shows that just 38% of GOP voters think the Republican Party should nominate Trump, versus 62% who want someone else. 
As we've pointed out, Joe Biden's poll numbers aren't great. 
Quinnipiac has the current president's approval and favorable rating at 43% among all voters. And CNN has just 40% of Democratic voters who want Biden as the party's nominee.
But they're higher than Trump's.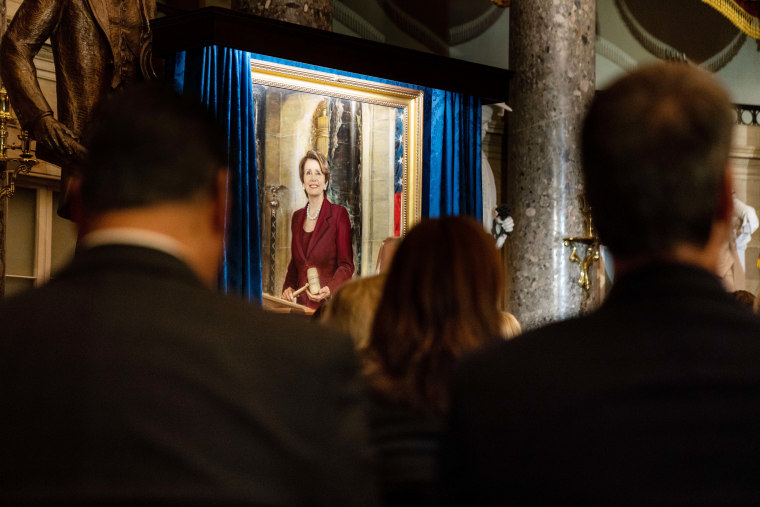 Data Download: The number of the day is … 54
The number of school shootings involving active shooters that NBC News has tracked since the shooting at Sandy Hook elementary school, which took place in Connecticut 10 years from Wednesday.
The shootings span 25 states and Washington D.C., and have left 101 dead and 156 injured, not to mention the thousands whose lives have been touched by tragedy. 
President Biden, who served as vice president when the Sandy Hook shooting occurred, addressed the anniversary Wednesday, calling for gun reforms such as banning assault weapons and high-capacity magazines, measures that have stalled in Congress over concerns about infringing on gun rights. 
Other numbers to know:
0.5 percentage points: The latest interest rate increase by the Federal Reserve, pushing the overall rate higher than it's been in 15 years even as the increase amounted to a smaller one than previous increases since the beginning of the pandemic. 
2,500: The approximate number of migrants crossing into El Paso each day, a number that's expected to increase if Title 42 is lifted. 
6,670: The combined vote margin in the five closest House races this fall, races that if Democrats had won, would have allowed them to keep the House majority, per analysis from Inside Elections. 
$8 million: How much a Florida pastor and his son obtained in federal Covid relief before being arrested for fraud. 
16: The number of counts in an indictment filed against two men for allegedly smuggling military equipment to Russia. 
Eyes on 2024: McCarthy's dodge on Trump
Donald Trump has received just over a dozen endorsements from current and incoming members of Congress in the month since he announced his campaign. Missing from that list? House Minority Leader Kevin McCarthy. 
McCarthy, a staunch Trump ally despite initially criticizing Trump after the Jan. 6, 2021 attack on the Capitol, dodged a question Wednesday about whether he'll endorse Trump for president. 
"We haven't talked about that yet," McCarthy said at a Wednesday press conference. "But one thing I do know: If we had President Trump in, we wouldn't have inflation, we wouldn't have a border that's run away, we wouldn't have gas prices as high as it is, and we probably would have greater stability in the world. We wouldn't have China taking over others." 
McCarthy's dodge comes as he is trying to cobble together enough support from his conference to be the next House speaker. Trump has backed McCarthy's bid for speaker, and the New York Times reports that Trump has been making calls on McCarthy's behalf. But a faction of conservatives, including some Trump allies, could derail McCarthy's plans.
In other 2024 news:
Biden v. Trump no matter what: NBC News' Peter Nicholas and Mike Memoli report on how Democrats are looking to make 2024 a binary between Biden and Trump, even if the former president isn't the GOP nominee.
Schumer's prediction: Senate Majority Leader Chuck Schumer told NBC News' Sahil Kapur that he expects Democrats to hold onto the Senate in 2024 despite a tough map, suggesting Democrats will tout their accomplishments and draw a contrast with the "MAGA group" of Republicans. 
Walking away from a runoff?: Georgia Secretary of State Brad Raffensperger wants to end the state's runoffs, arguing it's tough on election officials, voters and campaigns. 
On (to the next race), Wisconsin: Republican Rep. Mike Gallagher tells The Dispatch a bid against Democratic Sen. Tammy Baldwin is "not on my mind." 
Democrats conflicted over Sinema: About a week after Arizona Sen. Kyrsten Sinema decided to register as an independent, Democrats have remained mum about how they'll choose to handle that decision politically with Sinema's 2024 re-election looming, NBC News' Sahil Kapur, Julie Tsirkin and Kate Santaliz report. 
McClellan wins big endorsements: Virginia Democratic Sen. Tim Kaine and EMILY's List are both backing Jennifer McClellan's bid to replace the late Rep. Donald McEachin in February's special election.
Dems' indecision: The Washington Post delves into the decision still confounding Democratic leaders: who will lead the party's House and Senate campaign arms in 2024.
To the right: Gov. Ron DeSantis, R-Fla., has taken multiple steps in recent days to bolster his conservative credentialsahead of a potential presidential run, per Politico. 
ICYMI: What else is happening in the world
The White House announced new steps Thursday to combat a winter Covid surge, including offering free at-home tests and bolstering vaccination efforts, per NBC News' Shannon Pettypiece. 
Twitter has suspended the account that tracks the location of new CEO Elon Musk's jet, as well as the private jets of other tech leaders. 
Grant Wahl, the American soccer journalist who died in Qatar during the World Cup last week, died from an aortic aneurysm, his family says.