In her opening campaign event of the 2016 presidential race, Hillary Clinton on Tuesday laid out four primary "fights" she's focused on during her presidential run, including eliminating "unaccountable money" from America's political system, even if it requires a constitutional amendment.
"We need to build the economy of tomorrow, not yesterday," she said in remarks at a community college in Iowa, which holds the first nominating contest of the presidential cycle. "We need to strengthen families and communities, because that's where it all starts. We need to fix our dysfunctional political system and get unaccountable money out of it once and for all, even if that takes a constitutional amendment. And we need to protect our country from the threats that we see and the ones that are on the horizon."
She also highlighted, as she did in her announcement video Sunday, her pledge to fight income inequality.
"I think it's fair to say that as you look across the country, the deck is still stacked in favor of those already at the top," she said. "And there's something wrong with that. There's something wrong when CEOs make 300 times more than the typical worker."
She also said that she "fully supports" a proposal by President Barack Obama for free community college tuition.
Clinton said that she'll fight hard for the support of caucus-goers in Iowa and acknowledged that it will be a long contest.
"I just felt like I couldn't walk away from what I see as the challenges we face, and I want to build on what we've done to get out of the terrible recession and get back on our feet," she said. "But we have to run the race."
Clinton has tried to keep a relatively low profile on her opening trip to Iowa, limiting access to the press and holding small events.
She kept mum when NBC's Kristen Welker caught up with the campaign in the eastern part of the state to ask the candidate how she's changed her strategy since her third-place finish in the state in 2008.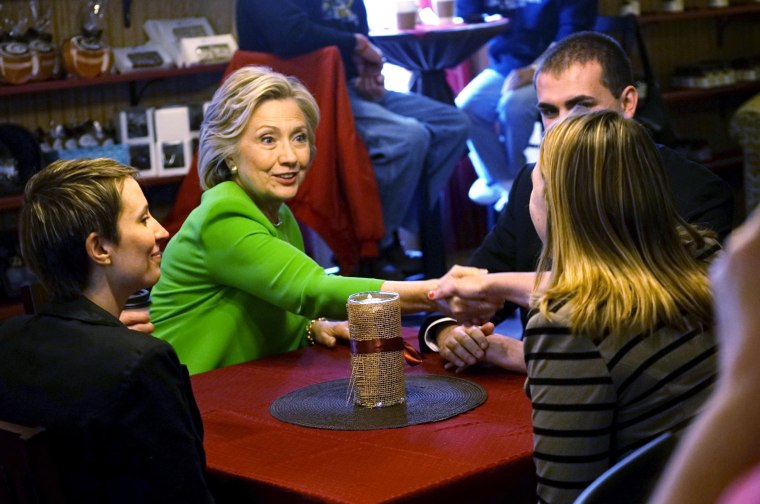 "I am having a great time, can't look forward to any more than I am," she said. "Thank you."
Earlier Tuesday, she visited the Jones St. Java House in La Claire, where she ordered a Masala Chai and a concoction called a "caramellow latte," per a pool reporter. After ordering, she sat down (out of earshot of the press) for coffee with the town's mayor and his wife as well as the husband of one of the cafe's owners.
Clinton aides have stressed that, at this early stage, they want to avoid the flashy events and big crowds that accompanied her first run for the White House, which they said hampered her ability to connect with Iowa voters on a one-to-one level.
That means that press coverage of the former secretary of state, who entered the race on Sunday, is not dissimilar from the media apparatus that travels with a sitting president; a tiny group of reporters traveling with her are authorized by the campaign to distribute information about small events, like the stop at the Java House, to other media outlets. At larger events, like the one in Monticello, more reporters are allowed, although major news outlets are limited to sharing camera footage.
- Carrie Dann