Wisconsin Gov. Scott Walker's decision to drop out of the presidential race on Monday came as he entered the kind of death spiral struggling campaigns often do.
The candidate who had once led in polls in Iowa was now well behind in the Hawkeye State and outside of the top 10 GOP candidates in some national surveys. He was potentially in danger of not qualifying for the next GOP debate. And with donors unwilling to give money to a candidate who appeared to be a loser, Walker was running low on campaign funds.
But why was Walker struggling to raise money and maintain his standing in polls? Because the second-term Wisconsin governor was supposed to be the man who could satisfy both wings of the Republican Party but ended up pleasing neither.
Related: Rivals React to Scott Walker's Surprise Decision
In theory, Walker was a strong candidate because he could tell the more moderate wing of the Republican Party that he could win a general election, having won three straight races in Wisconsin, traditionally a blue state. At the same time, Walker's record in Wisconsin of severely limiting public employee unions, defunding Planned Parenthood and enacting laws such as a voter ID provision would appeal to conservative, Tea Party Republicans. Walker would win by being to the right of ex-Florida Gov. Jeb Bush, but to the left of Texas Sen. Ted Cruz.
He often candidly admitted this was his strategy. It didn't happen.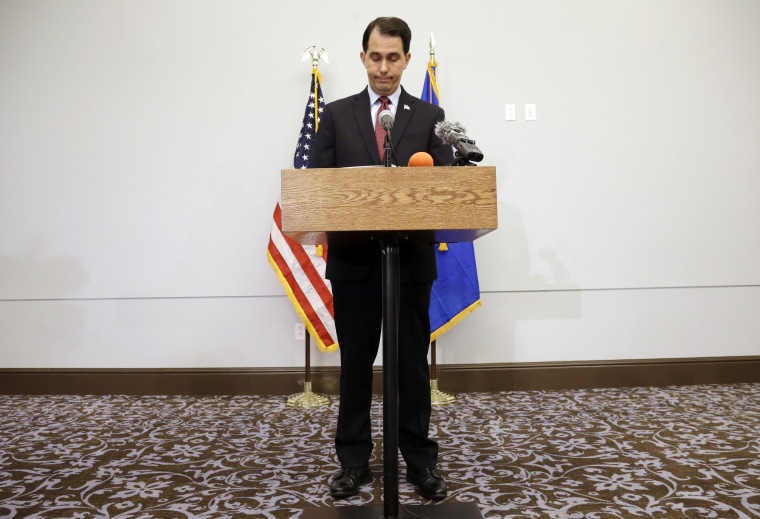 The establishment wing of the Republican Party largely rejected Walker. Some major donors in New York and other big cities, as well as elected officials such as Maine U.S. Sen. Susan Collins, got behind Bush early in the race. Many of the Jeb Bush backers are moderate themselves on issues like immigration and viewed Bush as in sync with them. Others felt loyalty to the Bushes or viewed Jeb Bush, with his multi-ethnic family, as a candidate who could win Latino voters and therefore was more electable nationally than Walker.
But Bush, despite strong fundraising, has struggled as well. The Republican establishment has not settled on a candidate, as most GOP elected officials have refused to endorse anyone. To many of them, Florida Sen. Marco Rubio is young and inexperienced, Bush unelectable because of his last name, Ohio Gov. John Kasich too liberal and New Jersey Gov. Chris Christie tarred by the Bridgegate scandal.
But key party officials were not yet willing to embrace Walker over those four. There were deep doubts in the GOP establishment about Walker's smarts on policy issues, concerns he reinforced when he would take a position on an issue and then reverse himself, which the Wisconsin governor did throughout his campaign. Last month, Walker gave four different answers in a single week on the issue of whether he would end birthright citizenship.
And while Bush, Kasich and Rubio speak in great detail on many policy issues, Walker struggled to go beyond talking points and clichés when asked questions like how he would deal with ISIS.
Walker "is not ready for primetime in my opinion," ex-Oklahoma Sen. Tom Coburn said earlier this year, according to Buzzfeed, voicing publicly what many Republicans did privately.
Many national polls show Bush and Rubio below 10%, and Kasich still below 5%, so they were not far ahead of Walker. But there was little sign party officials were going to coalesce around the Wisconsin governor, and it was likely Bush, Kasich and Rubio would have had to implode for Walker to become the candidate of the GOP establishment.
Walker could have overcome those doubts from the Republican Party's moderate wing if he could have connected with the Republican right, particularly activists in early states like Iowa. Walker led in polls in Iowa through much of the first six months of the year. But that support was not very deep, and it quickly evaporated.
Walker, trying to woo the right but also maintain some credibility with the GOP establishment, quickly found himself outflanked by Donald Trump. Trump took far-right positions that Walker would not, such as advocating the deportation of the estimated 11 million undocumented immigrants living the United States. The real estate mogul, with his controversial remarks, also grabbed nearly all of the media attention and coverage, a huge problem for Walker, who is not well-known by most Republican voters.
Related: Scott Walker Exits GOP Presidential Race
And in recent weeks, Walker found himself also eclipsed in polls in Iowa by Ben Carson, who had none of the bombast or immigration positions of Trump and in fact rarely appeared in the state. Being passed in polls by Carson suggested Walker's problems in Iowa were not just about the rise of Trump.
And over the last week, after Carly Fiorina forcefully challenged Trump in a debate, she has surged ahead of Walker as well.
Walker, like Texas Gov. Rick Perry, who also recently dropped out of race, probably could have continued to run and perhaps won. The leaders in polls at this time in a presidential race often end up losing, like Hillary Clinton in 2008.
But Walker would have been forced to run a bare-bones campaign, trying to visit every county in Iowa, win there and catapult that to other states. John McCain used a similar strategy to win New Hampshire and eventually the GOP nomination in 2008.
"Walker-unlike Santorum last time- was probably looking at being relegated to the B-list debate squad, which would have been further humiliation. And to endure this for months all this just on the off-chance that Rubio, Bush, Kasich and Fiorina all melt down, leaving him the only presentable candidate? I think his decision was understandable and reasonable," said David Karol, a political scientist at the University of Maryland who is an expert on the presidential nomination process.
Walker opted not to take the route of a no-frills campaign. His departure, like that of Perry, further winnows the field of more traditional candidates with previous experience in elected office. If the Republican Party is headed toward embracing a more traditional candidate, Walker and Perry leaving the race helps Bush, Christie, Cruz, Kasich and Rubio. But with Trump, Fiorina and Carson ahead in polls, it's not yet clear Republicans will nominate a traditional candidate in 2016.