In an election where a dominant narrative is Hillary Clinton trying to expand the Democratic electoral map, Iowa is a noteworthy an outlier.
The Hawkeye State voted for Barack Obama for president in 2008 and 2012 by good margins, and yet most polls show Donald Trump with a slight lead there – even as Hillary Clinton continues to lead in national surveys.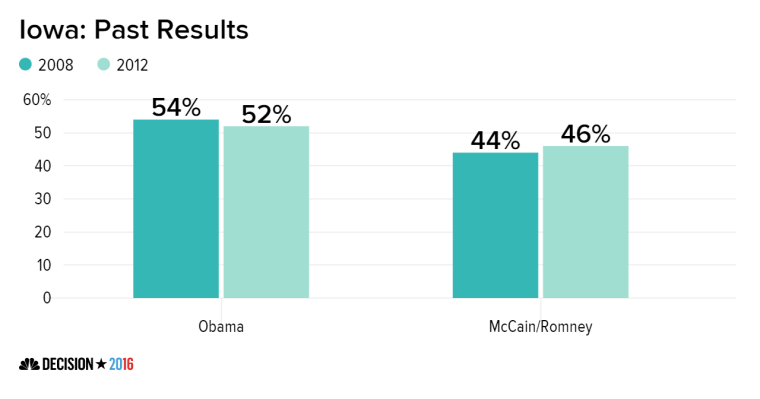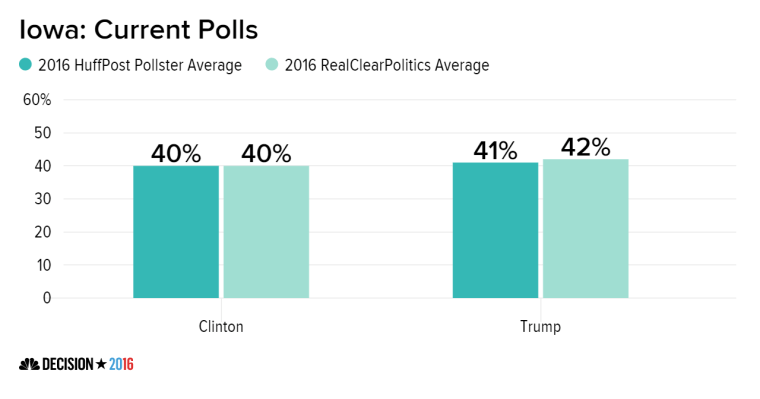 Why does Iowa look different in 2016? One big reason is demographics. While analysts tend to lump states in the Midwest and Industrial Midwest into one category, the individual states are very different. And Iowa in particular stands out for having a large population of whites without a college degree.
Consider the numbers below, which show the 2012 electorates in battlegrounds around the Great Lakes in three categories: whites without a college degree, whites with a college degree and minority/other ("other" refers to the few voters who did not fully answer the demographic detail questions).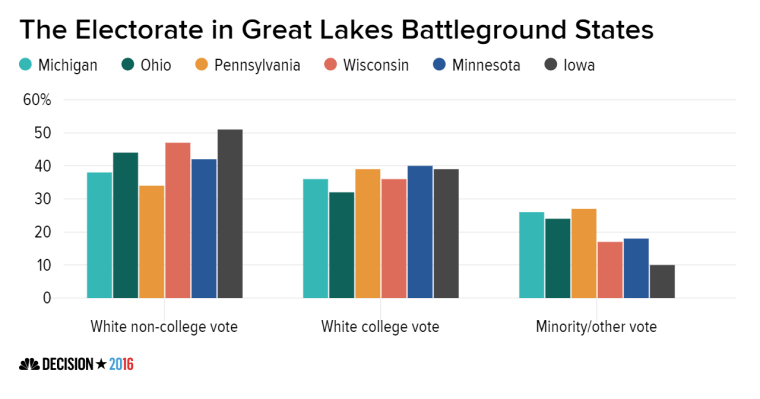 Out of those six Great Lakes battlegrounds, Iowa stands out as the one where "whites without a college degree" made up a majority of all the votes cast, according to exit polls. Of those six states, Iowa also had the fewest votes cast by minorities/other in 2012. In the 2016 election those numbers have special meaning.
Polls show Trump struggling with college-educated white voters. Clinton is currently on track to win that group and that would be the first time a Democrat won them since there was reliable polling. Polls also show Trump is struggling with minority voters, as Republican candidates often do.
But Trump's one bright spot in surveys consistently has been whites without a bachelor's degree.
In the mid-October the NBC News/Wall Street Journal poll, Clinton led Trump overall by 10 points – 47% to 37%. But among whites without a college degree Trump led Clinton by 19 points – 50% to 31%.
In other words, Iowa seems to be made for Trump. That's the good news for him and the GOP. The bad news for Republican nominee and his party is there are other states – places with more diverse voter pools and better-educated populations – where there seems to be an opposite effect.
Consider Virginia and North Carolina, where Clinton seems to be doing as well or better than Obama did in 2012. In 2012, Obama won Virginia by four points. Polls show Clinton ahead there solidly. And Obama narrowly lost North Carolina, but most polls show Clinton ahead by two to four points.
Is there a broader meaning? Not a positive one for Trump or the GOP. Appealing to whites voters without a college degree might be good if a candidate's goal is to win Iowa, but it seems a less useful strategy nationwide.
Whites without a college degree are declining as a percentage of the population at large as the country diversifies and more young people attend college. And exit poll data suggest they are also steadily declining as a force in the electorate.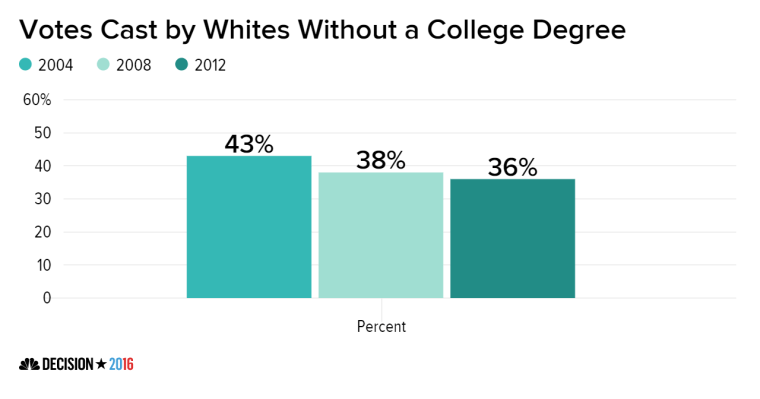 The point is Donald Trump has brought a different kind of energy and appeal to the 2016 presidential race, built upon populism and blue-collar support. That means Iowa could indeed flip to Republican Red on the electoral map on Election Night. But it also means that if Iowa flips it probably says more about the Iowa electorate than the direction of the country.