Republican presidential candidate Sen. Marco Rubio said Donald Trump has "touched on some issues that people are concerned about," but dismissed his proposal to ban all Muslims from entering the U.S. as "attempting to recapture the limelight."
"Obviously I don't agree with everything he says. There's a lot that we have a difference of opinion on. But we can't ignore that he's touched on some issues that people are concerned about," he told NBC's "Meet the Press."
He continued: "If you look at the statements he made this week, obviously I think he made them partially to recapture the limelight after having lost it."
And on that issue, Rubio drew a stark contrast with Trump, saying that officials have to work with Muslims to combat "homegrown violent extremism," because "they may very well be the first ones to see it."
"The practical reality [is] that in order for us to identify homegrown violent extremism and prevent it or root it out before it takes action, we are going to need the cooperation of Muslim communities in this country," he said.
He also suggested that Trump's comments fed right into the "narrative that ISIS and other jihadists pose, that this is a war between Muslims and the rest of the world."
"And that sort of victimization narrative is something we shouldn't contribute to," Rubio said.
The Florida senator has been steadily rising in GOP presidential primary polls as national security and the battle against ISIS have become a central focus nationwide in the wake of a recent series of terror attacks.
Rubio comes in third in a new NBC News/WSJ nationwide poll of GOP primary voters with 15 percent support, up four points from October. Donald Trump and Sen. Ted Cruz take first and second place, respectively, at 27 and 22 percent each.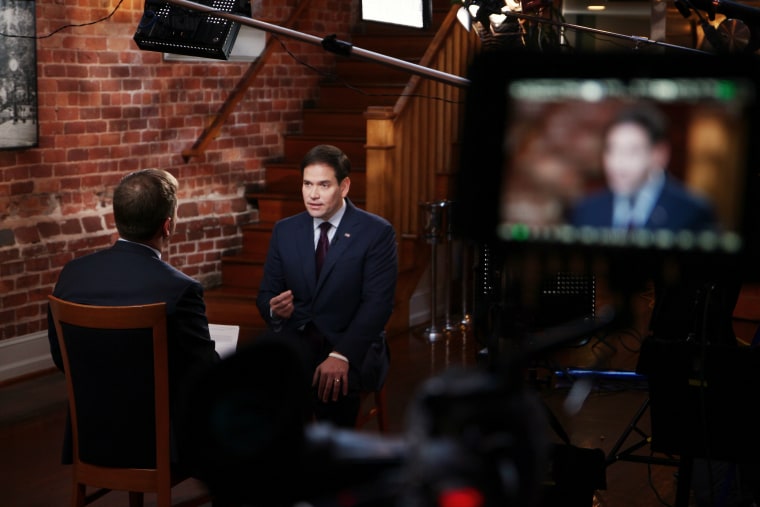 Rubio took aim at both front-runners during his interview with "Meet the Press," targeting both on the issue he's made a key selling point in his campaign: Foreign policy.
On the stump, Rubio frames himself as the only candidate with the experience, knowledge and foresight to tackle America's national security challenges. He told Chuck Todd that his main issue with Trump is that the GOP frontrunner "struggles to articulate" an understanding of foreign policy.
"Foreign policy presents us often with hard choices, not black or white choices. Oftentimes, your choices are down to two less than ideal outcomes, but you have to choose which one is the best one for the country. I personally believe [Trump] continues to struggle to articulate that," Rubio said.
Rubio: Cruz "sides with the isolationist"
He also accused Cruz of "siding with the isolationist" on foreign policy at every turn, noting that while "he talks tough on some of these [foreign policy] issues," his record reflects a different reality. Rubio says that "the only budget [Cruz] ever voted for" had steep cuts to defense spending, and that he's voted against the Defense Authorization Act every time, adding, "I assume that if he voted against it, he would veto it as president."
"I guess my point is each time he's had to choose between strong national defense and some of the isolationist tendencies in American politics, he seems to side with the isolationist. And this is an important issue to have a debate over. It's not personal," Rubio added.
The two have clashed in recent weeks over government surveillance and the USA Freedom Act, the bill, backed by Cruz and other conservative senators, that effectively ended the NSA surveillance program. Rubio said Cruz and other proponents of the USA Freedom Act are "wrong" when they say the government can still track suspected terrorists' phone records under the new law.
"Now, the records we already have in our possession are going to be destroyed. And moving forward, those records will not exist. And so you won't have a full picture of who these people have been working with and who they've been talking to over an extended period of time," Rubio said
"And as a result, we have lost a valuable tool in a larger toolbox."
Rubio hedges on primaries
The NSA surveillance program is just one of a handful of contentious points between the two senators as they battle for an advantage in the GOP primary. Rubio has begun to emerge as the establishment choice, in contrast to Cruz's attempt to coalesce the conservative vote. But Rubio dismissed that label, saying "establishment" doesn't "accurately reflect my history," noting he initially faced establishment backlash in his 2010 run for Senate.
But if the establishment label sticks, it could pose him challenges in the early primary states, and particularly Iowa, the state that votes first and one where the GOP electorate is dominated by Evangelicals and staunch conservatives.
Rubio has yet to post a lead in any early primary state, and on "Meet the Press" dodged questions about where he can pull out a win.
"Look, we'll all be judged at the end of this race. So if at the end of this race things don't work out, then obviously we'll be subject to criticism. Let's wait and see how the votes are counted," he said.
He went on to hedge in case of a finish below first in the early states, arguing that "in many of these elections, a strong second place is viewed as a first place." But Rubio dismissed the questions outright, saying that "I'm not trying to win campaign manager of the year award" and that he would leave the logistics up to his advisers.
"We're going to continue to focus on the issues before America. Because ultimately what we're electing is the next president of the United States, not a political strategist," he said.