Throughout last year, then-Maryland Gov. Martin O'Malley was making appearances in Iowa and New Hampshire and giving speeches around the country to tout himself as a potential Democratic presidential candidate. At the same time, a group of liberal activists were organizing a campaign called "Ready for Warren," urging Massachusetts Sen. Elizabeth Warren to get into the presidential race.
These two developments were related. O'Malley, who was governor of Maryland from 2007 until earlier this year, has been trying to cast himself as the alternative to Hillary Clinton for Democrats who either are tired of the Clinton family or prefer a more liberal candidate. And Democratic activists have essentially ignored O'Malley raising his hand in favor of begging Warren to run, even as the senator keeps insisting she will not.
O'Malley is probably the strongest candidate in the Democratic field to take on Clinton. (Vermont Sen. Bernie Sanders and ex-Virginia Sen. Jim Webb are also seeking the nomination, and former Rhode Island Gov. Lincoln Chafee is expected to jump in the race as well.)
But O'Malley, like the other three men, is ill-positioned to defeat Clinton.
The most obvious reason why O'Malley will struggle is the strength of Clinton.
In 2007, she was the front-runner, but many key party activists and donors were not behind her. A huge bloc instead supported Barack Obama, another group was with ex-North Carolina Sen. John Edwards. And Clinton's vote to back the Iraq War loomed as a divide between herself and Democratic activists, particularly in Iowa.
There remains some tension between liberals and Clinton now. They are worried she is too centrist, unwilling to adopt views like calling for the break-up of large Wall Street banks, as Warren advocates.
O'Malley has sought to court the Warren crowd by adopting liberal policy views, like calling for debt-free college and tougher regulations on banks that were weakened during Bill Clinton's administration.
But it's not clear that Warren herself could defeat Clinton, and O'Malley's campaigning over the last year has not made him the champion of the left so far. Many prominent liberals have either endorsed Clinton, are still waiting for Warren to run or are backing Sanders.
And powerful figures in the party, even in O'Malley's home state of Maryland, have signaled they are not excited about his candidacy. U.S. Sen. Barbara Mikulski of Maryland has endorsed Clinton, even though O'Malley's mother (also named Barbara) has worked in Mikulski's Senate office since 1987.
So Clinton is an overwhelming favorite to defeat O'Malley. But if one of her rivals is somehow able to win a few primaries and make Clinton work hard in the Democratic nomination process, it is likely to be O'Malley.
Why? First, Chafee, Sanders and Webb lack the political skills of O'Malley. Chafee and Sanders both won statewide office in tiny states, with Chafee having the advantage of his father, John, being his predecessor in the U.S. Senate. Webb has only won one election — to the U.S. Senate in 2006.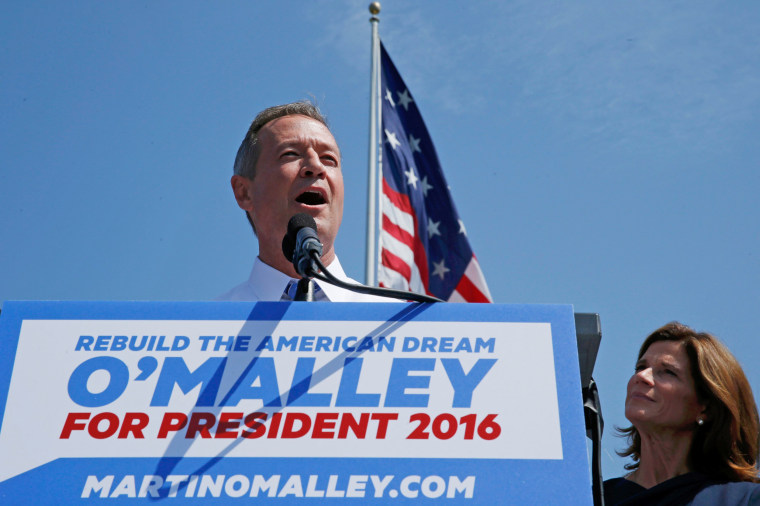 O'Malley has managed to reach the top of politics in a large, complicated state where a Democrat has to navigate both a large black electorate and a bloc of white Democrats who occasionally vote Republican. He was elected twice to be mayor of Baltimore. O'Malley then won by comfortable margins in the 2006 and 2010 gubernatorial races. (Democratic candidates lost the governorship in the elections that preceded O'Malley (2002) and followed him (2014).
O'Malley was praised for reducing crime in Baltimore as mayor, but there is now much debate over his record there. Violent crime was dropping in nearly every city in America during O'Malley's tenure (2000-2006). And the death of Freddie Gray, the unarmed black man who died in the custody of the Baltimore police in April, brought to national attention both the pockets of deep poverty in the city and its police force's reputation for using excessive force.
As governor though, O'Malley has the kind of record of liberal accomplishments even Clinton would dream of. He signed a repeal of Maryland's death penalty, an increase in the state's minimum wage, a provision that essentially eliminated prison sentences for marijuana users and laws that allowed some undocumented immigrants to get driver's licenses and in-state tuition at Maryland's public colleges. He was also a key driver in the state legalizing same-sex marriage and adopting some of the toughest gun control laws in the country.
O'Malley has also drawn some top political operatives to work on his campaign, most notably Bill Hyers, who managed Bill de Blasio's successful dark horse campaign to become mayor of New York City in 2013.
O'Malley, if he is able to position himself as the leading Clinton alternative, could truly challenge her in Iowa, which has a history of rejecting front-runners from both parties. He is likely to have a moment in the campaign where he is polling close to Clinton, at least in the early states, particularly if he performs well in the candidate debates.
That said, even if O'Malley were to defeat Clinton in Iowa, she would remain the favorite for the Democratic nomination. Both Bill and Hillary Clinton performed well in their presidential races in New Hampshire, which votes second. And polls suggest Clinton has huge edges among the black and Hispanic voters who will be a large part of the electorate in South Carolina and Nevada, respectively.