Former New Jersey Gov. Chris Christie sets himself apart from other GOP presidential contenders in forcefully taking on former President Donald Trump, but he diverges from his rivals on some other issues, too.
Christie has staked his campaign on defeating Trump, telling his supporters as he launched his run in New Hampshire Tuesday night, "Let me be very clear. I am going out there to take out Donald Trump. But here's why. I want to win. And I don't want him to win."
Christie was one of Trump's early backers in 2016 after Christie ended his own unsuccessful White House run. But he broke with Trump after the 2020 election, sharply criticizing Trump's false claims that he won that election.
While some GOP candidates have side-stepped questions about the 2020 election, Christie makes it clear that Trump did not win.
"The election wasn't stolen. He lost." Christie said at a Semafor event in April.
Christie differs from other candidates on other policy issues, too.
Abortion
Christie describes himself as "pro-life," and he has said he supports exceptions in abortion bans that allow for abortions in cases of rape and incest and when the mother's life is at stake.
But Christie would not support a federal ban on abortion, instead arguing that the issue should be addressed at the state level.
"This should be determined by the 50 states. The issue of abortion's not in the Constitution. And the Constitution says if it's not explicitly said here, this power reverts to the states," Christie said at the April event, later adding, "I would not be for the federal government being involved in the issue of abortion in any way. I believe the states should make the decisions."
Entitlements
While some GOP contenders, most notably Trump, have called for entitlement programs to be protected, Christie has argued for some overhauls before they go bankrupt.  During his presidential run in 2015, Christie proposed a series of policies to shore up Social Security, including an income cap, raising the retirement age and means testing.
Christie said at a New Hampshire town hall meeting in March that some of those proposals, including means testing and raising the retirement age to access Social Security benefits, are "worthy of discussion."
"The truth is it's gonna run out," Christie said. "And anybody who tells you differently is lying to you."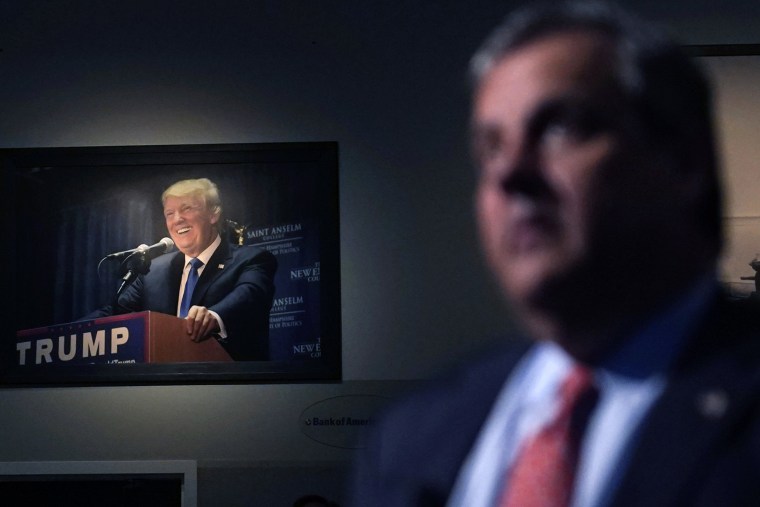 Immigration
Christy has tied border security to one of his signature issues, the opioid epidemic, calling to secure the border to stop the flow of fentanyl into the country. During his 2016 race, Christie reversed his previous position on a pathway to citizenship for undocumented immigrants, calling the proposal "an extreme way to go."
Christie explained his shift in a Fox News interview in May 2015 by saying, "Back in 2010, I was in my first couple of months as governor. I've now learned some of the ramifications of some of these things and what I am saying now is we've got to come up with a solution for it."
"Just immediately going to a path to citizenship — as Hillary Clinton is proposing to do — is just pandering politics, it's not based upon an educated study of an issue," Christie later added.
Guns
Christie has recently attributed mass shootings to issues with mental health. He has also shifted positions on an assault weapons ban, having supported a ban in the '90s but opposed it when he ran for president in 2016.
After a mass shooting last year at an elementary school in Uvalde, Texas, Christie tweeted, "The madness and the evil of the shootings in Uvalde are incomprehensible. We must focus on the mental health crisis in this country. It is long overdue."
He also attributed his shift on an assault weapons ban to his work as a federal prosecutor.
"What I learned in those seven years was that we were spending much too much time talking about gun laws against law-abiding citizens and not nearly enough time talking about enforcing the gun laws strongly against criminals," Christie said in a Fox News interview in 2016.
Ukraine
Christie has supported U.S. aid to Ukraine, and he argued that helping Ukraine in its war against Russia also sends a message to other adversaries that the U.S. will support its allies.
"We're not sending American troops to Ukraine and I don't believe we ever should. That's not our war to fight with our men and women on the ground. But we should, in my view, help Ukraine defend themselves against aggression," Christie said at the March town hall.
"Because guess who's watching? The Chinese are watching. And if we're not willing to fight and provide help in Ukraine, Taiwan will be next," Christie added. "And Iran's watching. And if we're not willing to stand up for them, why do they think we'd stand up for Israel, which Iran has said they want to wipe off the face of the earth? And North Korea's watching. And would they think we'd stand up for South Korea and Japan? "