A group of moderate Democrats, all of whom voted to confirm Julie Su to serve as the Deputy Labor Secretary, remain on the fence as to whether they would support her nomination to lead the department. 
Su was nominated by President Joe Biden to replace former Labor Secretary Marty Walsh, who left the job last month to become the President of the NHL Players Association.
Su was narrowly confirmed to the Deputy post in 2021 by only a three vote margin. She did not receive any votes from Republicans, but did win the support of moderates in the Democratic caucus like Senators Joe Manchin, D-W.V.; Mark Kelly, D-Ariz; Jon Tester, D-Mont.; and Kyrsten Sinema, I-Ariz.
Manchin, Tester and Sinema are all up for re-election in 2024.
Su has started making the rounds on Capitol Hill, meeting with Sen. Bernie Sanders, I-Vt., the chair of the Senate Health, Education, Labor and Pensions committee who expressed support for her nomination.
Su was not Sanders' first choice. He had advocated for Sara Nelson, the President of the Association of Flight Attendants or Robert Reich the Labor Secretary during the Clinton Administration.
Senator Sherrod Brown, D-Ohio, said Thursday he met with Su as well, and said he wants to see her confirmed as soon as possible.
But Su's confirmation will likely not hinge on progressives like Sanders and Brown, but instead moderates who have expressed skepticism about some Biden cabinet picks veering to the left.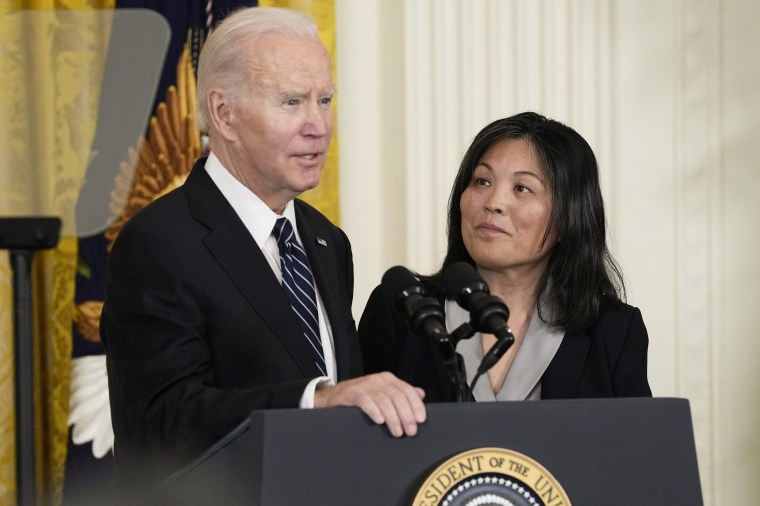 Manchin said he was open to a vote on Su and open to meeting with her. But he made it clear that his comfort with Walsh at the top of the Labor Department was part of why he supported Su as his deputy.
"I had Marty Walsh," Manchin said when asked about his vote for Su as deputy. He added that he wants someone like Walsh in the job going forward: "I had Marty Walsh and I am looking for a Marty Walsh."
Kelly said he had yet to meet with Su, and wasn't sure if a meeting with her was on his schedule.
"I'm still looking at it," Kelly said. "But I did vote to confirm her as the deputy."
Tester said he had yet to look into Su's nomination, telling NBC News he "hasn't heard a word about it." Sinema does not forecast her votes before casting them, and her office did not respond to questions about whether or not she has met with Su.
Sinema's defection from the Democratic Party and health-related absences in the Senate narrow Su's path to confirmation in the short term.
Democrats are already down two votes with absences of Sens. John Fetterman, D-Penn., and Dianne Feinstein, D-Calif. And Republican Leader Mitch McConnell, R-Ky., is also absent.
If all three remain absent going forward, Democrats only have a one vote majority in the Senate (because the three independents caucus with the Democrats), but with the option of Vice President Kamala Harris breaking a potential tie if they lose one vote.
Democratic leadership has pledged to see Su confirmed expeditiously.
"The President couldn't have picked a better nominee," Senate Majority Leader Chuck Schumer, D-N.Y., said after Biden sent over the nomination. "I'm really excited about her and we're gonna move to consider her nomination very, very quickly."