It's moving day in Tallahassee.
Florida Gov. Ron DeSantis' political operation on Monday is moving out of the Republican Party of Florida headquarters, where it has been housed since the end of the 2022 midterms. NBC News first reported the office move was coming last Friday, signaling DeSantis moving toward a presidential campaign, and moving trucks were spotted outside of the Florida GOP building throughout the day Monday.
A party official confirmed the trucks were there to move DeSantis' political operation out of the building and into a new office space.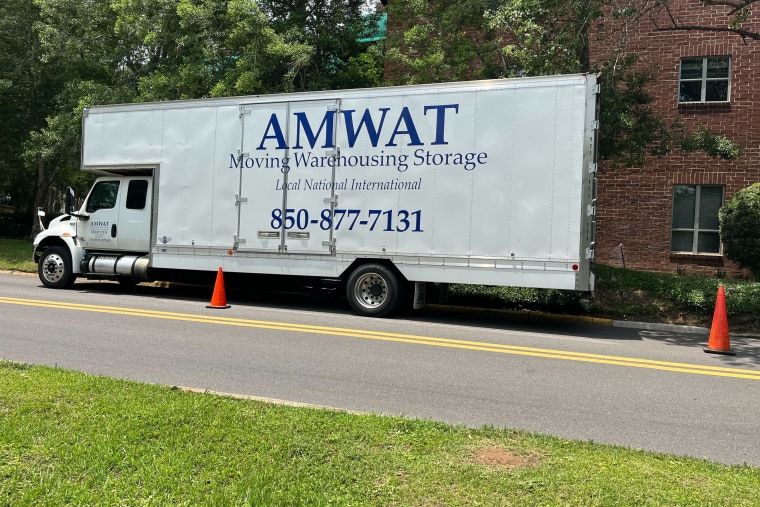 The move comes ahead of an expected presidential campaign launch in the coming weeks. Such a move will require the expenditure of federal funds in excess of $5,000, which starts the countdown for DeSantis to formally file paperwork with the Federal Election Commission signaling his intention to run for president.
DeSantis has largely brushed off questions about running for president in 2024, even as a super PAC called "Never Back Down" is now home to many of his top former advisers and has urged him to run. It has raised tens of millions of dollars and has been running TV ads introducing DeSantis to early primary state voters, playing attack dog against former President Donald Trump, who is viewed as the GOP frontrunner.
DeSantis held events in Iowa over the weekend even as Trump canceled over concerns about severe weather.
The governor also held a press conference Monday in which he continued to hit on a consistent theme that Republicans have been on a losing streak. 
"And for me, it's like, okay, what's that true north, you've obviously got to win otherwise you do not get a ticket to the dance," DeSantis said. "But once you do that, how are you going to be able to actually bring about big change to make people's lives better."
DeSantis press secretary Bryan Griffin resigned from the governor's office on Monday. The campaign did not return a request seeking comment about he will be joining the political team.