CHICAGO — Former Rep. Bobby Rush, a longtime African American leader in Illinois, plans to throw his support behind Paul Vallas in the mayor's race, providing Vallas a potential boost among Black voters heading into next month's election.
The endorsement announcement, first shared with NBC News by Vallas' campaign, is expected Tuesday morning. A representative for Rush did not immediately respond to a request for comment.
Rush plans to offer his backing at an event on the city's South Side that will include an anti-violence march, according to a spokeswoman for the Vallas campaign. The veteran congressman retired this year after serving for three decades in the House.
Vallas, a former Chicago Public Schools CEO, is locked in a close race with Brandon Johnson, a Cook County commissioner who is backed by the city's powerful teachers union. Last month, Lori Lightfoot became the first Chicago mayor in 40 years to lose re-election when she failed to advance to the April 4 runoff.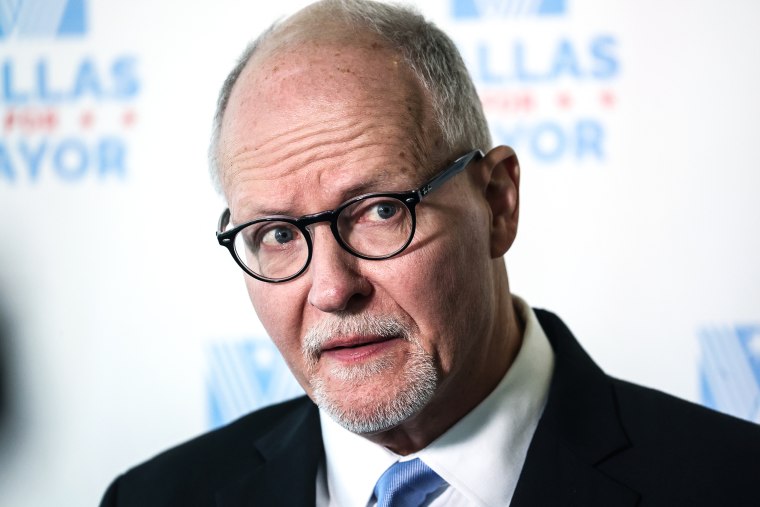 Rush's endorsement would come as Vallas, who is backed by the Chicago Fraternal Order of Police, attempts to make inroads with Black voters, who will be pivotal on Election Day.
On Sunday, another prominent Black leader, Willie Wilson, announced his support for Vallas. Wilson ran for mayor this year but, like Lightfoot, did not advance to the runoff.
Meanwhile, Johnson has collected national endorsements, including from Sen. Bernie Sanders, I-Vt., and Sen. Elizabeth Warren, D-Mass. He also won the backing of the Rev. Jesse Jackson, a civil rights icon in Chicago.
On Sunday, the Rev. Al Sharpton, who's a host on MSNBC, is set to hold a large get-out-the-vote rally at a church whose pastor has backed Johnson.