CONCORD, N.H. — Vivek Ramaswamy is fully embracing the spirit of his campaign: "revolution."
At a backyard house party in Amherst, New Hampshire on Thursday afternoon, his campaign handed out pamphlets called "Truth. For the Patriots of America." The font and color of the pamphlets resemble 18th-century documents from the Revolutionary War era.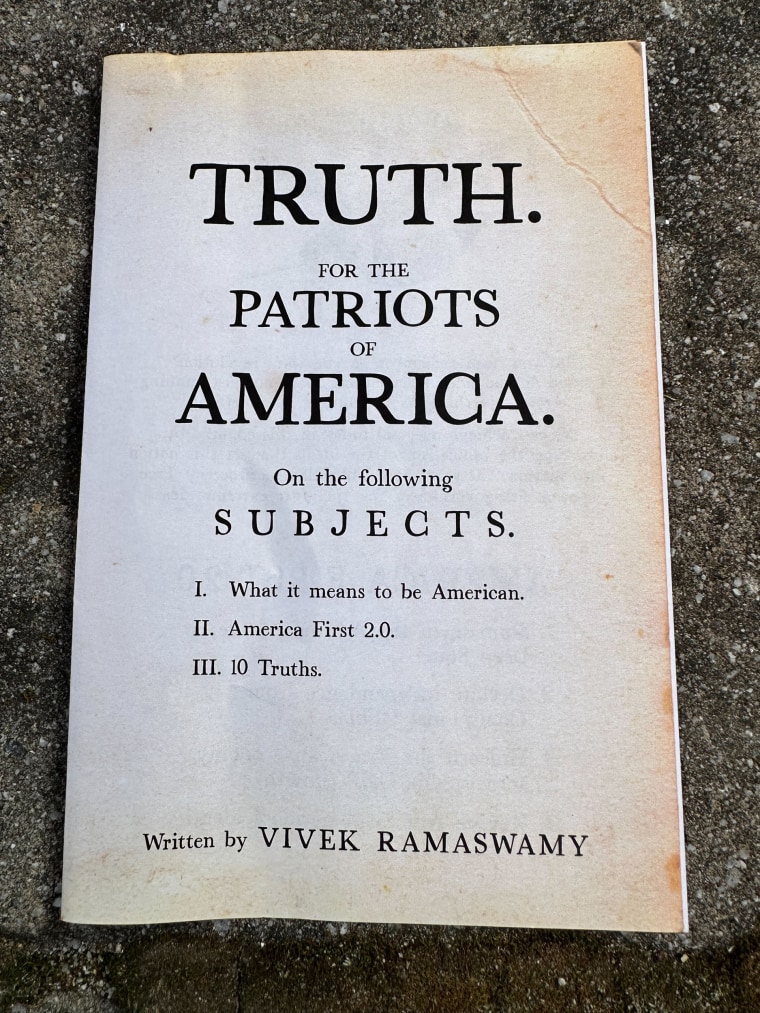 Ramaswamy referenced the pamphlets while addressing voters. He referred to them as a "Thomas Paine-style calls to revolution."
Ramaswamy believes we are in a "revolutionary moment." He said people receiving the equivalent of these pamphlets 250 years ago thought they had their "share of problems too."
Ramaswamy told voters, "If our founding fathers were alive today, I think they would genuinely say that it is time for a second kind of American Revolution, not violence, not something that is a physical revolution but a revival of the ideals that we set into motion in this country 250 years ago."
Meanwhile, when speaking at events in Milford and Concord, New Hampshire on Thursday, Ramaswamy stood in front of two large "pillars" that listed his "10 truths" which form the backbone of his campaign stump speech. 
The campaign's goal is to make his events more of an "experience" for people making the time to come see Ramaswamy in person.
"The whole thing is how this is a 1776 movement. Does [the] GOP want reform or revolution? Vivek is on the side of revolution," Ramaswamy communications director Tricia McLaughlin told NBC News.
"It's a revolution about taking back who we are as a country, taking back the patriotism," Fred Doucette, New Hampshire state chair and senior adviser for Ramaswamy's campaign, told NBC News. "That's what this country was founded on. It was founded on a revolution. It was both free speech at its core, and freedom at its core."