Hillary Clinton would defeat Ted Cruz and trounce Donald Trump in a hypothetical head-to-head general election matchup, but she would lose to Marco Rubio or Ben Carson, a new NBC News/Wall Street Journal poll finds.
Clinton, who leads the Democratic primary field by nearly 20 points, would have a strong advantage over Trump with independent voters but would be bested by the three other Republicans with the important swing group.
The poll, conducted Dec. 6-9, shows Clinton getting the support of 56 percent of Democrats, compared to 37 percent who back Sen. Bernie Sanders of Vermont and 4 percent who back former Maryland Gov. Martin O'Malley.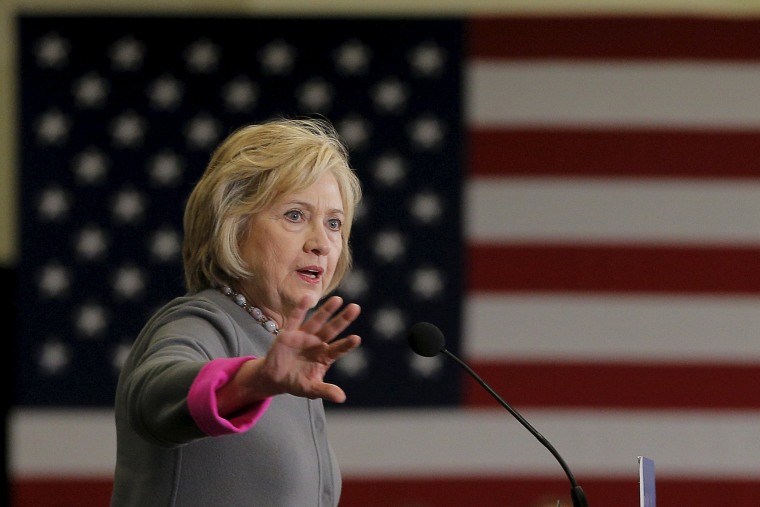 Against Trump, the Democratic front-runner would win 50 percent to 40 percent. Among independents, she would capture 43 percent of the vote, compared to 36 percent for Trump. Among Hispanics, Clinton would get 69 percent of the vote, compared to just 24 percent for Trump.
And against Cruz, who has surged in recent polls in the important early state of Iowa, Clinton would win with 48 percent to Cruz's 45 percent, though that's within the poll's margin of error of plus-minus 3.36 percentage points.
Despite losing significant support in the NBC/WSJ poll among Republican primary voters, Carson, a former neurosurgeon, still performs competitively against the former secretary of state. He would get 47 percent of the vote in a hypothetical matchup, compared to Clinton's 46 percent. His strong showing would largely be fueled by independent voters, who made up about 11 percent of the poll's sample of registered voters. They would back Carson by double digits, 48 percent to 34 percent.
Rubio, a senator from Florida, would fare the best overall against Clinton, winning a head-to-head clash 48 percent to 45 percent (also within the poll's margin of error.) Among independents, his margin of victory would be 44 percent to her 37 percent.
Among Hispanics, Rubio would get 36 percent of the vote, compared to Clinton's 59 percent.
Rubio would also perform best with female voters out of the top GOP contenders, capturing 44 percent to Clinton's 51 percent. That's compared to Trump's dismal showing of 33 percent to Clinton's 57 percent.
The NBC/WSJ poll of 1000 adults was conducted December 6-9. It has a margin of error of +/- 3.36 percentage points.
More results from the new NBC/WSJ poll will be released later on Monday, December 14.