Even as Donald Trump leads in the GOP presidential horse race, nearly half of Republicans believe that he is hurting their party's image, according to a new NBC/Wall Street Journal poll.
Forty-seven percent of Republican registered voters said that they believe the real estate magnate and 2016 GOP frontrunner is harming the image of the party, versus 35 percent who say he is helping the brand.
By contrast, Republicans have a more positive view of former Florida Gov. Jeb Bush's impact on the party.
Twenty-nine percent say Bush is helping the party's image, just 17 percent say he is hurting it, and 45 percent say he is having no impact on the GOP brand.
Bush has been advocating for a more measured response to problems like illegal immigration, while Trump has made headlines for suggesting that Mexico is "sending people that have lots of problems, and they're bringing those problems with us. They're bringing drugs. They're bringing crime. They're rapists. And some, I assume, are good people."
Republicans are also split when it comes to considering giving their support to Trump for the GOP nod, although the share of Republican voters who say they can see themselves backing him has increased since last month.
About half -- 49 percent -- say they cannot see themselves supporting Trump for president, while 47 percent say they can see themselves backing him.
In June, just 32 percent of GOP primary voters said they could see themselves supporting Trump, while 66 percent said they could not.
The GOP candidate who had the highest ceiling of potential support was Florida Sen. Marco Rubio. Sixty-two percent of GOP voters said they could see themselves backing him for the GOP nomination, versus just 29 percent who said that they could not.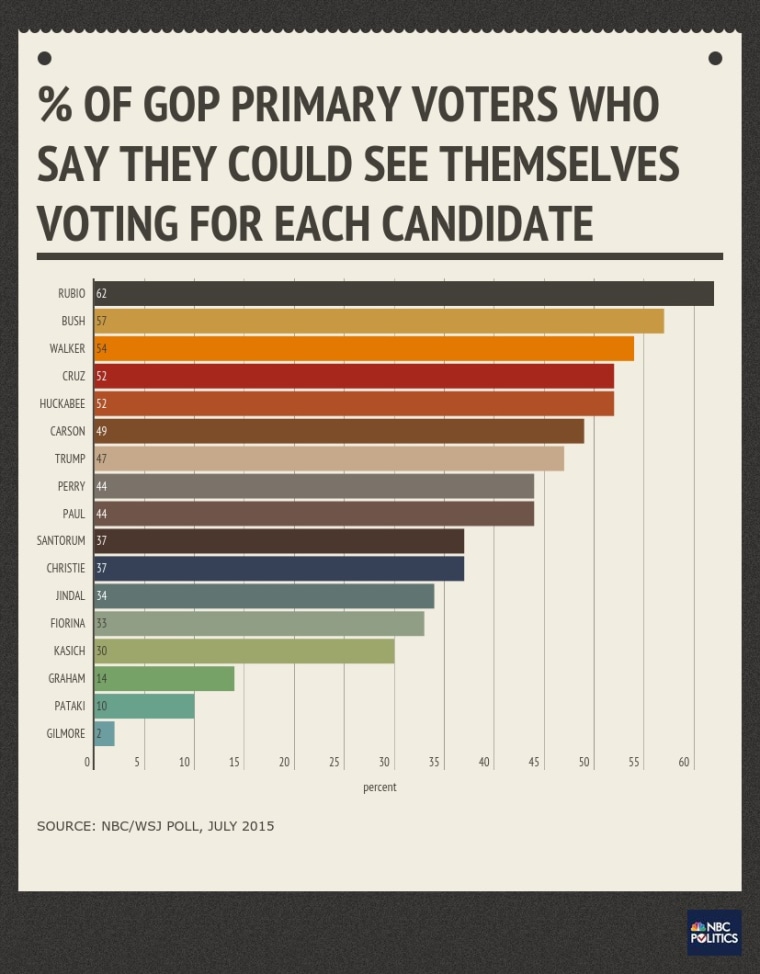 The survey was conducted July 26-30. The margin of error for 252 interview among Republican primary voters is +/- 6.17 percent.