This past week, Sen. Ted Cruz, R-Texas, became the first candidate to formally announce his intention to run for president in 2016. His speech at Liberty University, a bastion of Christian social conservatives, made clear he intends to work hard at winning over evangelical voters in the GOP caucuses and primaries.
There's a special reason for that in 2016 – the Republican primary calendar may offer Christian conservatives a special advantage. The schedule is still in flux, but it is front-loaded with states holding large numbers of evangelical voters and one proposal under consideration is a March 1, Super "SEC Primary."
That's SEC as in Southeastern (athletic) Conference. And if that idea fully comes into being, it would also work out to be a Super Evangelical Primary.
The states that are in discussion to be part of the event are Alabama, Arkansas, Georgia, Mississippi, Tennessee and Texas. Florida, the other big southern state, has settled on a March 15 date. In each of those states evangelical Protestants make up the largest segment of religious adherents as you can see on this chart.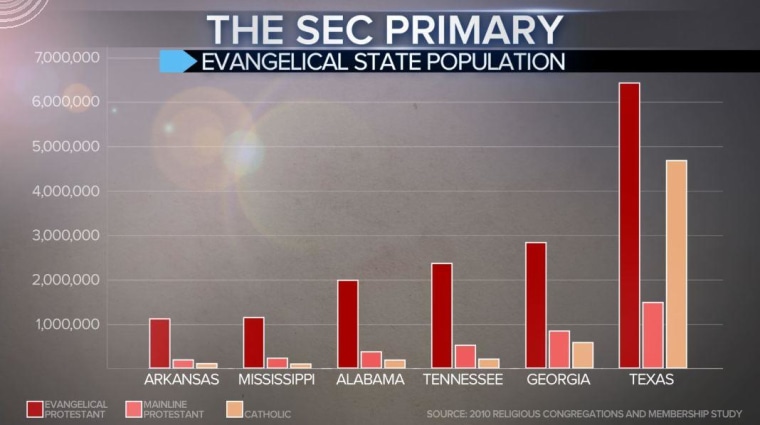 The SEC Primary would follow on early votes that traditionally give an edge to evangelical candidates: Iowa and South Carolina.
In 2012, 57% of Republican Iowa Caucus-goers self-identified as born-again or evangelical adherents. In the South Carolina primary the figure was higher, 65% self-identified as being born-again or evangelical. And in both states eventual Republican nominee Mitt Romney finished second.
All these numbers are likely on Mr. Cruz's mind. But there are a few other data points to consider as well.
One is the sheer number of potential candidates looking at running in 2016. A simple tally of people who have expressed interest quickly climbs into double-digits, from former Florida Gov. Jeb Bush to businesswoman Carly Fiorina.
And in that big group there is also a sizable set of Republican potentials that look to be targeting the same voters as Mr. Cruz, including the last two Republican winners of the Iowa caucuses – former Arkansas Gov. Mike Huckabee and former Pennsylvania Sen. Rick Santorum. Wisconsin Gov. Scott Walker also looks strong with social conservative voters, as we noted last week.
That's a lot of possible options for an evangelical voter, if that group of candidates hangs in the race. And if the SEC Primary actually takes place as early as March 1, many of those candidates may be inclined to stay in it just to see if their candidacy can catch fire and they can come out on top.
In other words, the challenge for Mr. Cruz is not to be a candidate appealing to evangelical Republicans, it is to be THE candidate for them – or at least the top one – in a crowded field.
One last data point: Up until March 14, the Republican nominating contests will award delegates proportionally, based on the percentage of votes each candidate wins. After that, delegates can be awarded based on a winner-take-all formula.
If the crowd of candidates in the field targeting evangelical voters splits that vote, it may be that the centrist candidate who avoids the evangelical scrum, walks away in better shape.