WASHINGTON — The College Board announced last week that it was revising the curriculum of its new Advanced Placement African American studies course, removing elements about Black writers associated with critical race theory, as well as content relating to Black LGBTQ issues and Black feminism. It also added "Black conservatism" as an idea for a research project.  
Republicans hailed the changes as a victory by Republicans, including Florida Gov. Ron DeSantis — who recently announced plans to ban the old version of the course because he said it had a "woke" agenda and leaned heavily on critical race theory. 
The news was just the latest flare-up in the partisan fight over how race is taught in K-12 schools and college classrooms. 
Beneath the fights over critical race theory, however, are deeper partisan divides over how Democrats and Republicans feel about education. Polling data suggest Republicans, in particular, have developed a sour view of public schools and college in general. 
Republican concerns about a leftward tilt in classrooms predate the African American studies course and last week's curriculum changes. Since January 2021, 18 states have implemented legislation or other restrictions that limit how teachers can discuss racism and sexism, according to Education Week. 
The 18 states with restrictions include Florida, where DeSantis last year signed the "Stop W.O.K.E. Act," and a list of other reliably Republican-voting states, such as Mississippi, Alabama and the Dakotas. In addition, there are a few "purple-ish" states, including Virginia and New Hampshire. 
That's not the end of the story. Beyond those 18 states, there are another nine states where such bills have been proposed or are moving through legislatures. 
What's behind the groundswell of interest in the curriculum rules? 
Some of it is a response to The 1619 Project, a long-form journalism effort The New York Times published in 2019 that raised questions about the nation's racial history and Americans' understanding of it. Some conservatives criticized how the project framed the issue of race in the U.S.  
But along with that debate, there has been broader souring among Republicans on public education in general. One example: In 2021, Virginia Gov. Glenn Youngkin ran a campaign that focused, in part, on criticism of what he said were left-leaning school boards and accommodations for transgender students. 
A Gallup poll last year showed how sharp the partisan divide over public schools has become.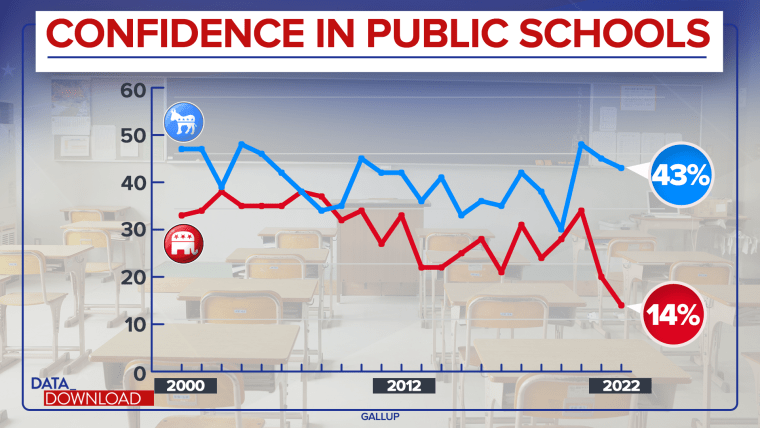 Democrats didn't give public schools especially high marks in the poll, with just 43% saying they had "quite a lot" or "a great deal" of confidence in them. But Republicans came in almost 30 points lower at 14%. The number was an all-time low for Republican opinion of public schools in Gallup's poll. 
To be clear, Americans in general have lost some faith in public schools in recent years. Over the last decade, the percentage of adults who say they have "quite a lot" or "a great deal" of confidence in public schools has bumped around in the 30s or the high 20s. But the partisan divide last year was the highest Gallup has recorded. 
And there are signs that the GOP concerns extend beyond the public K-12 education and up into college. 
An August survey of likely voters by the website FiveThirtyEight found Republicans are less likely to see the importance of a post-high school education than their Democratic counterparts.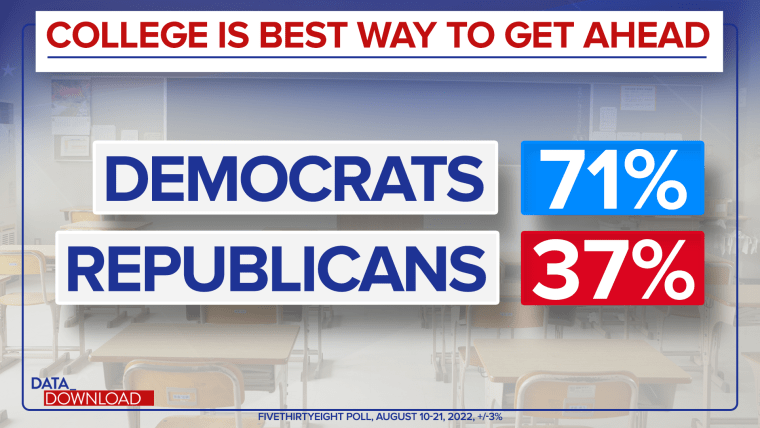 Only 37% of Republicans said they believe "a college education is the best way to get ahead in the United States." Among Democrats, the figure was 71%. In other words, Republicans are much less likely than Democrats to buy into the pragmatic argument for a college degree — that you need one to succeed.  
And beyond that, many Republicans in the poll seemed to see college as detrimental to a person's broader education, seeing it as a form of indoctrination.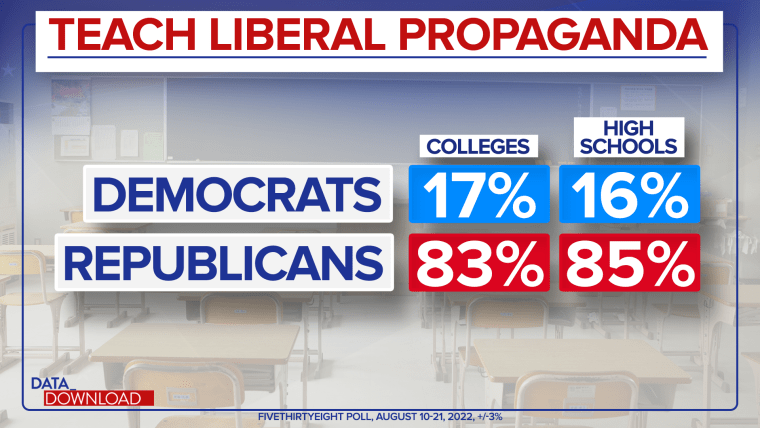 More than 8 in 10 Republicans said they believed "most college professors teach liberal propaganda." Among Democrats, the figure was only 17%. 
Furthermore, the poll suggested those concerns extend beyond college and down into high school. 
Among Republican likely voters, 85% said they believe high schools are trying to teach liberal propaganda. The number was only 16% among Democrats. 
Those are stark splits, and they show the power of the culture wars that have come to define U.S. politics in recent years. The divides have altered how Americans on the left and right view the news, entertainment and sports and now how they see the country's classrooms and lecture halls, making one party in particular distrustful of education. 
For a democracy that relies on a knowledgeable and wise electorate, that might be seen as concerning news.