President Barack Obama blasted Donald Trump's "crazy" proposals and aggressively defended his policies Wednesday on a visit to an Indiana town that has seen a huge drop in unemployment during his administration.
The remarks in Elkhart are the start of what Obama's aides say will be a shift toward a new stage of his second term, with the president actively campaigning to ensure that he is replaced by a Democrat.
"America's economy is not just better than it was eight years ago. It is the strongest and most durable economy in the world," Obama said at Concord High School in Elkhart. "By almost every economic measure, America is better off than when I came here."
While not using Trump's name, Obama repeatedly referred to the "Republican nominee" and specifically denounced his proposals. Obama called deporting 11 million undocumented immigrants a "fantasy" and dismissed the mogul's view that large numbers of native-born Americans are losing their jobs to immigrants.
Asked later at a PBS town hall gathering why he refused to use Trump's name, Obama said: "You know, he seems to do a good job mentioning his own name. So, you know, I figured I'll let him do his advertising for him."
During the town hall, Obama suggested the Democratic primary process would be effectively over after Tuesday's primaries. That remark, in some ways, rebutted Sanders' argument that the nomination process will not be over until the Democratic National Convention.
"I think we'll probably have a pretty good sense next week of who the nominee will end up being. I think both Bernie Sanders and Hillary Clinton are good people," Obama said last week. "I think that they broadly share the goals that I have. There are some tactical differences within the Democratic Party about how do you get stuff done. But there's going to be plenty of time for me to step in and campaign."
Related: Obama: Trump Candidacy Has 'Rattled' World Leaders
The president twice praised Bill Clinton's stewardship of the economy in his hour-long remarks at the high school, an argument he is likely to continue to make if Hillary Clinton emerges as the Democratic nominee.
"If that is what you are concerned about, the economy, the debate is not even close," he said.
The president's interjecting himself into the 2016 race could be an important development.
Political science research has shown that if an outgoing president is popular, his party's nominee is more likely to win. A recent NBC News/Wall Street Journal poll found that 51 percent of Americans approve of Obama's performance, making him more popular than Hillary Clinton or Trump.
Related: Six Numbers That Show Why Clinton Is Still the Favorite in 2016
Since the start of the year, Obama has used his addresses to bash Trump's overall vision but has rarely invoked the real estate mogul's name or referred to Trump's specific ideas.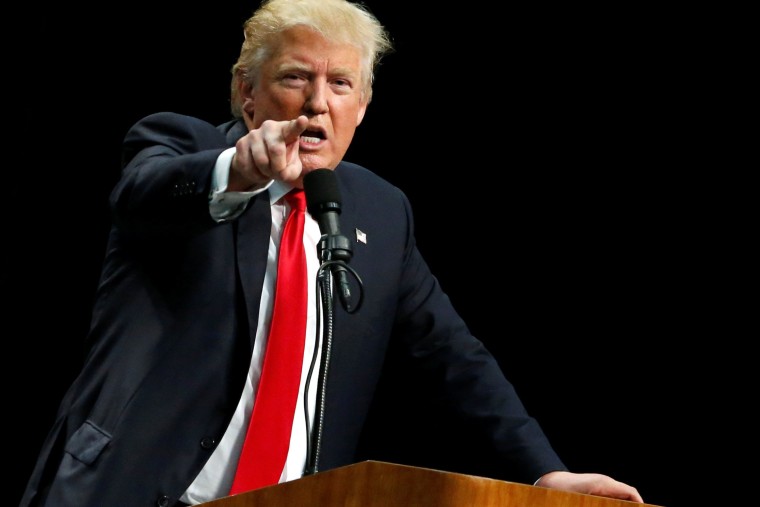 But much of Obama's speech Wednesday was a rebuttal of the rhetoric of the campaign trail. Both Trump and Democratic candidate Bernie Sanders have raised concerns about U.S. jobs' going abroad because of foreign trade agreements, but Obama said "trade has helped our country a lot more than it has hurt."
Obama did not mention Hillary Clinton or Sanders, although he hinted earlier this year that he favors his former secretary of state.
Related: Obama Really Likes Clinton. Will Democratic Voters Care?
The visit to Elkhart was not just about the November election. It was perhaps Obama's most passionate and blunt declaration that his economic policies and his broader vision have worked, at a place that he feels is perhaps the strongest evidence of his administration's successes.
Obama went to Elkhart, a town of 50,000 in northern Indiana, in February 2009. The White House says it was the first city he visited as president.
Back then, he highlighted the area's rapidly increasing jobless rate, which eventually reached nearly 20 percent. In his speech seven years ago, Obama said Elkhart was the kind of place that would benefit from the massive stimulus package he president was trying to pass through Congress.
Read: The Elkhart Project
Elkhart's unemployment rate is now below 5 percent. Officials in the area say some of the gains in the community come from local factors, such as the improvement of the recreational vehicle industry, along with both state and national policy.
The national jobless rate, which was more than 10 percent early in Obama's tenure, is now at 5 percent. The president and his team say that recovery is one of the biggest achievements of his presidency.
But that message has been challenged strongly over the last year, by presidential candidates from both parties, particularly Sanders and Trump.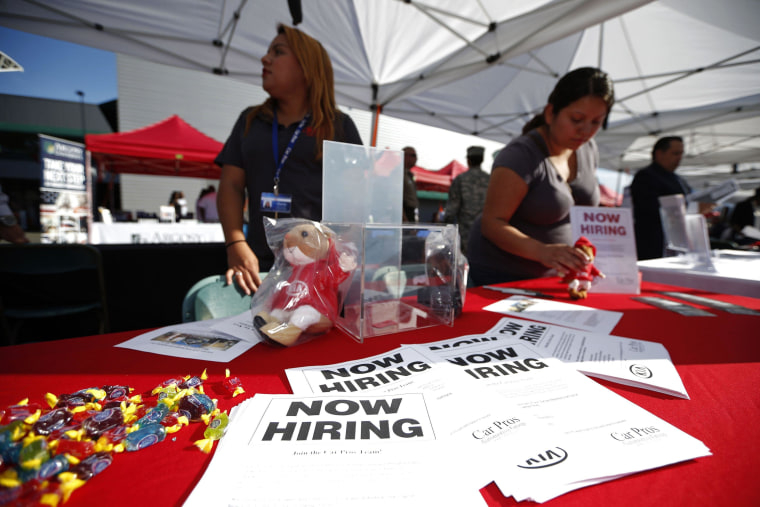 Obama acknowledged some of the challenges Wednesday, even at what was essentially a declaration of victory. He noted the rising gap between the wealthy and the poor in the U.S. and the stagnant wages of millions of American workers.
But he largely defended his record and sought to tell voters about the stakes in this November's election.
Improved economic numbers don't mean "folks aren't struggling in some circumstances, and one of the things I've emphasized is that there's some long-term trends in the economy we have to tackle," Obama said in the PBS town hall. "So we're going to have to make sure we make some good decisions going forward."
"The notion that somehow America is in decline is just not borne out by the facts," Obama said. "But it resonates. It resonate with aggrieved people who are voting in big numbers for Donald Trump."