Few Americans have much confidence in many key U.S. institutions like local and federal government, big business, agencies like the FBI and CIA and the national news media, according to results from a brand-new NBC News/Wall Street Journal.
The exceptions: A combined 73 percent of American adults have either a "great deal" or "quite a bit" of confidence in the military; 59 percent have a large amount of confidence in police and law enforcement agencies; and 57 percent have a lot of confidence in small business.
But after that, no other American institution the NBC/WSJ poll measured gets more than 50 percent of respondents saying they have a great deal or quite a bit of confidence in them.
That includes fewer than 20 percent of Americans who have a large amount of confidence in the financial industry (19 percent), the news media (16 percent), Congress (16 percent) and health-insurance companies (12 percent).
The percentage of adults who have a "great deal" or "quite a bit" on confidence in American institutions: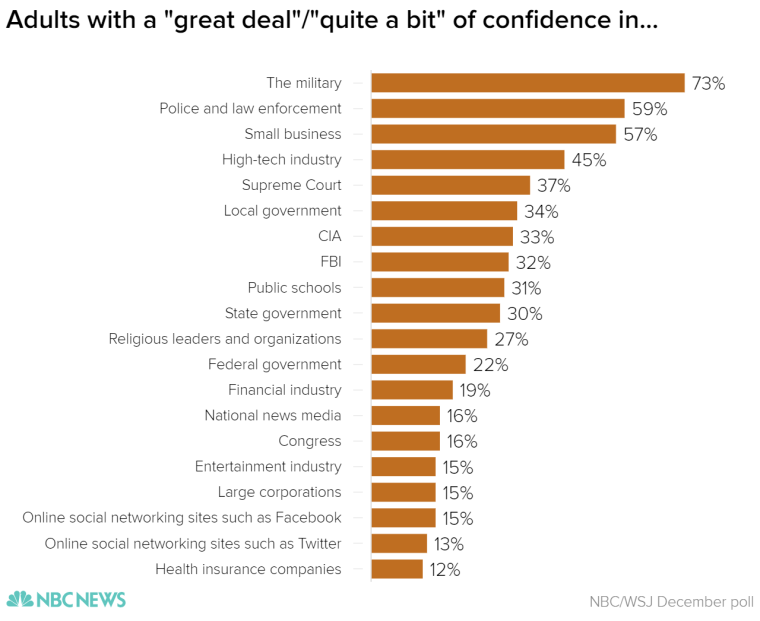 The NBC/WSJ poll was conducted Dec. 12-15 of 1,000 adults -- including nearly half of them by cell phone -- and it has an overall margin of error of plus-minus 3.1 percentage points.