Nearly three in five Americans want to see the Supreme Court legalize gay marriage throughout the United States, according to a new NBC News/ Wall Street Journal poll.
A total of 58 percent of Americans said that they favor a high court decision to eliminate bans against same sex marriage, with 44 percent of those saying they strongly favor such a result.
Thirty-seven percent of respondents said they oppose a court ruling in favor of the case's LGBT plaintiffs, with 29 percent said they strongly oppose it.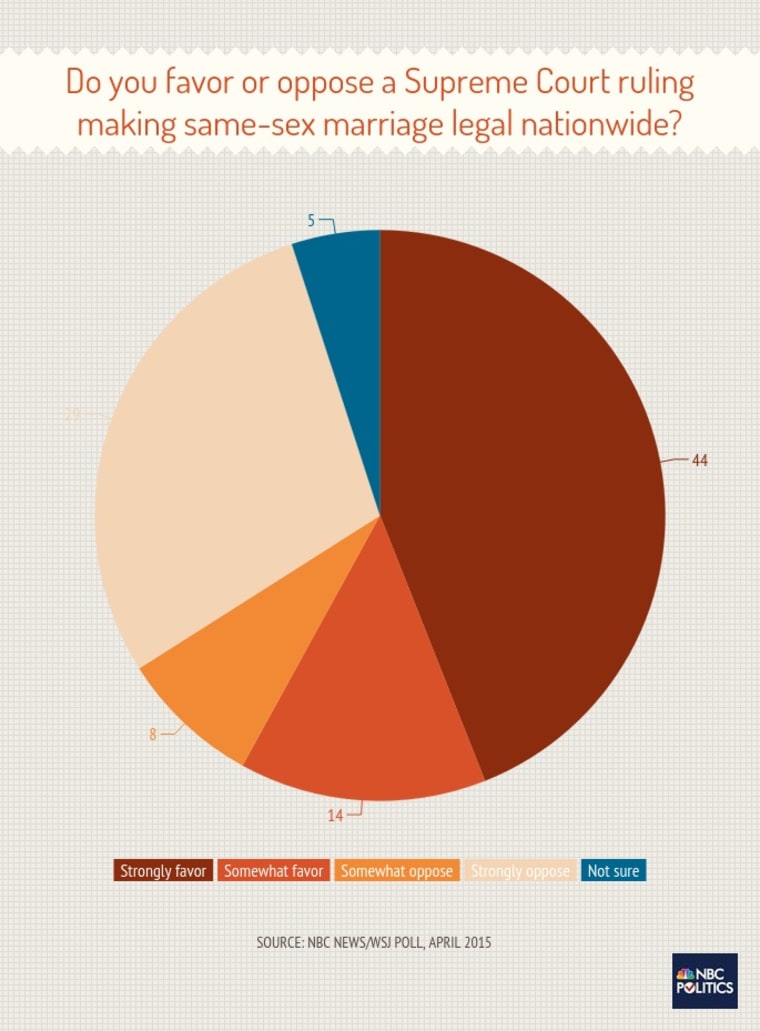 The Supreme Court heard oral arguments in the same sex marriage case in April, and a decision is expected sometime this summer.
One in five respondents in the poll said that society has gone too far when it comes to accepting homosexuality, while 44 percent said that society has not gone far enough to end discrimination against gays and lesbians. Thirty-two percent said that society has reached a reasonable balance in dealing with the issue.
In 2000, 42 percent of adults told pollsters that society had gone too far in accepting homosexuality, while 41 percent said society had not gone far enough to end discrimination.
The poll results on the question of the Supreme Court's decision show a split similar to the one illustrated this March, when NBC News/Wall Street Journal pollsters asked respondents if they favor or oppose same sex marriage. Fifty-nine percent said they favor it, while 33 percent disagreed.
Support for a Supreme Court decision that allows nationwide same sex marriage is particularly strong among young voters (73 percent in favor), Democrats (78 percent in favor), Hispanics (71 percent favor) and people with a postgraduate education (69 percent).
Opposition is high among conservatives (68 percent oppose) and seniors (55 percent oppose).
The poll of 1000 adults was conducted April 26-30 and has a margin of error of 3.1 percent.