Rep. John Lewis said he would not invite President-elect Donald Trump to visit Selma, Alabama, with him, though he also would not "do anything to prevent him from coming."
On what became known as "Bloody Sunday" in 1965, Lewis was badly beaten by Alabama state troopers on Selma's Edmund Pettus Bridge during a march for voting rights.
Politicians and leaders from both parties — including Vice President-elect Mike Pence — have visited Selma with Lewis over the years. In 2015, Presidents Barack Obama and George W. Bush went to Selma with Lewis and others to commemorate the 50th anniversary of Bloody Sunday.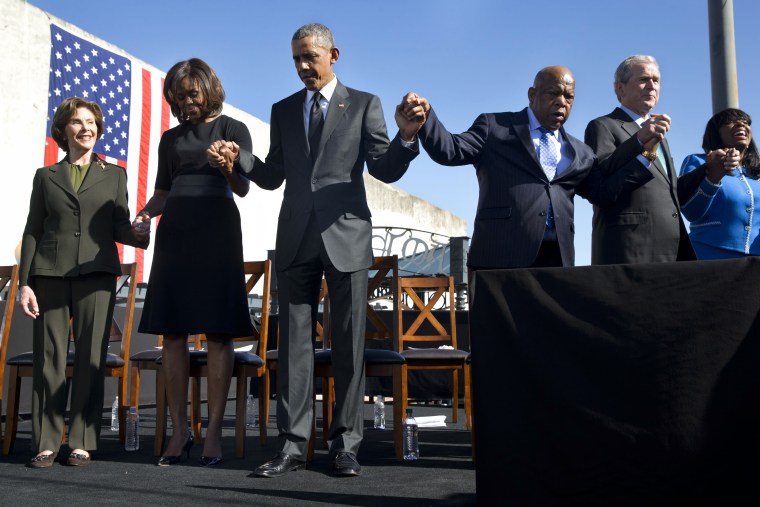 "By going to Selma," Lewis said of Trump, "maybe he would learn something." But, he added, "I would not invite him to come."
The civil rights leader made the remark in the same interview with NBC News' Chuck Todd in which he also said Trump was not "a legitimate president."
Trump reacted to an early clip of that interview on Twitter, calling Lewis "all talk, talk, talk - no action or results," leading many leading Democrats — and a few Republicans — to publicly rush to Lewis' defense.
On the question of Trump's legitimacy, the Georgia congressman believes there was a "conspiracy" and that "the Russians participated in helping this man get elected, and they helped destroy the candidacy of Hillary Clinton."
Lewis, agreeing with Sen. John McCain, called for a "special commission to get to the bottom of what happened."
In the meantime, Lewis said it would be "almost impossible" for him to work with the incoming president.
However, asked if some of the responsibility for Hillary Clinton's loss falls on the Democrats, Lewis conceded "maybe we didn't do everything that we could've done."
On the eve of Martin Luther King Day, Lewis said of race relations in the country, "we made a lot of progress … but we're not there yet. The scars and stains of racism are still deeply embedded in American society."
Lewis added, "It is difficult to see our country come to where it is today."
The congressman also made headlines earlier in the week when he testified against Trump's attorney general nominee, Sen. Jeff Sessions.
When asked why he decided to testify, Lewis responded that Sessions doesn't "have a history of … being on the side of what is fair and what is just."
With Sessions likely to be confirmed, however, Lewis said he will work with his Democratic colleagues "to try to get him to do the right thing."