In 2012, well more than half of all voters in battleground states Florida and North Carolina cast their ballots before Election Day. In Florida, 56 percent of the electorate in the 2012 presidential race voted early and in North Carolina nearly 61 percent did the same. More Democrats than Republicans voted early in 2012 in both of these critical battleground states.
As of October 21st, more Republicans than Democrats have cast ballots in Florida and North Carolina. In Florida, where in-person early voting begins in some counties beginning October 24th, Republicans currently have cast 2 percent more ballots than Democrats. In North Carolina, where in person early voting started on October 20th, Republicans hold a 5 percent advantage in the number of ballots cast according to analysis by the NBC News Data Analytics Lab using voter file data provided by TargetSmart.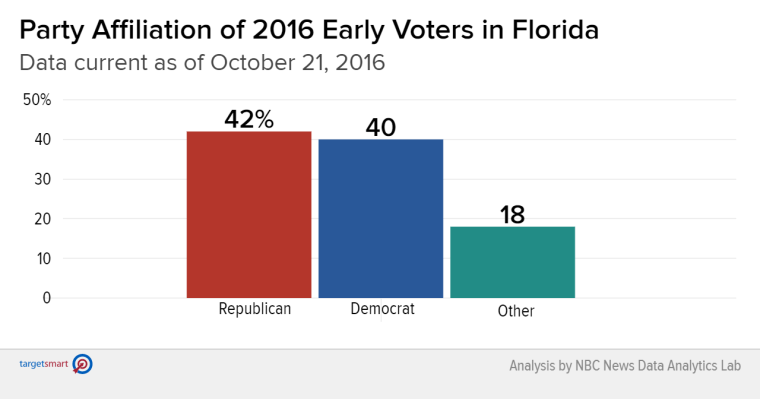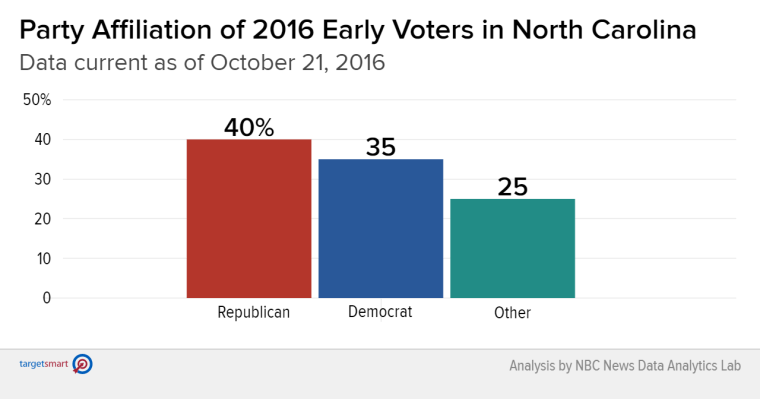 At first glance, these numbers look promising for Republicans. However, Republicans in Florida and North Carolina did much better with mail in absentee ballot voting than in person voting. The 2016 early voting numbers reported here include only mail in absentee early votes in both states.
One way to benchmark the current 2016 early voting numbers in Florida and North Carolina is to break out the early vote from 2012 by early voting method. This break out allows for a comparison of mail in absentee voting versus in person voting in both states. In 2012, Republicans in Florida cast 3 percent more ballots than Democrats by absentee mail in voting. Results in Florida so far in 2016 show very similar results for mail in voting with Republican down 1 percent compared to Democrats from the 2012 numbers.
North Carolina, however, shows that Democrats are significantly outperforming their 2012 mail in absentee voting numbers. In 2012, Republicans held a 22 percent advantage over Democrats in mail absentee ballots cast. The Republican advantage currently is only 5 percent – a net drop of 17 percentage points from the final 2012 mail in voting numbers.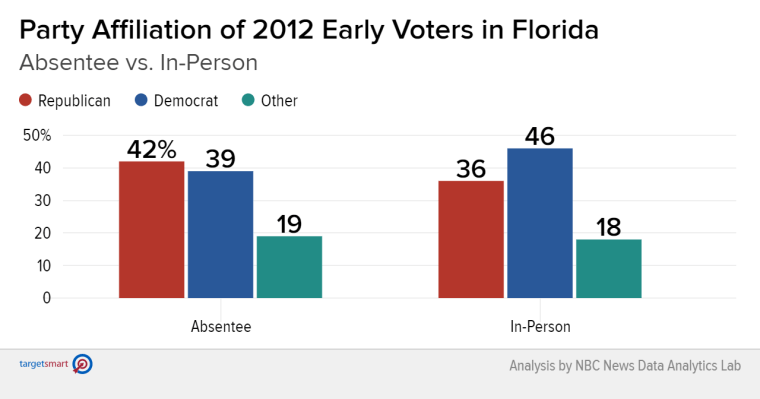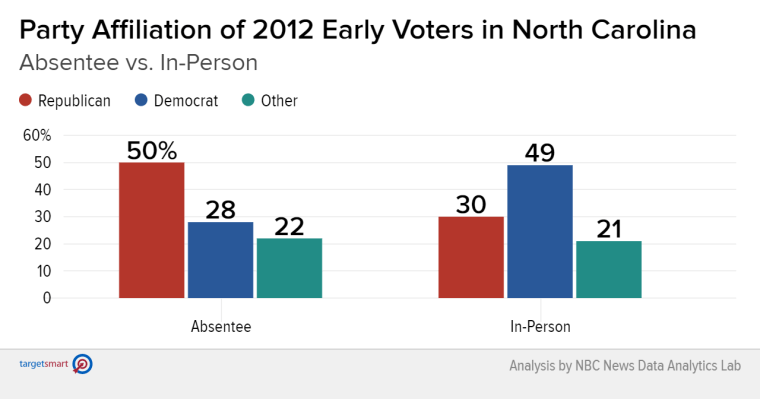 In North Carolina, a much larger percentage of early voting happens by the in person method. Still, the 2016 mail in voting numbers are not a particularly encouraging sign for Republicans.
The 2012 data in Florida and North Carolina both show that the Democrats held a significant in person voting advantage. As the in person voting begins to be counted in both states, the early voting numbers will begin to show advantages for the Democrats if the 2012 in person voting patterns hold in 2016 in both states. It will be possible to assess this next week as in person early voting data becomes available in both states.
As this early vote continues to roll in, the NBC News Data Analytics Lab will update early vote counts and partisan breakdowns in nearly every battleground state as frequently as possible leading up to Election Day.
For methodological details, please click here.