Vermont Sen. Bernie Sanders and businessman Donald Trump — the two biggest anti-establishment candidates in the Democratic and Republican presidential primary fields, respectively — have seen their support surge, according to a new survey of voters likely to participate in the Iowa caucuses.
In the Des Moines Register/Bloomberg Politics poll, Sanders is now polling just seven points behind Democratic front runner Hillary Clinton, nearly doubling his share of the vote since the last survey was conducted in May.
Sanders takes 30 percent support, while Clinton draws 37 percent, marking the first time she's dropped below 50 percent in the poll.
Trump, meanwhile, has seen a remarkable reversal in both his support and popularity in the state since May. Back then, he was polling at just 4 percent support and his favorability was at -36 points; now, he leads the pack with 23 percent support and his favorability is at +26 points.
Retired neurosurgeon Ben Carson has also seen significant gains in the Hawkeye state, surging from 10 percent support in May to 18 percent now, and improving an already strong favorability rating of +41 points to +71 points.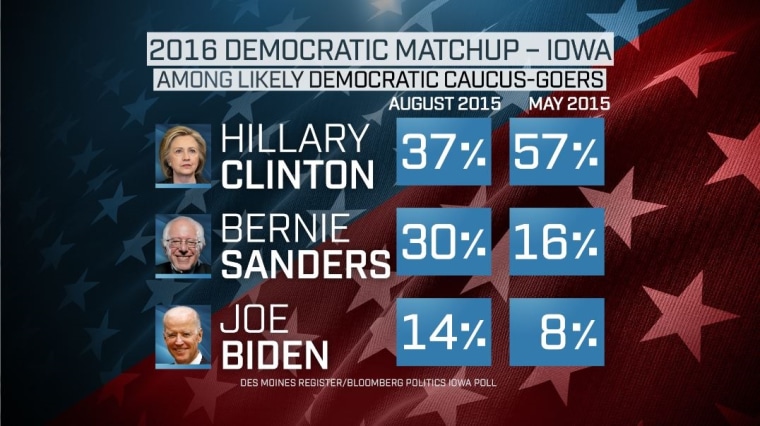 Sen. Ted Cruz and Wisconsin Gov. Scott Walker are tied for third with 8 percent support each, while the two Floridians in the race, Sen. Marco Rubio and former Gov. Jeb Bush, both take 6 percent support.
But Walker's third-place position marks a significant drop in support for him from just three months ago, when he led the field with 17 percent. It's a trajectory that's sure to raise doubts about Walker's overall viability in the race, as his campaign is relying on a strong showing in Iowa, where advisers believe the state's sizable Evangelical Christian population will rally behind him.
Others once seen as competitive in Iowa have also seen their support dwindle since May: Sen. Rand Paul, who has struggled to regain a foothold in the race since Trump entered, now has the support of just 4 percent of likely caucus-goers, down from 10 percent in May. And former Arkansas Gov. Mike Huckabee, long seen as a favorite of Evangelical Christians, declined from 9 percent to 4 percent support.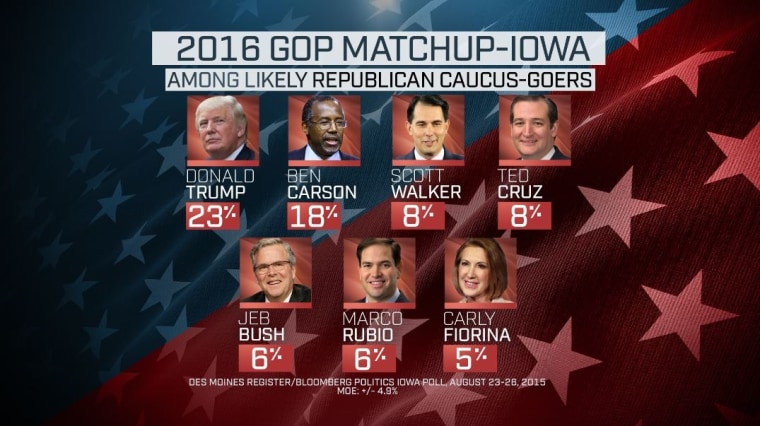 Taken together, the results indicate that those viewed as more establishment-minded candidates are either struggling to gain traction or losing support, while voters are turning to political outsiders.
On the Democratic side, Clinton's steep decline in support is a case of 2008 deja-vu, pollster J. Ann Selzer told the Des Moines Register.
"This feels like 2008 all over again," she said.
Seven years ago, Clinton held a similarly narrow lead over then-Sen. Barack Obama and former North Carolina Sen. John Edwards in October, and Obama surged to an unexpected win late in the race.
In the latest poll, Clinton's lost 20 percent support since May, a troubling trajectory for the candidate heading into the real start of the campaign season this fall.
It also suggests there may be an opening for Vice President Joe Biden if he pulls the trigger on a presidential run, which friends and aides say he's currently contemplating. He draws 14 percent support, up from 8 percent in May, and is the most popular politician in the field, viewed favorably by 79 percent of respondents.
The DMR/Bloomberg Politics poll was conducted August 23-26 via landline phone calls among 404 likely Democratic caucus-goers and 400 likely GOP caucus-goers, and both portions of the poll have a margin of error of plus or minus 4.9 percentage points.