A whopping 95 percent of the TV ad spending in the Republican presidential race has come from outside groups and Super PACs, while just 5 percent comes from the actual campaigns, according to an NBC News analysis of TV ad spending data from SMG Delta.
The opposite is true on the Democratic side -- 95 percent of the TV ad spending in the Democratic presidential contest has come from the campaigns, versus just 5 percent from outside groups.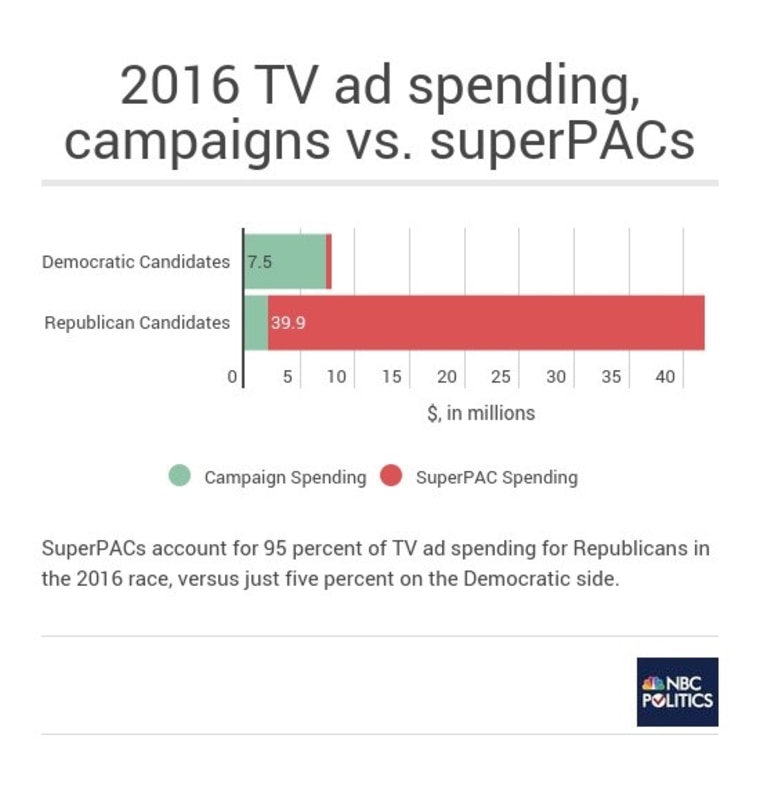 Another way to look at the TV ad spending to date: In the GOP race, outside groups (about $42 million) are outspending the campaigns ($2 million) by more than a 20-to-1 ratio. And in the Democratic primary contest, the campaigns ($7.5 million) are outspending the outside groups (about $400,000).
(Note: This analysis doesn't include outside spending from groups unaffiliated with 2016 candidates, like the conservative Club for Growth, which has spent nearly $1 million against Donald Trump in Iowa.)
Cases in point: Right to Rise, the Super PAC benefitting Jeb Bush, has spent $15.5 million in TV ads so far. But the Bush campaign itself has spent less than $440,000.
Additionally, the 501c4 outside group Conservative Solutions Project – which, unlike Super PACs, doesn't have to disclose its donors – has spent nearly $7 million to help Marco Rubio. But the Rubio campaign itself hasn't spent a single cent on the TV airwaves.
By contrast, Hillary Clinton's campaign has spent more than $6.5 million in TV ads in the early contests of Iowa and New Hampshire. But the Super PAC supporting her, Priorities USA, has spent just $200,000 in ads – a 32-to-1 ratio.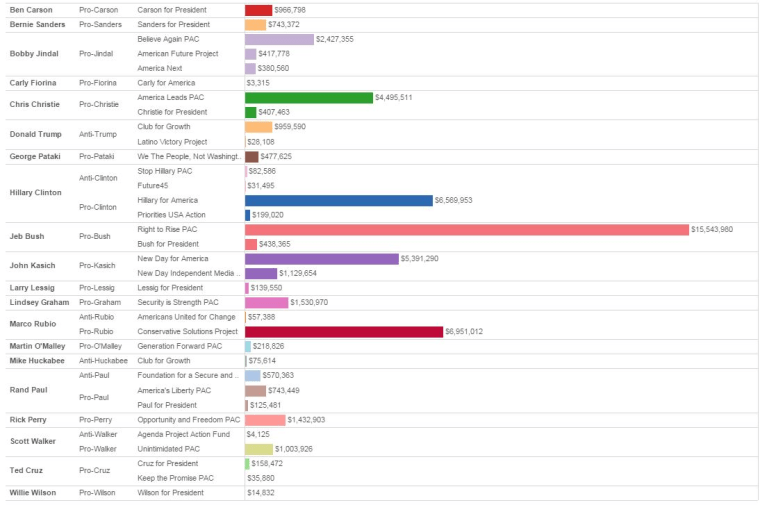 According to SMG Delta's data, the Republican campaigns have reserved future ad buys, which will bring the overall total (both Democratic and Republican) to 70 percent outside group/30 percent campaign – when it's 82 percent/18 percent now.
One other important detail: Because campaigns get a discount rate when airing TV ads, Super PACs and outside groups – on average – pay about four times as much to run the same ad as a campaign does, according to SMG Delta. That means that the $6.5 million the Clinton campaign has spent in TV ads goes farther than the $15.5 million the pro-Jeb Bush Super PAC has spent.