Donald Trump's campaign chair argued that he is "confident" Trump's run for president is not behind Hillary Clinton's despite lagging fundraising totals and the recent removal of a top campaign leader.
"Our campaign, frankly, is getting organized," campaign chair Paul Manafort said in a "Meet the Press" interview with Chuck Todd. "It's all in words I guess, but we are fully now integrated with the Republican National Committee."
Democratic Presumptive Nominee Hillary Clinton has a much larger campaign staff than Trump, a potential red flag which Manafort brushed off.
"What you're trying to do is comparing an 800-person organization in Brooklyn of Mrs. Clinton's with an integrated system of the RNC and the Trump campaign, which doesn't appear on an FEC report," he said.
A new NBC News/Wall Street Journal poll shows Hillary Clinton beating Donald Trump in a head-to-head match-up by 5 points.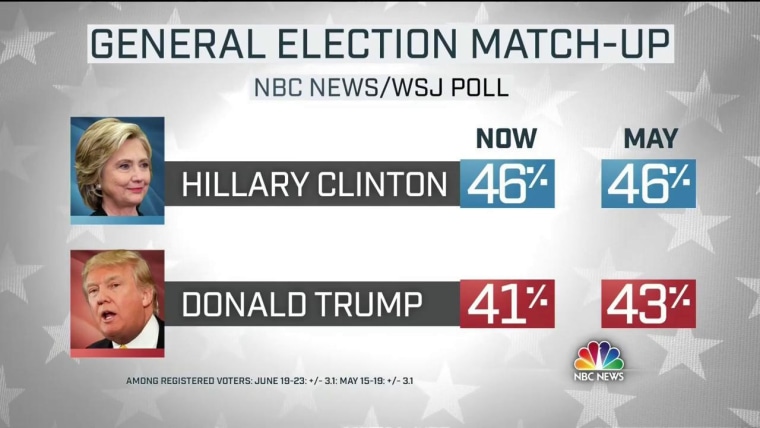 Forty-one percent of voters support Trump compared to 46 percent who say they'll vote for Clinton. That's a slightly larger lead for Clinton compared to May, when the NBC/WSJ poll showed Trump with a three-point deficit.
"We have a candidate who doesn't need to figure out what's going on in order to say what he wants to do," Manafort said. "So our campaign is organized. We're ready, we're going to have a good convention, and we're confident that we are not behind the Clinton campaign."
The Trump campaign endured media scrutiny this week after making a trip to a Trump-owned golf course in Scotland in the midst of the United Kingdom's "Brexit" vote.
But he defended the decision not to call off the trip, saying that one of the main "attractions" of Trump's candidacy is that he is an international businessman. And he said attacks on Trump from the left about his trip overseas are an example of the "tone deafness of the Hillary Clinton campaign."
Manafort, a Republican operative who advised presidential campaigns of Gerald Ford, Ronald Reagan and George W. Bush among others, formally took the helm of Trump's campaign after the previous campaign manager Corey Lewandowski was fired Monday.
He drew parallels between British voters' decision to leave the European Union and American politics today. "The promises that globalism is the solution, the promise that government's going to make your life better if you just give up your freedoms, the promises that we know better than you on how to make your lives better, have been rejected," he said. "That's what Donald Trump has identified, that's what Brexit identified, and that's what's going to be the basis for the election in 2016."