Where is the hate in America? A new analysis purports to pinpoint it.
South Carolina may be the most directly involved in the debate over the confederate battle flag, but racial tensions and racism are big issues around the country. And data from the Southern Poverty Law Center suggests the nation's racial and ethnic hate groups are heavily concentrated in areas with two key factors: lower incomes and greater diversity.
Analyzing the SPLC hate group list with the demographic county types identified by the American Communities Project reveals counties that hold those common traits are the most likely to be home to those extremist groups.
The places with the highest number of SPLC hate groups per person in the American Communities Project are the counties called Evangelical Hubs, with 208,000 people per hate group, and the African American South, with 223,000 per hate group.
(Nationally, there are about 405,000 Americans for every SPLC hate group.)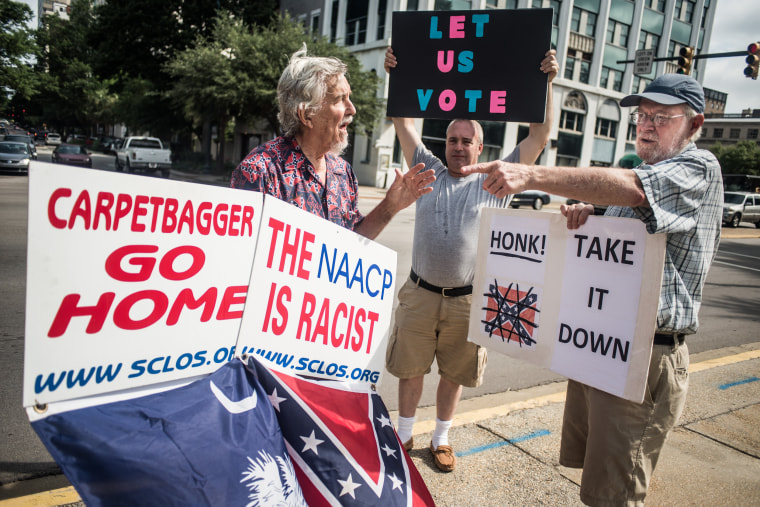 Those county types are scattered throughout the Deep South as well as Bible Belt states such as Tennessee, Kentucky, Arkansas, Oklahoma and Missouri.
You can see the various counties on this interactive map in light green and purple.
But they are also noteworthy for having fairly large black populations — 9 percent for the Evangelical Hubs and 40 percent in the African American South — and for having low median household incomes, both below $40,000 a year. (When you look at the population diversity of the average U.S. county, 9 percent black is on the higher end.)
Again, hate groups are scattered across the country, but those two factors together — low income and high diversity — appear to be crucial for engendering the rise of groups on the SPLC's list.
Consider other kinds of communities.
Working Class Country counties (in dark blue on the map) are spread around the area Americans think of as Appalachia. They sit near many of the Evangelical Hub counties, but they have a lower hate-group-to-person ratio, 354,000 people per hate group.
Why? Even though those places tend to have low median household incomes — about $38,000 a year — they also far less diverse than counties with more extremist groups. Working Class Country counties are only about 2.5 percent black.
Mark Anthony Neal, a professor of African-American studies at Duke University, said the studies' findings were not surprising.
"Very often, in those high-diversity groups, there's an expectation that if you go to school in diverse neighborhoods that you would have the least amount of friction around race," Neal told NBC News. "But just because folks are going to school with people of the opposite race doesn't mean that families are talking about race in productive way."
The income findings also jibed, Neal said.
"You're talking about communities of folks who are all struggling for the same amount of resources. They may blame another group for not having access to those resources."
Meanwhile, the reverse is true in the wealthy suburban counties the ACP calls the Urban Suburbs (in dark orange on the map). They have much lower hate group ratios — one SPLC hate group for every 553,000 people — and they are quite diverse, about 14 percent black. But they are also quite wealthy with median household incomes averaging above $66,000 a year.
In other words, the data suggest that low incomes and low diversity may lead to unhappiness, but when most people are from the same racial and ethnic background there is probably also less of an "us and them" mindset. On the other hand, high incomes and high diversity may be less likely to create tensions in the first place because there is less reason to point fingers when everyone is wealthy.
But high diversity and low incomes together create tensions and those tensions seem to make places riper for the rise of extremist groups.
None of this means that hate groups don't exist in wealthy, less diverse communities. They do. The SPLC data shows there are skinhead groups in wealthy Orange County California and neo-Nazi groups in very white Marshall County, Iowa. But these data suggest those places are the exception.
And aside from demographics, the South is something of a special case. Southern states that are home to the African American South and Evangelical Hub counties have a long history with race problems – from the Civil War to Jim Crow.
But that history also gains context with these numbers.
The South's historical racial tensions are driven by some of the same influences we see in these data. That is, that the South's large African-American population combined with its long-term of lower incomes are likely a big part of its legacy of racial troubles.
That's gets to the larger points in these numbers. If the rise of hate groups is really driven by entrenched factors such as low incomes and high diversity, the numbers are also evidence for how hard they can be to fight.