Forget for a moment the names and biographies of the ever-growing array of 2016 White House hopefuls in favor of this question: What kinds of candidates are Americans ready to embrace?
According to the latest NBC News/Wall Street Journal poll, the American general electorate is most accepting of the idea of a presidential candidate who is African-American, followed by one who is a woman, a person under the age of 50, or a Hispanic.
It's most sour on the notion of a candidate with no prior political experience, followed by one who is a Tea Party leader or one who lacks a college degree.
And it appears to be more ready for a presidential candidate who is gay or lesbian than for one who is an evangelical Christian.
Here's how that math works: Our NBC/Wall Street Journal pollsters asked whether specific candidate traits would make a respondent "enthusiastic," "comfortable," "have reservations" or "uncomfortable."
By subtracting the positive responses from the negative ones, we can get a pretty good picture of what the most acceptable and unacceptable traits might be for a presidential candidate.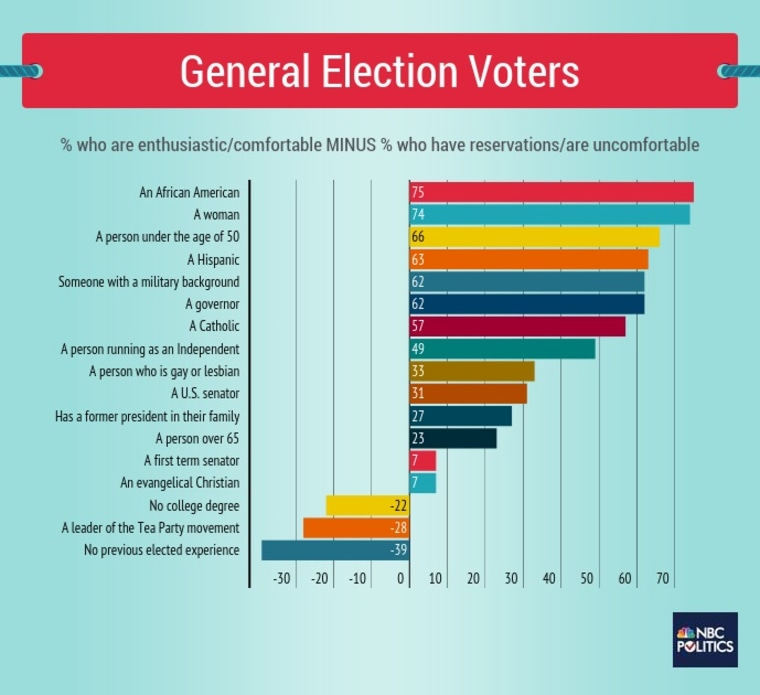 As you can see, there's moderate comfort with the idea of a candidate who is Catholic (which in the 2016 field would include two GOP heavyweights in Jeb Bush and Marco Rubio). And voters are a little lukewarm - but not overwhelmingly negative - about the idea of a candidate who's related to a former president (which would include Bush and Democratic frontrunner Hillary Clinton.)
And, despite plenty of ongoing debate about the rights of LGBT Americans, more voters say they would be unperturbed by a presidential candidate who is gay or lesbian than those who say they would "have reservations" or be "uncomfortable."
But there are some traits that get a thumbs down from most voters. Americans who intend to vote in the 2016 general election tend to say they would have reservations or significant discomfort with a candidate who had no college degree, who was a leader of the Tea Party movement or who had no previous elected experience.
Those figures may not be great news for Wisconsin Republican Gov. Scott Walker, who did not complete college, or political newcomers Carly Fiorina and Dr. Ben Carson, who have never held elected office.
Some of the priorities of Republican and Democratic primary voters look significantly different from the electorate at large.
Democrats are most supportive of the idea of a woman as a presidential candidate. An evangelical Christian would be met by the party with particularly strong skepticism, the poll shows, while a gay or lesbian candidate would be generally more acceptable to the party even than a candidate over 65 years of age.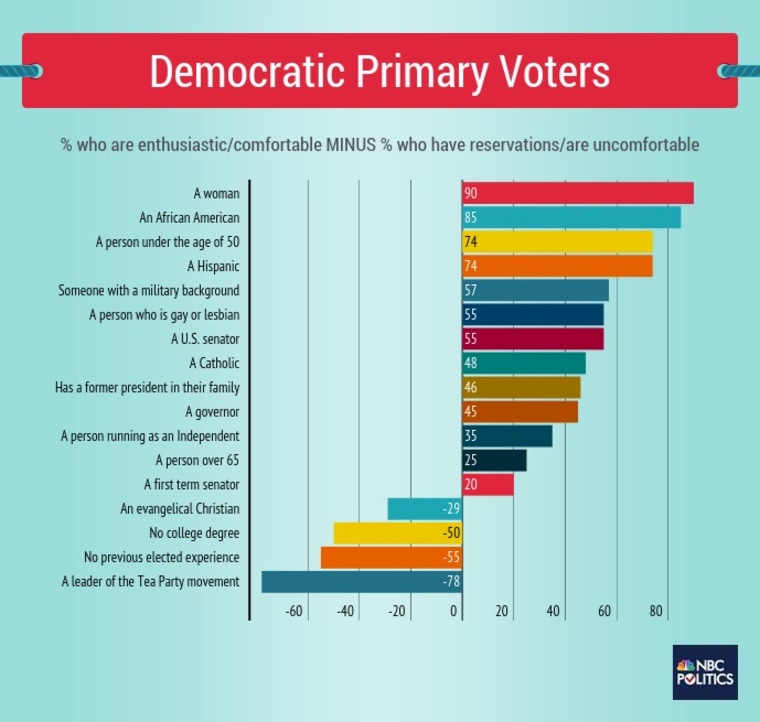 GOP primary voters are most receptive to a candidate with a military background, which would include just former Texas Gov. Rick Perry and South Carolina senator Lindsey Graham.
And Republicans, who have widely derided President Barack Obama as too inexperienced for the presidency, are sour on the notion of another presidential candidate who is a first-term senator. That could be unwelcome news for freshman senators Ted Cruz, Marco Rubio and Rand Paul.