If Donald Trump secures the Republican presidential nomination, the fate of his candidacy will likely hinge on winning white, non-Hispanic voters. They are the base of his support and there are a few states where they could make a big difference clustered in the industrial Midwest.
There are three perennial battleground states in particular that would be crucial to Mr. Trump's chances: Ohio, Pennsylvania and Wisconsin. Barack Obama won them all in 2012 and together they hold 48 electoral votes. So how big would the Trump wins among whites have to be in order to win those states? Going by the 2012 results, they would have to be staggering margins.
For our three-state look we used the percentages from 2012 state exit polls and to divvy up the actual results from the 2012 presidential race in each state. We assumed a two-point drop in white turnout in all three states (following larger historical trends), but we also assumed that Mr. Trump would do as well with African-Americans and Hispanics as Mitt Romney did in 2012.
There are a lot of unknowns in any upcoming election, from overall turnout to voter composition, but this set of measures provides a rough idea of what November 2016 could look like in these states.
Ohio
Of the three states here, Ohio seems to present the easiest possibility for Mr. Trump to "flip" in 2016. It was close in 2012 – Mr. Obama only won by about 3 percentage points. And there is already a strong partisan split on white, non-Hispanic voters. In 2012, Mr. Romney won the white vote by some 16 points – 57% to 41%.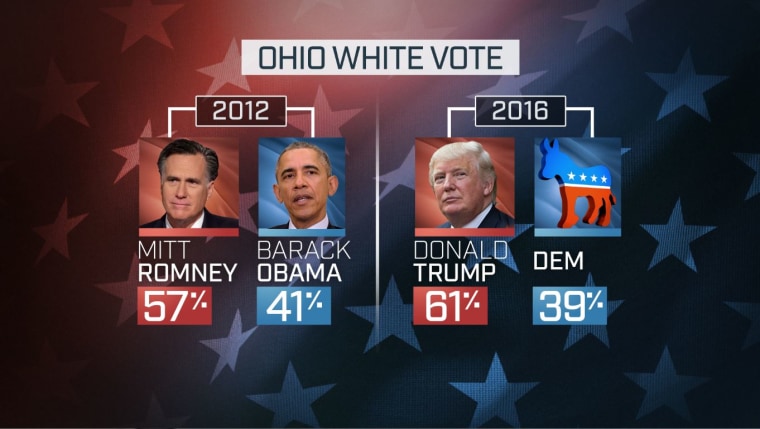 But for Mr. Trump to win the state he would have to expand on that difference by about 6 more points. If he won the white, non-Hispanic vote by 22 points (something like 61% to 39%) the numbers suggest he could win the state, if everything else held steady. That's certainly not easy, but it may be easier than the other possibilities.
Pennsylvania
Republicans always seem to get close here in presidential elections – or think they are close – but they don't get the win. The last time the GOP nominee won Pennsylvania was 1988. And it would likely be a tough lift in 2016 as well. Mr. Obama won the state by more than 5 points in 2012.
Mr. Trump would have to make big changes in the white non-Hispanic margin here. Mr. Romney won the vote by 15 points in 2012 – 57% to 42% for Mr. Obama – and still lost by a good amount. Mr. Trump would need to win the white, non-Hispanic vote by 24 points to take the Keystone State in 2016 (say, 62% to 38%). That's a net increase of 9 points from Mr. Romney's margin.
Wisconsin
Of the three states here, Wisconsin could present the biggest challenge for Mr. Trump. Not only because Mr. Obama won the state by about seven points in 2012. But also because the white non-Hispanic vote was much more evenly divided here. Mr. Romney won the group, but only by three points. In other words, for Mr. Trump to win here he wouldn't just have to extend an already sharp partisan divide, he would have to create one.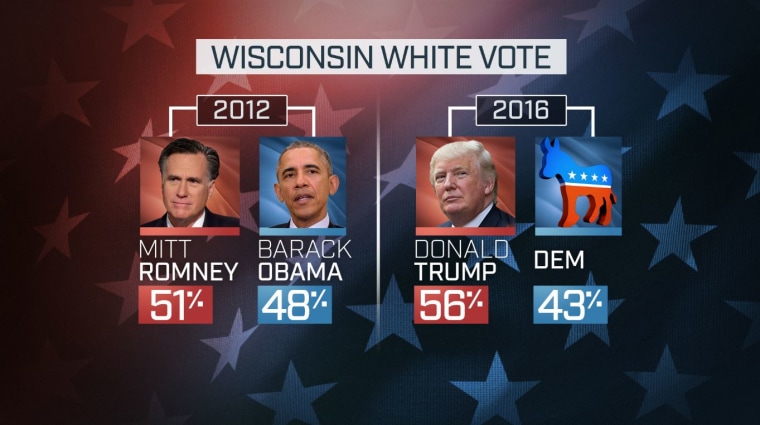 The exit poll numbers suggest Mr. Trump would have to grow that advantage among white non-Hispanic voters to 13 points to something like 56% to 43%. That would likely be a very difficult easy task.
These numbers are, of course, hypothetical. Elections don't take place on spreadsheets. There are issues and candidates and the general attitudes within the electorate that all have big impacts.
And, maybe most important, in the real world all things are never equal. Actions have reactions. Mr. Trump's language will likely hurt him with Hispanics and other immigrant groups. And there are already signs of rebellion among the Republican establishment in the "anybody but Trump" movement.
These numbers don't take any of those reactions into account. In that way, as difficult as these calculations look for Mr. Trump, they show a favorable view of the vote in those states. In reality, the math could be even harder.