Organizers in Colorado Springs, Colorado, are preparing for the city's first Pride parade since a November 2022 shooting at an LGBTQ club in the city that left five people dead and 17 others injured.
Richard Fierro, a decorated Army veteran who was one of two individuals who tackled and subdued the gunman inside Club Q, will lead the Colorado Springs Pikes Peak Pride in remembrance of the five people killed in the shooting.
"I'm humbled beyond belief to be accepted into the community and asked as a straight dude to grand marshal their parade," Fierro told NBC News. "And to me, that's a signal of something that we all need to take, take light in."
The parade's theme is "The Power of Pride," a spokesperson said, emphasizing the community's resilience and ability to stand strong in the face of tragedy.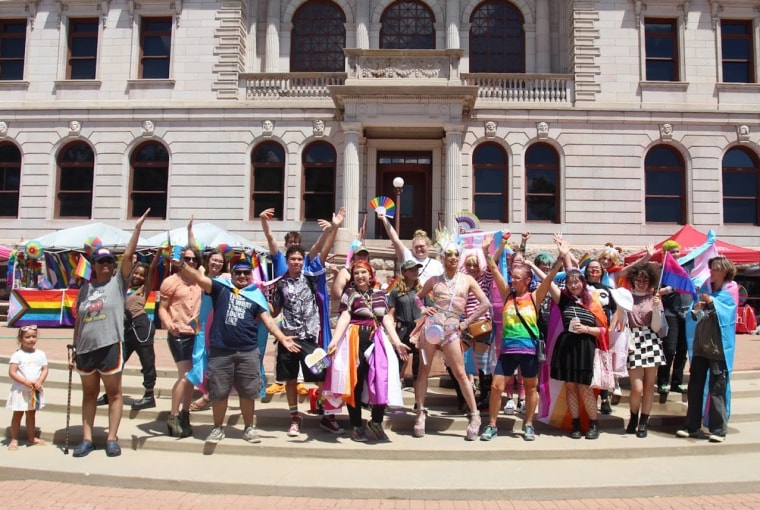 Fierro, 45, who served in the military for 15 years, was at Club Q on Nov. 19, 2022, celebrating a birthday with his wife, their daughter and her friends when he disarmed the shooter, who had an AR-15-style rifle. 
"I just know I got into mode, and I needed to save my family — and my family was at that time everybody in that room," Fierro said in a news conference days after the shooting. 
Fierro emphasized the importance of remembering those who died, including his daughter's boyfriend, 22-year-old Raymond Green Vance, and the impact the tragedy had on their families. 
"Those families are going to be hurting for forever and always changed. And that's important for us to continue to acknowledge," Fierro said this week. 
Pikes Peak Pride expects a turnout of around 15,000 attendees for the weekendlong celebration. The shooting victims will be honored Saturday in a special ceremony and tribute, featuring speeches by local politicians, survivors and victims' families.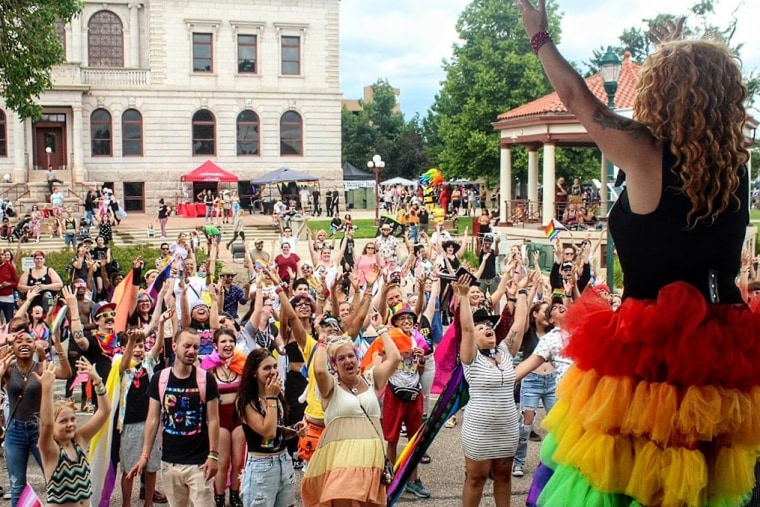 Sabrina Aston, the mother of Daniel Aston, 28, who died in the shooting, will also be walking in the parade. 
"It's so hard for us. We miss Daniel. That's our biggest thing is, we want him back and so do the other five families," Aston told NBC News.
After leaving his hometown of Tulsa, Oklahoma, Daniel Aston, a transgender man, relocated to Colorado Springs, where he began working as a bartender and entertainer at Club Q. 
His mother, also a Colorado Springs resident, recalled how liberated he seemed when performing at the club, sliding across the stage on his knees and delighting the crowd.
Aston added that "we need to get out and let people know" that parents who support their trans or queer children exist.
Security fears loom
The community is still experiencing the effects of a shooting that took place only seven months ago, and Fierro's concerns for the safety of the upcoming parade are a stark reminder of the lingering trauma.
"Listen, I'm not gonna lie to you, I'm worried about our parade. It's not that it's something that I should be worried about. But again, I think most folks in any parade now, whatever parade that is, there's a fear there," Fierro said.
To ensure the safety of attendees, Pikes Peak Pride is working closely with the Colorado Springs Police Department and private security entities. The event, which will be held outdoors, will have a significant security presence, including security guards and an open plan that allows for more exit strategies in case of an emergency.
The Colorado Springs Police Department did not immediately respond to a request for comment.
Fierro is sending a message to individuals who may be uncertain about backing Pride celebrations this month.
"You don't have to do anything crazy, just show up or shake your neighbor's hand. … It has nothing to do with whether they're gay or straight, or whatever. It has everything to do with just being kind."