A public library system in Alabama flagged a children's picture book as potentially "sexually explicit" because the author's last name is "Gay."
The picture book, "Read Me a Story, Stella," by Marie-Louise Gay is about a girl named Stella who teaches her younger brother the joys of reading, according to the book's description. The book is volume 7 in a popular series that has sold 2 million copies in 10 languages.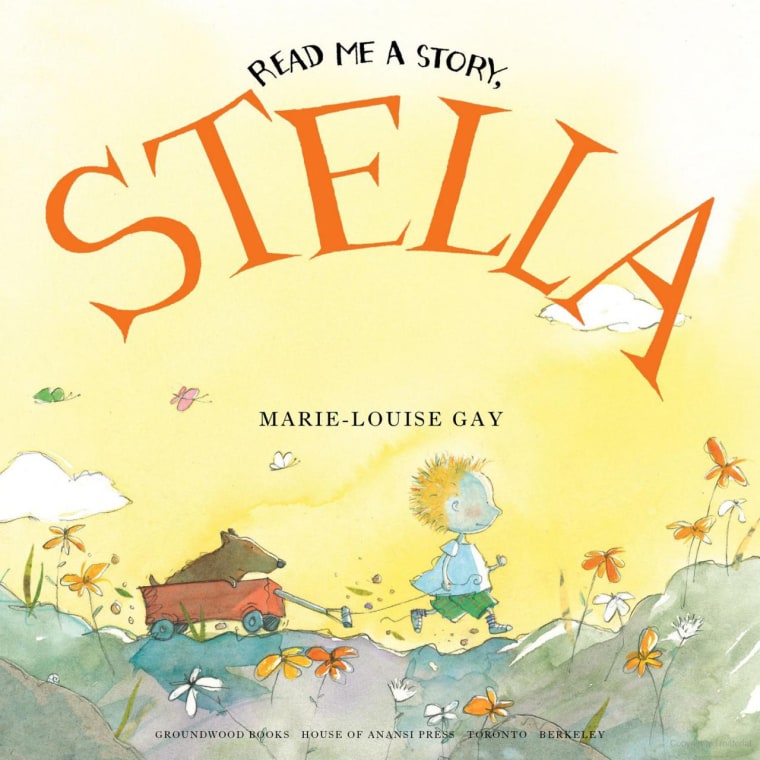 The Huntsville-Madison County Public Library system added the book last month to a list of potentially sexually explicit books to be reviewed and possibly moved out of the children's sections in its 10 branches, the Alabama Political Reporter first reported.
Jay Hixon, the library system's public relations director, said in an email Monday that the list was created to "protect the collection from anticipated challenges" and was never intended "as a directive to move or remove materials." 
"The inclusion of the author's name was the result of a keyword search to identify potentially targeted subject areas," he said, adding that Gay's book was never moved. 
Hixon noted that the Alabama Public Library Service voted last month to create and post a list of books considered inappropriate for children. The list would be created based on submissions from community members. However, the list hasn't yet been posted publicly. 
He said the library system decided to proactively review its collection "in anticipation of an unprecedented number of book challenges."
"We initiated the review because we believe that professional librarians, trained in collection development, should be the ones to make decisions about book placement," Hixon said. "The review encompassed a number of different factors. The list was just a preliminary step to identify materials that might be challenged."
The library system intended to ensure that books containing sexually explicit content were located in an age-appropriate category, he said.
"Unfortunately, we did not effectively communicate the review process from the administration to the staff conducting it," Hixon continued. "When we received feedback about the review, we paused our actions. However, we did not pause our conversation about the best way forward with the library and the challenging climate we face."
Kirsten Brassard, Gay's publicist at Groundwood Books, said none of the author's books have ever been censored before, to the company's knowledge. 
Karen Li, the publisher of Groundwood Books, said in an email Tuesday that the company is "deeply disturbed by the autocratic and uninformed censorship of books in the Huntsville-Madison County Public Library system."
"Although it is obviously laughable that our picture book, 'Read Me a Story, Stella,' shows up on their list of censored books simply because the author's last name is 'Gay,' the ridiculousness of that fact should not detract from the seriousness of the situation," Li said in a statement shared by Brassard.
Most of the 246 books on the Alabama list include keywords such as "lesbian," "gay," "gender" and "identity," local news outlets reported. There are also a few books on the list that focus more on issues of race, according to AL.com, such as "The Hate U Give" by Angie Thomas, which is about a girl who sees her childhood friend fatally shot by a police officer.
"This proves, as always, that censorship is never about limiting access to this book or that one," Li said. "It is about sending the message to children that certain ideas—or even certain people—are not worthy of discussion or acknowledgement or consideration. This is a hateful message in a place like a public library, where all children are meant to feel safe, and where their curiosity about the world is meant to be nurtured."
The Huntsville-Madison County Public Library system said in a news release on Sept. 28 that the book review has been stopped and that any books or materials that were previously relocated have been returned or are in the process of being returned to their original locations.
Hixon said the library system is aware that there are concerns regarding the list's focus on LGBTQ-related books. 
"It was not our intent to isolate LGBTQ+ titles," he said. "The library intends to maintain and retain its collection without compromising service to our diverse community. We will not remove specific titles because individuals or groups may find them objectionable."
The censorship and restriction of books, particularly those with LGBTQ themes, is not unique to Alabama. A report released last month by the American Library Association found that book challenges have reached historic rates this year. Between Jan. 1 and Aug. 31, a total of 1,915 unique titles have been disputed — a 20% increase compared to the same time period last year, according to the ALA. Nearly all of those titles are about LGBTQ people or race or have authors who are people of color or LGBTQ, the ALA found.