President George W. Bush's reputation may have been forever complicated by 9/11 and war, but a proposal he made in his 2003 State of the Union address became a historic humanitarian success, one that resulted in 25 million lives saved from AIDS, 20 million people with HIV provided antiretroviral treatment and 5.5 million babies born to HIV-positive mothers but free of the virus themselves.
After two decades, this is the legacy of the President's Emergency Plan for AIDS Relief, or PEPFAR — the most ambitious and transformative U.S. foreign aid program since the Marshall Plan rebuilt Europe from the rubble of World War II.
This is also the story, unknown to many Americans, of how Bush — a devoutly religious man who campaigned for president on a platform of "compassionate conservatism," but whose legacy was stained by the carnage of the Iraq War and the Afghanistan quagmire — conceived of and launched a juggernaut aid program that is widely credited with saving sub-Saharan Africa from cataclysm.
In President Joe Biden's State of the Union address Tuesday, he paid tribute to his predecessor's effort, calling PEPFAR a "huge success."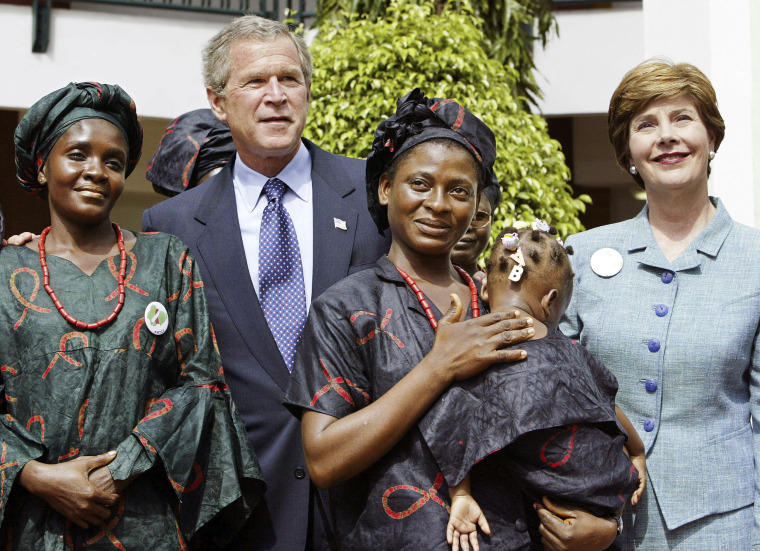 In 2003, the same State of the Union address that primed the nation for the invasion of Iraq that would begin less than two months later, Bush stunned the world's global health and political leaders by announcing what was then a $15 billion, five-year commitment to combat the international scourge of AIDS.
Highly effective antiretroviral treatment for HIV had been available in wealthy nations since 1996. Bush sought to end the international-aid paralysis that had denied such life-saving pharmaceutical access to people living with the virus in poorer nations and allowed millions to die.
By 2003, Sub-Saharan Africa, HIV's epicenter, was on the precipice of broad-based societal collapse due to AIDS. Life expectancy had plunged by 20 years, infant mortality had doubled, child mortality had tripled and millions of children had been orphaned by the disease. AIDS also posed a grave economic threat, with national average GDP dropping 2 to 4 percentage points per year across Africa. 
And at the time, Secretary of State Colin Powell told Dr. Anthony Fauci, director of the National Institute of Allergy and Infectious Diseases (NIAID), that HIV posed a dire threat to global security, given the masses of Africans dying during the primes of their lives and the fact that much of the continent's military was infected with HIV, Fauci said.
Powell, Fauci told NBC News, "felt that anything that we could do to ameliorate the problem would be a step toward enhancing our own security."
In the two decades since its launch, PEPFAR, long sustained by bipartisan congressional support, has provided more resources — around $100 billion — than any other nation in history toward relief efforts for a single disease.
But in 2003, Bush's proposal was considered so audacious — never before had a nation attempted to wrest control of a chronic illness on such a scale — global leaders widely presumed its lofty goals would prove impossible to achieve.
"As a rich nation, he felt that we had a moral responsibility not to have people dying from a disease that's treatable and preventable merely because of the lack of resources in the region in which they live," Fauci said of Bush's determination to make PEPFAR a success.
From 'despair' to 'a story of hope'
Dr. Wafaa El-Sadr, an epidemiologist and infectious disease specialist, is the founder and director of Columbia University's ICAP global health center, which has been charged with implementing key pillars of PEPFAR's mission in Africa and elsewhere around the world.
"Twenty years later, sometimes it's hard for people to appreciate what the world was like in sub-Saharan Africa then," El-Sadr said of her visits there. "I remember before PEPFAR, walking the hospital wards in Southern Africa countries. It was despair."
In the early 2000s, 1 in 3 adults in some of the region's nations had HIV. 
A seasoned HIV physician who had witnessed the Lazarus effect antiretroviral treatment had provided her patients back in New York, El-Sadr, a native of Egypt, knew keenly what was being denied to sub-Saharan Africa.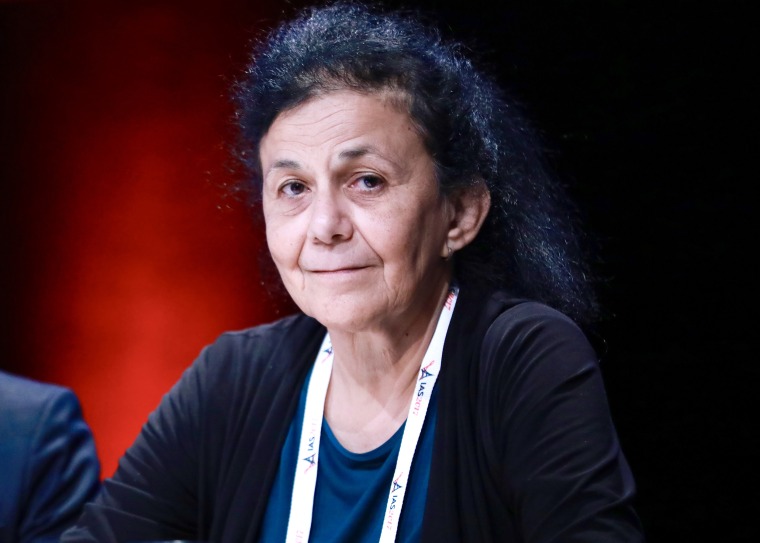 By the end of 2002, antiretrovirals had been provided to just 50,000 of the more than 4 million people with HIV in the region who qualified for treatment (nearly 30 million in the region had HIV, though only a minority qualified under the protocols of the time). 
Tariro Chikwanha, 60, was diagnosed with HIV in Zimbabwe in 1997 and lost her husband, a trucker, to AIDS in 2000.
"I didn't believe that I would live long," Chikwanha said. "I thought I was at the end of the day."
Chikwanha, who lives near Zimbabwe's capital city, Harare, recalled the transformation in her country after the mid-2000s, when PEPFAR, along with the multilateral NGO the Global Fund, started providing services.
"The story changed," she said. "It became a story of hope."
'That's going to cost a lot of money'
In early 2002, Fauci presented Bush with a proposal to spend $500 million to prevent mother-to-child transmission of HIV in sub-Saharan Africa through the targeted use of antiretrovirals, which both treat and prevent the transmission of the virus.
Bush was impressed, Fauci recalled. But before the NIAID director left the White House meeting, the president pulled him aside. Bush told Fauci he wanted an international AIDS relief program that was much bigger.
In an exchange that would dramatically change the course of human history, Fauci recalled saying to Bush, "That's going to cost a lot of money, maybe billions of dollars.'"
Bush told Fauci not to let cost hold him back. 
Fauci promptly got to work, spending the remainder of that year developing a proposal with a small team sworn to secrecy. 
Sandra Thurman, who was the director of the White House Office of AIDS Policy during the Clinton administration, recalled listening to Bush's State of the Union address that night in her car.
"I damn near drove off the road," she said. "It was positively the most presidential thing I'd seen anyone do in a long time. It took my breath away and made me cry tears of joy and gratitude."
'This is about the American people'
Dr. Mark Dybul, who was on the Fauci-led team that developed PEPFAR, said the prevailing attitudes toward the plan as it faced congressional scrutiny in early 2003 were pessimistic. 
"Most of the public health officials said it was impossible," said Dybul, who served as PEPFAR's director from 2006 to 2009. 
Such experts highlighted sub-Saharan Africa's lack of infrastructure, supply chains, trained health care workers, proper roads and even running water. These were supposedly intractable obstacles that would doom PEPFAR to failure, even with the cost of a year of antiretrovirals down from $12,000 to $300 (today's figure is about $65). 
"Many believed we should only do prevention and accept the premise that we could lose a generation of Africans," said Dr. Deborah Birx, who led PEPFAR from 2014 until she stepped down in January 2021, after joining the Trump administration's Coronavirus Task Force the previous year, becoming a household name and a lightning rod.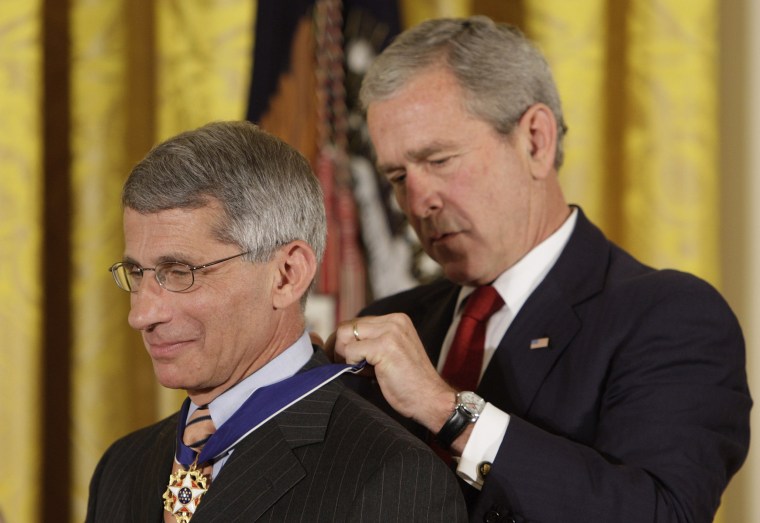 Fauci and Dybul recalled that throughout the effort to launch PEPFAR, Bush was adamant that he should not be the face of the program. 
"If you ever make this about me, this is dead," Bush insisted, according to Dybul, who is now a professor at the Georgetown University Medical Center. The president, Dybul said, insisted that the goal was to create a sustainable long-term program that would not sink or swim based on one man's reputation or legacy. 
"This is about the American people," Dybul recalled Bush saying.  
After the faith community and activists pushed from the outside, and after a bipartisan pack of congressional leaders hustled from within, Congress appropriated the funds Bush requested in May 2003.
One of those congressional leaders, Rep. Barbara Lee, D-Calif., said this is "how democracy should work."
Keys to success 
Had PEPFAR and the Global Fund never stepped up to address the global HIV crisis in poorer nations, "It would have been a moral crisis of unimaginable proportions," said Ambassador John Nkengasong, who was confirmed by the Senate as PEPFAR's director in May.
Key to this success, according to global health experts, was PEPFAR's creation of health infrastructure throughout sub-Saharan Africa from the ground up, including establishing over 3,000 testing labs, training 340,000 health care workers and developing a sprawling system for monitoring the epidemic — all of which proved instrumental in helping the region weather Covid-19.
In 2021, 38.4 million people were living with HIV worldwide, according to estimates from the Joint United Nations Programme on HIV/AIDS (UNAIDS). Of them, 28.7 million were on treatment, up from 7.8 million in 2010. Thanks in large part to the fact that successfully treating HIV eliminates sexual transmission of the virus, the estimated annual transmission rate has dropped 52%, to 1.5 million, since 2010, while the annual death rate has declined 68% since peaking in 2004, to 650,000.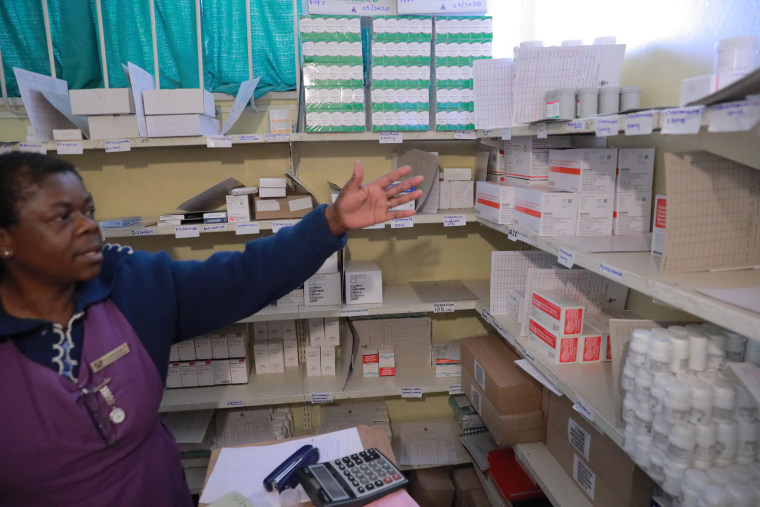 A December report from the nonpartisan health policy organization KFF further found that PEPFAR's work was associated with a 2.1-point average increase in GDP per capita growth rate in 90 nations that received support from the program between 2004 and 2018.
Today, the overall global HIV epidemic is at a precarious crossroads, according to UNAIDS, with the war in Ukraine and the Covid-19 pandemic having destabilized efforts to provide prevention, testing and treatment services. New infections have risen in three regions: Eastern Europe and Central Asia, Latin America, and North Africa and the Middle East.
But in the 13 sub-Saharan African nations where PEPFAR has prioritized its resources, HIV epidemic metrics continue to dramatically improve.
PEPFAR has accomplished such success despite being essentially flat-funded since the beginning of the Obama administration, at about $5.4 billion annually. (The U.S. has also provided at least $1 billion annually to the Global Fund.)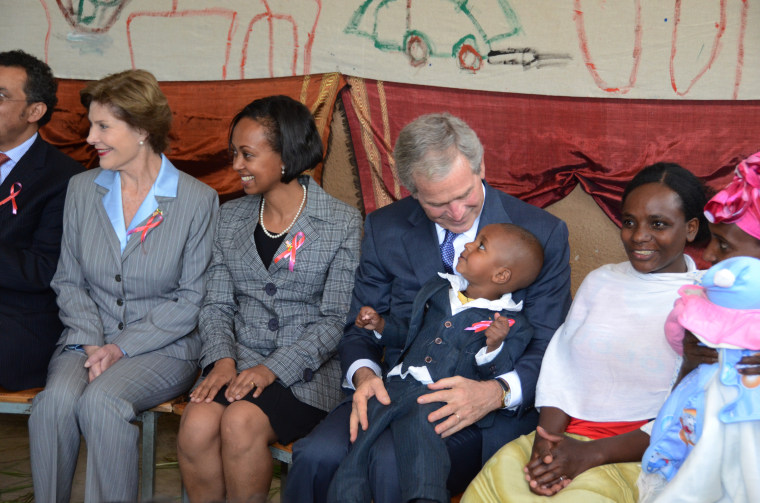 Many, including Fauci, credit Birx with leveraging the power of granular epidemiological analyses of national epidemics in Africa to identify ways that a program already geared to demand tangible results — more people on treatment, fewer infections and deaths — could direct policies, programs and resources even more efficiently and effectively.
"She's a data junkie," Fauci said of Birx, who trained as an immunologist under him in the mid-1980s.
However, a February 2020 State Department Office of Inspector General audit of PEPFAR offered scathing criticism of Birx's leadership style, calling it "dictatorial," "directive" and "autocratic."
Fauci argued such characterizations were sexist.  
"She's a strong woman," Fauci said of his protégée. "Some people get put aback by that. I don't. If it were a guy doing that, I think they would say, 'Wow, what a great job you're doing.'"
"Was I relentless?" Birx said. "Yes, and I will never apologize for that, because that's what it takes to battle pandemics."
Challenges ahead
 Global health experts caution that PEPFAR faces challenging times as it strives to benefit populations that are traditionally harder to reach.
Crucially, only 52% of children with HIV in sub-Saharan Africa are on antiretrovirals, compared with 76% of adults, according to UNAIDS.
Plus, recent analyses have found that half of new cases in the region are now in what are known as "key populations" and their sex partners. These populations, which comprise just 5% of the overall population, include men who have sex with men, transgender people, sex workers and people who inject drugs.
Targeting these marginalized members of society with HIV services is particularly challenging, given policies in sub-Saharan Africa that harshly criminalize the behaviors that transmit the virus among them.
A survey study published in The Lancet on Jan. 6 found that among 10 nations in the region, those that criminalized sex between men, prosecuted same-sex relations and/or erected barriers for organizations that serve gay and bisexual men, respectively, had dramatically higher HIV rates in such men than those nations without these respective factors.
Such policies are the product of deeply ingrained anti-gay attitudes, said Humphrey Ndondo, who heads the key populations technical support committee on Zimbabwe's National AIDS Council. Noting that the nation's former president, Robert Mugabe, once said gay men are "worse than dogs and pigs," Ndondo predicted such attitudes "will persist for a very long time."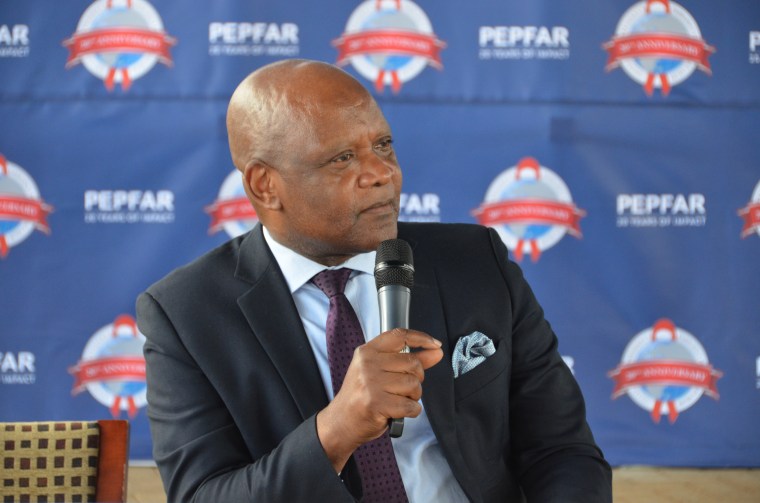 When asked whether he would confront African heads of state to push them to change their policies, Nkengasong, a native of Cameroon, said he would. "We just have to keep pushing," he said. He added that his team is already priming members of the U.S. Congress to support PEPFAR's scheduled reauthorization later this year.
And as nationalistic forces grip the Republican Party from the far right, Rep. Lee said that she and other veteran PEPFAR supporters face a challenge in educating their newer colleagues about the benefits of the program. 
"It's a heavy lift in Congress, but we've got to do it," she said. "I've talked to Republicans, and we've got a game plan."
An American legacy
Fauci said that Bush, who through a spokesperson declined to comment for this article, has long shrunk from praise for what is widely considered his most positive legacy. The president, Fauci said, would become "visibly uncomfortable" whenever the NIAID head would praise him at gala events for his vision in creating PEPFAR.
"If you put aside what for most people is a negative aspect of his legacy, namely the Iraq war," Fauci said of Bush, "he's a man of incredible integrity, number one, and of phenomenal empathy for those throughout the world who are suffering." 
Chikwanha of Zimbabwe was among the suffering. When she was finally provided antiretrovirals in 2010, 13 years after her diagnosis, she was desperately sick from AIDS, with almost no T-cells left.
"I couldn't walk. I couldn't do anything," she said.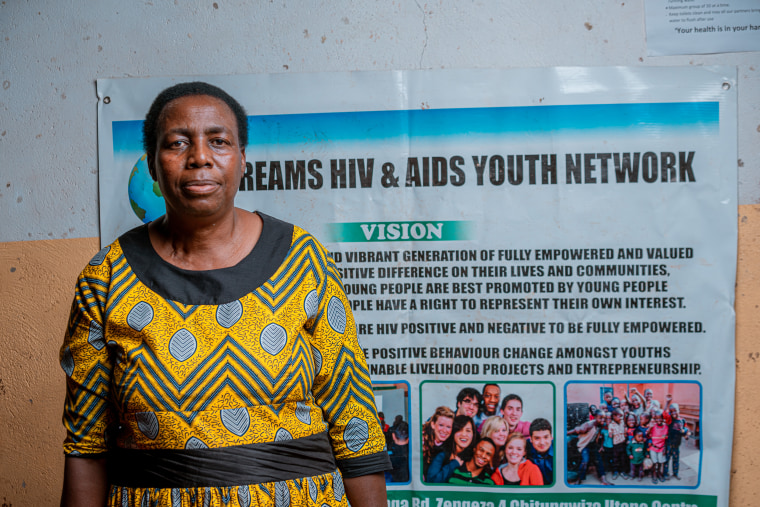 Now she describes herself as "strong" and "fit." 
"I don't feel any pain. I can do anything that young people can do," she said. 
Fauci, newly retired, said, "I would rank PEPFAR as right at the top of the things that I feel that, when I leave the world and think back about what I've done, that I feel good about."
As El-Sadr reflected her own service to PEPFAR, including overseeing the surveys that monitor the program's steady progress in battling HIV in African nations, her voice choked up.
"It's a source of hope and pride," she said.
CORRECTION (Feb. 7, 2023, 10:45 p.m. ET): A previous version of this article misstated when Dr. Deborah Birx stepped down as the head of PEPFAR. It was January 2021, not March 2020.