The Canadian women's ice hockey team took home gold Thursday morning, after beating their rivals and the reigning Olympic champions: Team USA. The undefeated Canadians dominated the game early on, building a 3-0 lead in the first two periods, and then held back the Americans' late-game scramble, to end the match with a final score of 3-2. 
On Team Canada, the goals came from Sarah Nurse and team captain Marie-Philip Poulin, who is now the only hockey player to score in four Olympic gold medal games. And Hilary Knight and Amanda Kessel scored the two goals for Team USA.
The meeting is another chapter in the heated rivalry between teams that have monopolized gold and met in every final but one since the sport was introduced to the Winter Olympics in 1998. The Canadians, who now have five golds to the Americans' two, have established themselves as the premier force in women's hockey — at least for another four years.
But it's not just the Canadians' impressive campaign for gold that has garnered them attention at the pandemic-inflected Winter Games: At least seven of their competing players are openly LGBTQ, making them tied for the queerest Olympic team of all time. (The Dutch women's soccer team also had seven publicly out players who competed in the Tokyo Summer Games.)
"Women's hockey gets more attention during the Olympics than at any other point," Cyd Zeigler, the founder of LGBTQ sports website Outsports, told NBC News. "When you're seeing all of these athletes in sports that just don't get a lot of attention for four years, having them be out in this moment is so important."
According to Outsports, half of the 10 women's hockey teams in Beijing include at least one out player. But at seven, Canada's percentage of players far outranks the others.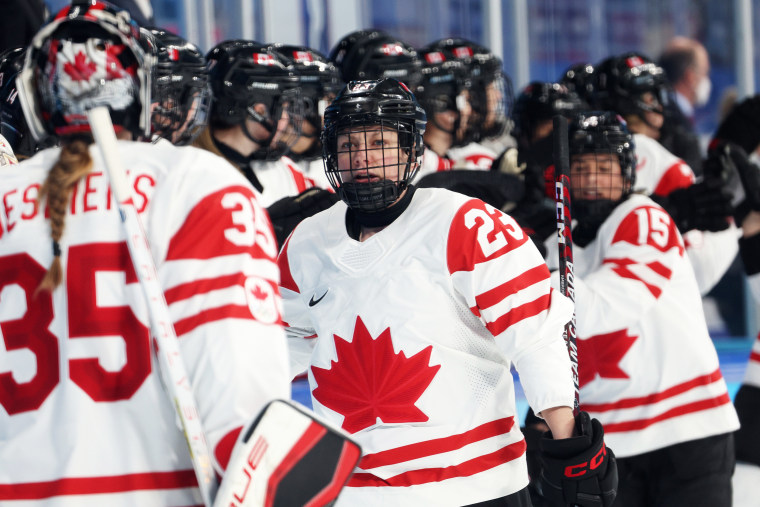 With every Olympics, visibility around LGBTQ athletes grows, thanks to both individual competitors and an increase in the sheer number of athletes who are publicly out. Outsports estimated that at least 36 openly LGBTQ athletes, from 14 different countries, are competing in Beijing. That's double the amount from 2018, in Pyeongchang, but significantly less than the last Summer Olympics, which typically has more than triple the number of athletes competing compared to the Winter Games. Last year, at the Summer Games in Tokyo, there were an estimated, record-breaking 186 openly LGBTQ Olympians. 
"Eight years ago, there had never been an out gay figure skater at the Olympics," Zeigler said, drawing a comparison between figure skating and hockey. "Things have changed dramatically — just how bold people are willing to be in sports — in a pretty short period of time."
Star power 
Among the Canadian team's LGBTQ players are stars Brianne Jenner and Erin Ambrose. 
Following the Canadians' victory, the veteran forward Jenner, who is in her third Olympic appearance, was named tournament MVP. Her path to gold included nine goals, which ties her for the most goals scored in a single competition. She'll add the medal to her existing collection of gold and silver, which represents an illustrious career playing for the national team, as well as in college and professionally for the Cornell Big Red and Calgary Inferno. (Jenner married her former Cornell and Calgary teammate Hayleigh Cudmore in 2019.) 
Ambrose, who has been a powerhouse defender for Canada, is taking home gold in her Olympic debut. But, going into Wednesday night, she had already left her mark in Beijing by scoring four goals and nine points in the previous six games, putting her in the top 10 of the tournament. It's a momentous moment for Ambrose, who failed to make the Olympic team in 2018.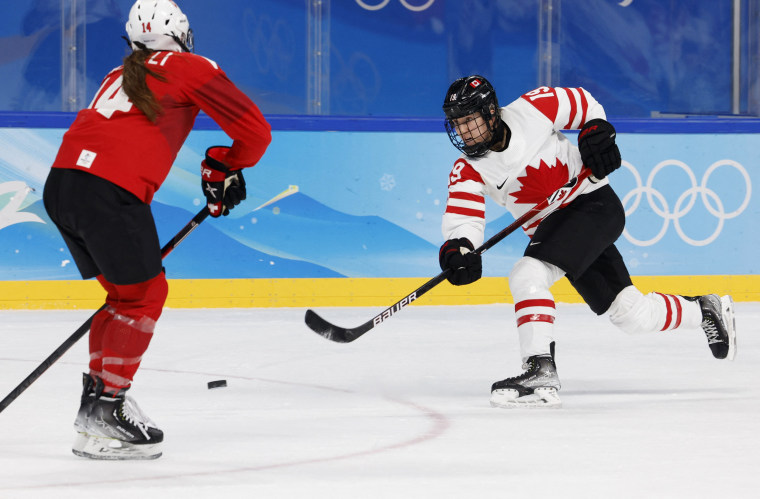 These players' star power has been a major factor in the impact of the Canadians' queer contingency at the games. As Zeigler pointed out, it's not just the number of players on Team Canada who are out, it's that some of the best players on the team — and hence, in the world — are out.
It's similar to the effect that top athletes, such as Megan Rapinoe and Abby Wambach, have had in women's soccer. As Rapinoe, Wambach and many other LGBTQ players have been vocal about their personal lives, the sport has seen an increase in queer visibility and mainstream acceptance of its queer athletes. Like the Olympics, and the women's events in particular, the last women's World Cup saw an exponential increase in openly LGBTQ players.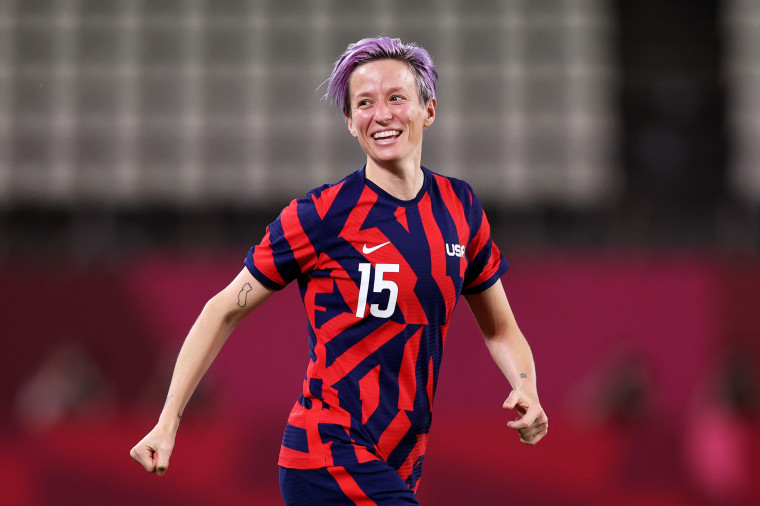 But top scorers and star players aren't the only people changing the culture of elite sports. Zeigler emphasized that there's also a lot of power in backup and reserve players being out, as it dispels the fear that only the most well-known athletes are safe to live openly.
"When one teammate comes out and is accepted, it makes it that much easier for other people to do it, and more likely that they will," Zeigler said. "We can point to examples in men's sports and women's sports, but I think that the Canadian women's ice hockey team is a great example of that." 
"There's a culture there that is empowered by out athletes. And it just, kind of, feeds in on itself — this snowball effect," he said.
Like in professional and other elite sports arenas, openly LGBTQ female Olympians far outnumber their male counterparts, a fact that has been attributed to the much more stigmatizing culture of men's athletics. In Beijing, men make up about a third of Outsports' list of openly gay athletes, compared to a reported 1 to 9 ratio at the Tokyo Games.
All-star reactions
Some of the biggest names in women's sports took to Twitter on Wednesday night and Thursday morning to weigh in on the final. 
After Canada clinched gold, the legendary tennis star Billie Jean King, who has been an advocate for women and LGBTQ athletes since coming out in the 1980s, tweeted her congratulations along with: "High caliber women's hockey by both teams was on display today. Their athleticism & elite level of play is outstanding."
Former Team USA women's hockey captain, three-time Olympian and gold medalist Meghan Duggan issued consolation to the losing side, tweeting: "Hold your heads high. You inspired an entire nation with your performances this Olympics and resiliency over the last few years."
Duggan is married to the highly decorated, former Canadian hockey star Gillian Apps, who was a member of the squad that won back-to-back gold medals in three consecutive Olympics. Apps, unsurprisingly, parted ways with Duggan on Twitter, posting several messages of support for her former team.
During the game, soccer star Wambach retweeted her wife, the best-selling author Glennon Doyle, who comically described the play action as "soccer but on knife shoes balancing on ice cubes holding large hooks in antarctica or something."
Throughout the final, Doyle kept up an enthusiastic and humorous string of tweets, lapping praise on the players, whom she described as "masked warrior women," and celebrating moments like Alanis Morissette's "You Oughta Know" being played during a lull.