After 14 years as a married couple, Kate and Trish Varnum still marvel at the benefits of a legally recognized marriage.
They have the ability to visit each other if one of them becomes hospitalized, the right to have both their names on their adopted son's birth certificate and they can file taxes jointly.
The couple married in 2009, soon after the Iowa Supreme Court ruled in their favor in the landmark Varnum v. Brien case, in which the two of them were plaintiffs alongside five other same-sex couples. Some years later, in 2015, their marriage was also recognized nationwide in the wake of the high court's Obergefell v. Hodges ruling, which made same-sex marriage the law of the land.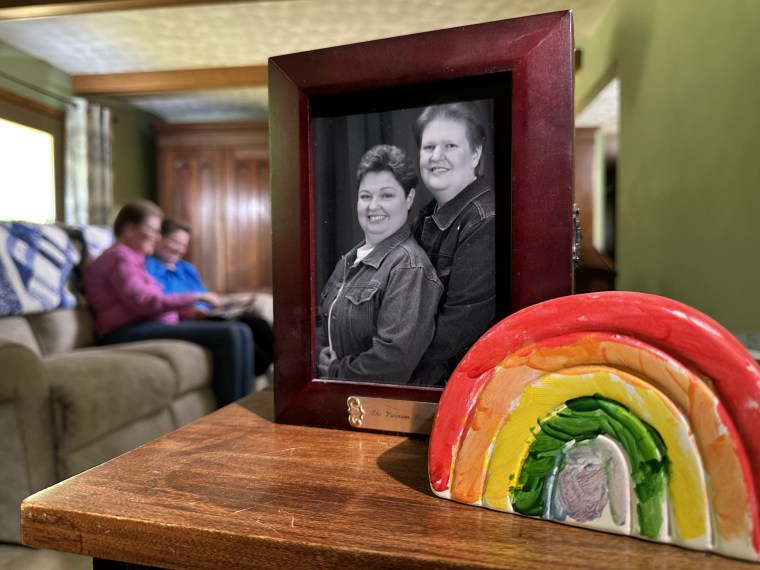 But following the proposal of two Iowa bills targeting same-sex marriage and a broader array of attacks on LGBTQ rights, the couple has renewed fears about how long those rights will last.
"Having these legal challenges, it feels that we're under attack again. And even more so than we were before," Kate Varnum told NBC News at the couple's home in Cedar Rapids, Iowa.
The two live on a quiet, suburban street, where pride flags and other symbols of LGBTQ support dot a handful of homes and lawns.
Inside their home, where they live with a dog, Rosalyn, and their 11-year-old son, Alex, Trish Varnum says that throughout the two decades she and her wife have been together, she knew they'd have to fight to preserve their rights. But she admits that the Obergefell ruling gave her a sense of safety.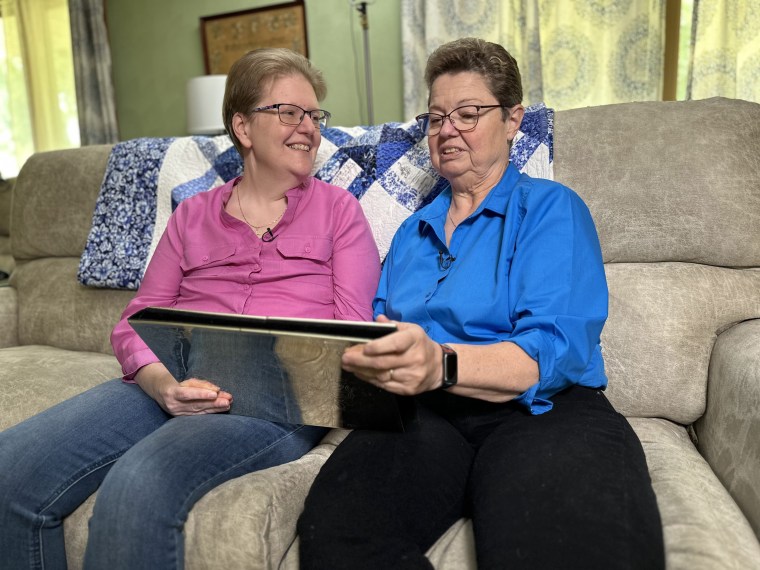 "After 2015, we were, I think, mostly hopeful that we were turning a corner and that we had a little bit of a straightaway to go before we rounded the next bend. And I expected it to be longer than it has been," Trish Varnum said.
According to a 2022 analysis by the National Conference of State Legislatures, 35 states have statutory or constitutional bans on same-sex marriage — dormant for now, but potentially enforceable if Obergefell were to be overturned. 
And in at least three states, laws that attempt to circumvent equal protection for same-sex couples based on religious objections are still in effect.
Mississippi passed a law in 2016 that allows anyone, including state and county officials, to decline to recognize same-sex marriage based on their "sincerely held religious belief." The law was stayed for nearly two years based on court challenges, but in 2018 the Supreme Court declined to take up the case, allowing the law to stand.
A similar law passed in North Carolina in 2015, just before the Obergefell ruling, allows state officials to refuse to perform any marriage ceremony if they have a "sincerely held religious objection."
And a Kansas law passed in 2013 protects individuals and churches that refuse to recognize same-sex marriages from being sued. 
Now, Iowa could soon join their ranks. Lawmakers there have proposed two bills this session targeting same-sex marriage. One is a joint resolution proposing an amendment to the state's constitution that would ban same-same sex marriage, and the other would allow the state's residents to refuse to acknowledge same-sex marriages on religious grounds and attempts to nullify the 2023 federal Defense of Marriage Act. 
They're part of a slate of more than 25 state bills introduced this year aimed at the LGBTQ community, according to a legislation tracker published by One Iowa Action, the state's largest political advocacy organization focused on LGBTQ rights.
Nationwide, both the American Civil Liberties Union and the Human Rights Campaign are tracking approximately 500 anti-LGBTQ bills. Earlier this month, the HRC issued its first-ever "state of emergency" for LGBTQ people in the United States.
Sitting in their living room, where mementos from their marriage ceremony still adorn the walls, the Varnums said that, in spite of these bills, they're still hopeful.
"The fight will never be over. It's never over; it's always going to be a continuation, because there's going to be some small pocket that thinks that we shouldn't have these rights," Kate Varnum said. "That will always be a struggle. How much of a struggle remains to be seen."