The controversy around Los Angeles Dodgers' decision to uninvite a famed drag group to the team's annual LGBTQ+ Pride Night escalated Thursday when LA Pride announced it wouldn't participate.
The team rescinded its Pride Night invitation to The Sisters of Perpetual Indulgence on Wednesday, saying the troupe's presence would run counter to the event's "spirit of unity."
Responding Thursday, LA Pride tweeted: "As a longstanding partner of the Los Angeles Dodgers, we are very disappointed in their decision to rescind their invitation. ... In solidarity with our community, LA Pride will not be participating in this year's Dodgers Pride Night event."
LA Pride, which produces the city's annual parade celebrating LGBTQ life and culture, works year-round to advocate for gay rights.
"Pride is a fight for equality and inclusion for the entire LGBTQ+ community and we're not going to stop now," LA Pride said.
Before it changed course, the team had planned to honor The Sisters on June 16 at a game against the visiting San Francisco Giants.
"This event has become a meaningful tradition, highlighting not only the diversity and resilience within our fanbase, but also the impactful work of extraordinary community groups," the team said in a statement. "We are now aware that our inclusion of one group in particular — The Sisters of Perpetual Indulgence — in this year's Pride Night has been the source of some controversy."
The Sisters of Perpetual Indulgence was founded in San Francisco in 1979. The activist group's members dress in drag as nuns with elaborate makeup, and they have been at the forefront of LGBTQ rights activism for decades. In the early '80s, for example, the group hosted some of the world's first fundraisers for AIDS victims.
Sen. Marco Rubio, R-Fla., had complained to the Major League Baseball this week about the Dodgers' honoring the group. In a letter to the MLB commissioner posted on his website, he called the Sisters of Perpetual Indulgence an "anti-Catholic" group with members "who mock the faith" and encourage "perversion of Jesus's command to 'go, and sin no more.'"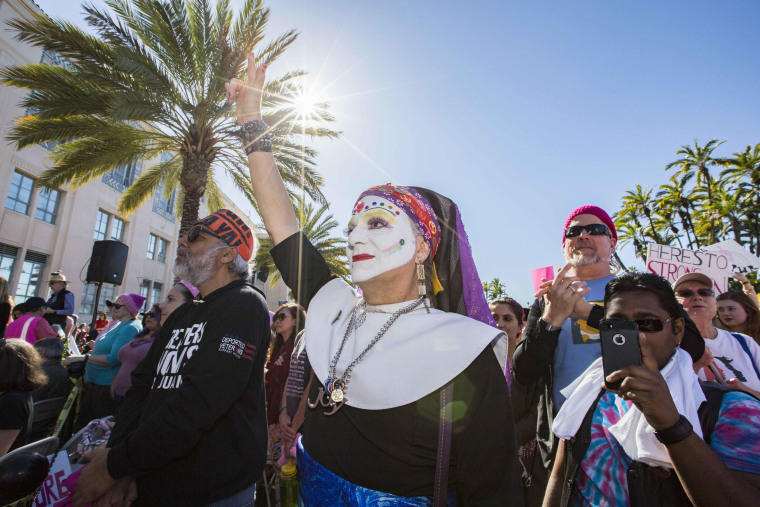 While they didn't name any aggrieved parties who are offended by the group's presence, the Dodgers team said it'd be best if those performers weren't at Dodger Stadium that night.
"Given the strong feelings of people who have been offended by the sisters' inclusion in our evening, and in an effort not to distract from the great benefits that we have seen over the years of Pride Night, we are deciding to remove them from this year's group of honorees," the team said.
The team made the announcement Wednesday, which marked the International Day Against Homophobia, Biphobia, Interphobia and Transphobia.
The Los Angeles Sisters of Perpetual Indulgence said the Dodgers' move represents the club's decision to "un-ally themselves" from the nonprofit group's efforts.
"Today, we are sad to learn the Los Angeles Dodgers have chosen to rescind their award, succumbing to pressure from persons outside of the State of California and outside of our community," the group said in a statement. "We are disappointed they have chosen to un-ally themselves with us in our ongoing service to the public, many of whom enjoy the Dodgers' heroic efforts in sports."